We've listed our Best fishing kayaks under $1000, so you can enjoy this sport affordably. When I was writing about this topic, I flew right back in time to my first time fishing. Fishing is a great activity to make memories and have a bonding time with either family or friends. You can enjoy the great scenic beauty of nature while catching a good number of fish and having lots of fun.
To make sure you have an enjoyable experience that is affordable as well, we have listed for you the Best Fishing Kayaks under $1000 below.
This Vibe Kayak takes our editors choice for good reason. It doesn't just offer you stability but speed too which is rare. It has heaps of storage and rod holders making this an ideal kayak to take on your fishing adventure.
PROS & CONS
Another vibe kayak is our top choice. This is a 9-foot long, one person fishing kayak with a weight of 42 lbs. It is a perfect kayak for throw and go fishing.
PROS & CONS
This fishing kayak from Brooklyn Kayak Company is a fantastic choice for anyone. It has great stability and ease of tracking straight. The chair is supported by an aluminium frame which makes sitting up-right easy and comfortable.
It's said to be so stable that you can stand on the kayak and easily fly fish stood up.
PROS & CONS
View more products from BKC >>
This kayak from BKC brings the word stability in a new light. This is 12.9 foot long and weighs 77 lbs. The boast has a flat bottom that means it will move with stability over the water. It also guarantees to hold up to 770 lbs. that includes the paddler and their gear.
Due to its size it has ample room for all your fishing gear.
PROS & CONS
View more products from BKC >>
Our best value fishing kayak is an inflatable kayak. If you've never owned an inflatable kayak, don't be put off. They are extremely strong and easy to inflate. And you can practically transport them inside any size of car.
This kayak complies with the NMMA standards which means that this kayak is very safe to use. The multiple air chambers around this boat provide a backup if one chamber is punctured.
PROS & CONS
How to Choose a Best Fishing Kayaks Under $1000
It is very important to get an idea of kayaks before buying one. It doesn't matter if you're a beginner or a pro, you don't need to settle for anything less than the best. Now, to save you any trouble and any future embarrassing stories, read on for the best fishing Kayaks. 
First, you need to decide what kind of water are you going to fish in. Is it a lake? A pond? or are you the adventurous kind and prefer fishing in rivers and large bodies of water that have a strong current or wind? Depending upon your preference, you need to understand a few things before buying a Kayak.
Deciding On The Right Style
One of the very difficult decisions to make is if you would like a "sit-inside" or "sit on top" Kayak. If you are a beginner, don't make the same mistake that I did. I started using a sit-inside kayak which didn't seem friendly at all – It's because it's what I already had. So, my advice is to choose a "sit on top" Kayak that is user-friendly and is more stable and easier to get in and out off. A sit on top kayak also provides more room on the kayak for you to use as an area when preparing your rod, reels and bait etc. 
According to the YouTube channel KayakFishingTales, these "Sit on Top" Boats are self-bailing and the water drains right through the scupper holes so you don't get swamped. Also, you do not feel confined in this kayak which is an added plus. 
However, a downside to these kayaks is that while you paddle through the water you will most definitely get wet. If you want to stay dry, you can choose the "sit-inside" kayak. Sit inside kayaks are more suitable for rougher waters as less water will get through the spray deck and they allow you to move faster too.
Choosing The Right Dimensions
If you want to be a smart kayak buyer then know your requirement. Is it stability that you want? Or is it speed? The point of mentioning this is because the length of Kayak is very important in deciding the performance.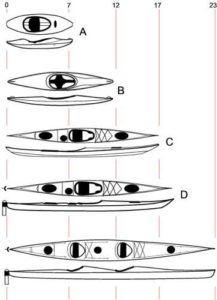 Example of differing kayak dimensions
Generally, a narrower and longer Kayak is faster while a shorter and wider one is slower and more stable. For fly fishing and site casting, a shorter and wider boat would be ideal because that allows you to stand on it easily. 
However, if you want to cover large areas then use a narrowboat so you can travel faster and cover more distance.
Peddle or Paddle?
At this point, you need to decide if you want to go the traditional way with paddles to move the Kayak or the more contemporary way by using the pedals. Most fishing kayaks now offer pedals because that leaves your hands free for fishing.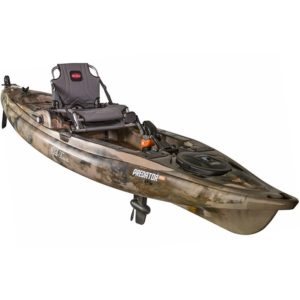 Example of a pedal kayak
However, you must keep in mind that pedal kayaks are heavier and difficult to manoeuvre than paddle kayaks. 
While using the peddle kayaks, it is also important to keep a paddle as a backup in case there are some problems. 
Advantages Of Using A Fishing Kayak
By now, you must have got an idea of what are the important factors to buying a fishing kayak.  Let's move on and talk about why choose Kayaks over boats when you want to go fishing.
Kayaks might just be a better option than boats because they cost a lot less. If you are a beginner, then kayak is your ideal choice due to its user-friendly features. 
Also, you can take kayaks into all bodies of water without any worries because of its size. You can reach areas where boats can't. 
Another great factor of using a kayak over a boat is the amount of noise a kayak produces. There are significantly quieter than a boat with a big engine. This can be of huge benefit when trying to hunt out the fish who will avoid a large, noisy boat at all costs.
Conclusion
While you are planning to buy a best fishing kayaks under $1000, make sure that you find the one that is durable, affordable and is stable. If you are a beginner look for something that is user-friendly and stable. But if you are a pro then a speedy and sit inside would be a great adventure too.
If you want to settle for nothing but the best fishing kayaks under $1000 then go for Vibe Kayaks Sea Ghost 110 11 Foot Angler Sit On Top Fishing Kayak because it has a toe controlled rudder system that makes it easier to move through difficult water. Apart from that, it is ultra quiet, isn't likely to tip over and offers good storage as well.
Lastly, the 10 scupper holes in it protects it from being swamped. So, it's a good investment!
If you are also looking for a new fishing reel, check out our best spinning reels. 
If you are also looking for a new fish finder, check out out best fish finders for kayaks.
Other Items You Will Need Whilst Fishing: