Intex Explorer K2 Kayak Review [Pros & Cons]
With the Intex Explorer K2 Kayak, you don't have to worry about lugging a great big boat trailer on the back of your truck or car. You don't have to worry about the expense of renting or buying a boat. You don't need to worry about anything really.
Not only is it affordable, stable, and safe, it is also surprisingly spacious – so you can fit the kids in or for those people needing a bit more legroom – you can fit pretty much anyone in taking the stress away from you when deciding if anything or anyone is going to be able to fit.
It's a super easy and fast option. An inflatable Kayak with super easy instructions on how to get the most out of it – with a streamlined design that makes rowing easy for people of all abilities – whether a pro kayaker or someone just starting out.
Let's take a look at just how good it is, and whether or not it makes a good fit for you!
Overall Rating: 4.5/5
Quality: 4.5/5
Speed/efficiency: 3.5/5
Cost: 5/5
Ease of use: 5/5
View on Amazon
View Customer Reviews
Intex Explorer K2 Kayak Review
Key Features
Materials/Construction
Coming in at 10.3ft long, and 3ft in width, the Explorer K2 is layered with Heavy-duty puncture-resistant vinyl meaning that its material can take some scrapes against hardened and rough rocks as well as saunter through debris in the waters.
The three separate air chambers that hold the kayak up on the water ensure that finding a hole will not sink the kayak. The combination of the tough vinyl material, as well as the air chambers, ensures that if for any reason there is a puncture, you'll be able to return to land without any stress.
If you're worried about any weight imbalances then hopefully the centred I-Beam will ease your mind. It keeps the Kayak stable and rigid; even with two people sitting in it where one such person is heavier than another, the beam will make sure to support both and stabilize the construction.
As well as that, all products are 100% tested to be air tight before they leave the factory. This ensures stability, safety and excellent durability and performance for anyone who wishes to visit the waters.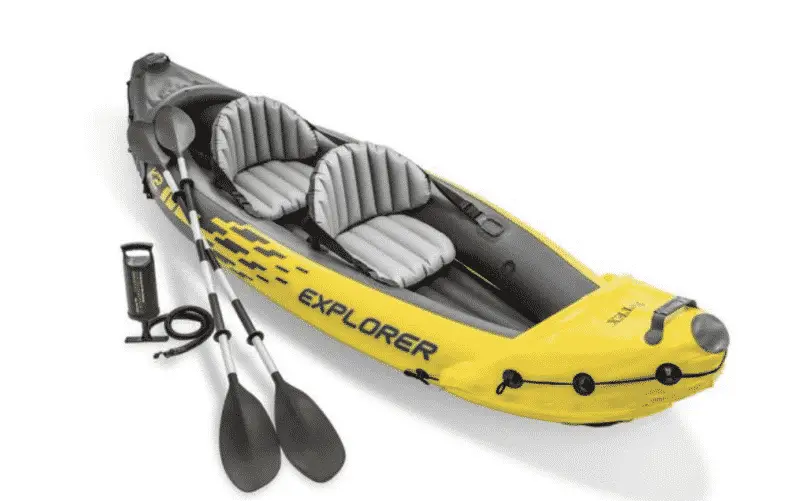 Durability
As we've mentioned, the Intex Explorer K2 Kayak contains materials that not only protect those who paddle inside it but also helps to prevent those accidents from happening altogether.
The vinyl means that it can take some pretty harsh scraping and barge against rough materials like rocks and fretting wood, or blunt sticks. If anything does manage to poke a hole in the material, then the Kayak comes with repair patches for you to use on the go – keeping your peaceful and tranquil day staying that way.
Although, the Kayak is by no means sink proof – the material does add at least a layer of protection. Coupling with that, the kayak contains those 3 air chambers, meaning that if one gets popped you still have 2 strong air chambers to keep you afloat allowing you to get back to land in enough time.
Inflatable Kayaks may have a misconception of being easily sinkable, flimsy, and just of poor quality simply because they're able to be used by pumping them full of air.
However, Intex has made sure to include the relevant measures to ensure that the Explorer K2 Kayak is just as good, if not better, at staying on the waters risk and worry-free.
Just one slight cost that comes with the low price and design that keeps it low profile and sleek for those calmer days, its performance on more aggressive waters isn't as strong.
As it is inflatable, it doesn't take too well to those harsh waves, and the paddles could be slightly stronger – but hey, what can you expect with a price as low as this! There's got to be some drawback. But then again, would you want to go kayaking in choppy waters?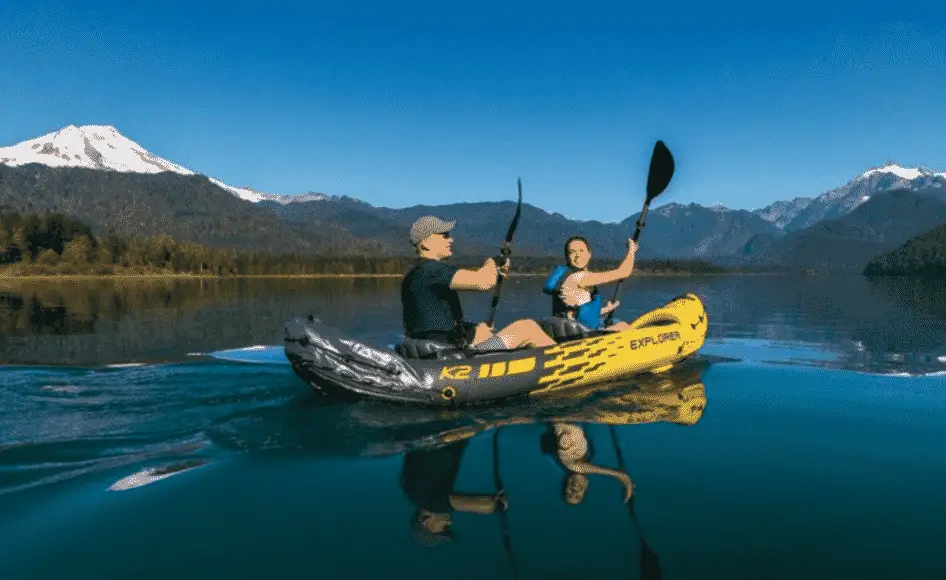 Ease Of Use
The Intex Explorer K2 is super lightweight and easy to manoeuvre. That is as long as you're on those calmer waves – anything stormier or harsher could make it tricky to keep in a straight line.
However, it is the removable keg that can be put into the kayak for additional rigidity and support that makes this Kayak so worth it.
Not only do you have a streamlined design that makes paddling and moving through the water a breeze, the additional keg, and inflatable I-beam to add increased support to balance and rigidity makes this kayak super easy to use for those beginners.
Not only does the purchase include two 86" paddles, but it also includes Intex's own high-output pump which makes inflating and deflating the raft quick and easy. It's lightweight so you don't have to worry about whether or not you'd be able to manage yourself, simply pump it up and begin playing.
The Kayak includes what is known as Boston Valves. Essentially, it's a one-way opening with 2 different screws or ports for easy inflation and deflation.
The first port is simple: as you unscrew the top cap you can use the pump to further inflate without any air escaping in the process, in turn, decreasing the amount of time it takes to inflate. The middle cap or the second port is much larger, and you will unscrew that to let larger volumes of air escape both efficiently and effectively.
Performance
When purchasing the Intex Explorer K2 Kayak, you must take into account what you want to use it for. With its low profile consisting of a flat hull, it is recommended mainly for use of recreational kayaking.
However, it is extremely strong considering its design with a high nose and tail allowing for balance and buoyancy, a streamlined design, and a comfortable amount of space, so there is nothing stopping you from doing more than just a simple bit of peaceful kayaking – just don't be silly with it and go into sharp waters and rapids.
Including awesome features such as the removable skeg that aids with balance and rigidity, as well as the inflatable I-Beam that offers additional support; the low and streamlined position as an addition makes for simple and easy movement.
Being able to move in straight lines without too much of a hassle and change directions with ease using just the paddles and without having to fight against the Kayak itself is one of the best features of the Explorer K2. 
The high weight capacity of 400lbs makes it pretty much universal in whoever can use the boat – whether you just want a single person or two people, it's perfect for all shapes and sizes.
However, this Kayak is perfect for other such activities like fishing or just for some extra storage whilst you venture out onto the lakes, with the high tail and head and super easy to install extra balance measures – you don't just have to use it to kayak.
If you do however find yourself just utilising the beautiful boat for its comfortable backrest seats, even at its maximum weight capacity, the Explorer K2 still performs well.  
Specs
Weight – 37.00 LBSMaximum Person(s) – 2Maximum Weight Capacity – 400 LBS (180kg)Inflated Size – 10.3 Feet x 3 Feet (3.12m x 0.91m)Compliance – National Marine Manufacturers Association Certified using ABYC Standards.
Pros & Cons
Pros
Affordable
Lightweight
Easy to inflate and Deflate
Durable Material
Comfortable Space and Seats for extra comfort
Cons
Not to be used in choppy waters
The paddles could be stronger and better quality, but you can always purchase new kayak paddles
Conclusion
When sorting through the long list of pro's and the rather shorter list of cons, it became apparent that a lot more time was spent thinking about any drawback of the Intex Explorer K2 Kayak.
In review, it is a great beginner boat for those of whom want to go out to the waters and beautiful picturesque lakes to learn to kayak. Perhaps, you want to do it as an escape form the banalities of general life, or maybe you can see yourself doing it as a career but need an affordable starter. The Intex Explorer K2 Kayak is just for you.
With optional skegs and removable inflatable I-beams coupled with adjustable seating for two, this inflatable kayak is great for its class. Whilst being difficult to puncture or deflate with excellent and high grade materials, it also contains 3 air chambers just in case you do find yourself with a hole for any reason.
So what more could you ask for? Excellent and spacious room with great balance for the starting kayaker to get used to the function of a boat in this category.
Other related Kayaking Posts: