Reef Safe Sunscreen & What Reef Sunscreen Ingredients Should I Avoid?
One thing which has come into the spotlight and become of utmost importance for most people is that our planet is in desperate need of repair – Reef Safe Sunscreen has a big part to play here.
Lots of people are doing their bit by reducing CO2 emissions, recycling, and cutting down on disposable plastic (ALL FANTASTIC CAUSES). 
But one thing which is often overlooked and not considered by most people is the damage we are doing to our coral reefs and coastlines which provide habitat and food to thousands of species of fish and sea life.
From an early age most of us have been educated on the dangers of sun exposure and the effect it has on the human skin. We were often taught to cover the skin in a layer of sunscreen before we venture out.
What most of us don't understand is that when we swim in water, the chemicals found in most sunscreens kill coral, cause deformities in fish and bioaccumulate in the environment, eventually ending up in the human food chain.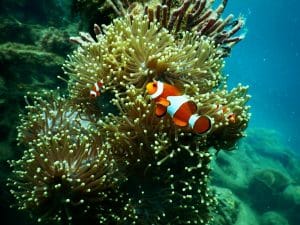 Human life, pollution, and global warming pose a serious threat to the survival of the coral reefs. One serious factor is the sunscreen people wear whilst they are swimming and diving – it's understandable someone might not know something as simple and common as sunscreen can cause this damage, but it's time this information is widespread and readily known (before it's too late) therefore please feel free to share this article with anyone you wish! 
It's estimated that up to 6,000 tons of sunscreen are washed into our oceans every year. Unfortunately, it is concentrated around popular diving, snorkeling, and swimming spots that contain coral reefs and have a high density of marine life.
Key things to know about reef-safe sunscreen
The Haereticus Environmental Laboratory researches the effects sunscreen and other personal cosmetics can have on the oceans and ecosystem. 
They have put together a 'HEL List' of substances which pollute and cause damage to marine life. 
Many of the chemicals on the HEL list are intentionally included in the formulation of a product and are either listed or not listed in the ingredient labeling of the product. 
Some products are now labeled with a 'Protect Land + Sea' certification seal which means the product has been laboratory-tested using analytical-forensic techniques to verify that the product is completely free of any chemicals which are on the HEL List. 
The list provided by the Haereticus Environmental Laboratory is as follows:
Any form of micro plastic spheres or beads.

Any nanoparticles like zinc oxide or titanium dioxide.

Oxybenzone

Octinoxate

4-methylbenzylidene camphor

Octocrylene

Para-aminobenzoic acid (PABA)

Methylparaben

Ethylparaben

Propylparaben

Butylparaben

Benzylparaben

Triclosan
What can you do to help?
Of-course memorizing the above list isn't a feasible plan and will just confuse you and it's likely not all of them will be listed on your sunscreen bottle. 
To keep things simple we recommend checking the ingredients label on the sunscreen (Always do this! Even claims such as 'reef-safe sunscreen' have proved to be wrong).
Look out for the main reef damaging substances such as Oxybenzone, Butylparaben, Octinoxate, and 4-methyl benzylidene camphor and make sure they aren't included. 
This method is outlined by the PADI (the Professional Association of Underwater Instructors). They also recommend that about 10-15 minutes before you get into the water, apply the sunscreen which gives it enough time to get absorbed into your skin.
The Environmental Working Group (EWG) compiles a list on an annual basis in which scientists review and test over 1400 sunscreen lotions and rank them based upon their toxicity and efficacy; 0-2 is classed as low hazard, 3-6 is a moderate hazard, 7-10 is classed as a high hazard. 
There are literally thousands of sunscreens out there that cause harm to the coral reefs, but there are also some good ones, so please do your due diligence and check the bottle and brand.
Another top tip that is often overlooked is to consider if you even need sunscreen (or as much as you're applying). 
Yes, it's important to protect yourself from the sun's UV rays, but if you're going diving do you really need to apply reef-safe sunscreen under your scuba diving suit? 
Consider if your snorkel spot is in the shade or not, could you wear a hat, swim-shirt or reduce the length of time in direct sunlight? 
You can find some great swim-shirts from Stay Nauti.
A simple bit of forward planning and extra thought could really go a long way to protecting our coral reefs. Hopefully you're going to make the switch to using reef safe sunscreens. 
For a list of sunscreens that meet the EWG's requirements for health and the environment please click here.
We hope you found value in this article and learnt something new about reef safe sunscreen. 
We'll say it a thousand times over, protecting the coral reefs and marine life should be the main priority on a global scale. Whilst our site is only small, we feel the need to share this message. Please do the same! 
If you are heading to the Philippines for some scuba diving then we have compiled a list of our favourite dive sites in the Philippines, you may find it useful!
Product Reviews: