The Best Dive Sites in the Philippines (maybe the world!)
If you are a scuba diving fanatic, you haven't experienced real heaven until you have visited the Philippines, you should definitely take down some notes on our Best Dive Sites In The Philippines.
The Philippines is known for its more than 7000 islands, a long coastline, fantastic diving spots, and spectacular reefs. Moreover, UNESCO World Heritage sites are one of the significant reasons divers come here. Along with the crystal clear water, there are well-appointed yachts that will get you to unreachable reefs.
We have listed below some of the most amazing spots in the Philippines that are great for diving:
Best dive site no. 1: Coron Bay, Palawan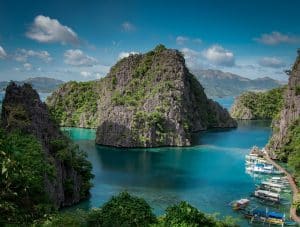 Number one on our list for the best dive sites in the Philippines is Coron bay. Coron is often regarded as "Poor Man's Chuuk Lagoon" and holds the title of the largest town on the island of Busuanga.
 It is one of the most gorgeous vacation spots on the planet, surrounded by limestone walls and magnificent wildlife. But it just doesn't end here the underwater wonders have a separate fan base of their own.
Coron ranks in the top diving sites on earth, and the most crucial part is that its sites hold historical significance. So, scuba divers who are interested in history would simply love these diving spots.
During World War II, Coron acted as a harbor for Japanese ships. During an Allied attack, some of these ships sunk and turned to wrecks.
There are a total of 14 well-preserved shipwrecks underwater. All of these are spread throughout the bay as each of these ships is 100 to 200 meters long. The exciting part is that this caters to all types of divers. Where beginners can find dives that are 5 meters deep, advanced divers can find dives that are 40 meters deep.
Coron bay preserves a significant moment in history that is often left unexplored by many.
If you plan on diving into Coron bay, then make sure it is during the quarter moon, or high tide or else visibility can be challenging. Moreover getting Nitrox is advised for wreck diving so you can explore everything easily.
Some of the fantastic wreck dives in Coron are given below:
Okikawa Maru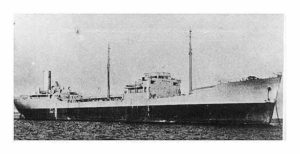 One of the most popular and accessible of these is Okikawa Maru. The Okikawa Maru is the largest wreck in Coron Bay. It is a former civilian Tanker that was sunk in 1944 during World War II by an American air raid. It's 160m long and you will need at least 2 dives to totally explore it!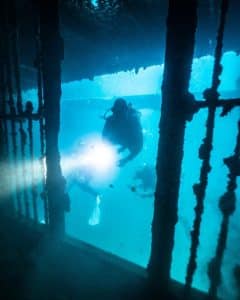 The best part is that this site is perfect for any level of scuba diver. The top of the ship is just 10 meters below the surface, and the wreck includes a 525-foot tanker that will add to the thrill of the scuba divers.
Novice divers can explore the deck with is just 10-16 meters underwater while more experienced ones can go all the way through the propeller shaft into the engine room.
This Japanese tanker is decorated with beautiful corals and surrounded by snappers, batfish, and groupers. Another thing to keep in mind is that the currents may be strong occasionally, so precautions are necessary.
Irako

This is one of the essential wrecks because it is the most well-preserved. It is located right at the mouth of Coron Bay and weighs approximately 10,000 tonnes. There is excellent visibility for advanced divers.
The ship's deck is at 35 meters, and there's a whole wreck that goes down till 43 meters. Divers can also explore Irako's engine room when they want.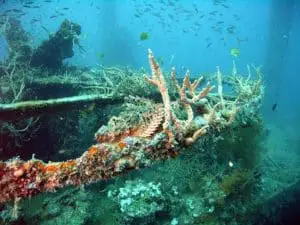 The best part is that the ship is filled with exquisite marine life at every step. There is tuna, big groupers, lionfish, scorpionfish, and so many more.
Japanese Freighter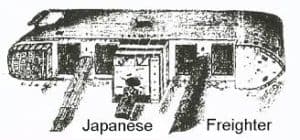 There is another 137-meter wreck that does not have a name. This Japanese freighter lies in the bay, and scuba divers often swim inside it. The ship is filled with numerous marine animals like fish, turtles, snakes, and beautiful corals. But that is not the main attraction there that pulls scuba divers towards it.
In the daylight, when scuba divers are here, they can experience the rays of the sun filtering through the holes, which creates a heavenly scene. This moment can be caught anytime between 10 a.m. and 2 p.m. The warm yellow light of the sun creates a cathedral-style look that leaves divers speechless.
Like I said earlier there are 14 well-preserved shipwrecks throughout Coron Bay. You are guaranteed to see a huge array of coral and marine life whilst diving here!
Best dive site no.2: Panglao Island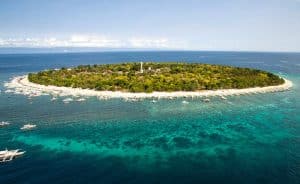 Panglao Island ranks in the best dive sites in the Philippines. It is located in the North Bohol Sea, and the Island is beautifully decorated with natural limestone caves, plains, hills, and sinkholes. The waters are crystal clear and white sand beaches are a major attraction. This is because there is a lot to do like Island hopping, scuba diving, kite surfing, dolphin watching, snorkeling, and fishing.
What makes Panglao Island a great scuba diving spot is the fact that there are a lot of marine creatures to explore. The island is said to hold more than 2500 new species of mollusks and 250 new species of crustaceans along with numerous other fish. Scuba divers feel like exploring a new world down here. A few exciting areas to explore here are:
Doljo Point
It is a wall diving spot that will show you many pipefish, cardinalfish, clownfish, gobies, and nudibranchs that will fascinate all divers.
Pamilacan Island
Pamilacan Island is a bit far from the main island but your visit there is well worth the ride. You won't just find manta rays and barracudas, but whales and dolphins too! Along with that, there will be hump-head wrasses and bump head parrotfish.
Snake Island
Referred to as "snake island" for the numerous species of snakes found here. There is also a colony of black and white banded snakes that are located 30 meters below the surface. Also, while there, you will find sea urchins, nudibranchs, and amazing moray eels.
Balicasag Island

It is the most popular of the Island's diving spots and a visit there is incomplete without visiting the Diver's Heaven. The place is a literal paradise with narrow reefs, steep slopes, and the most beautiful corals. Those interested in the sea creatures will find a wide range of barracudas, flatworms, batfish, bannerfish, and much more.
3. Monad Shoal, Malapascua
If you love sharks, you would like this place. Monad Shoal is called the "Shark Point" around the world due to the coral plateau that hides the rare thresher shark. Monad Shoal is a good half an hour away from Malapascua Island, but the boat ride is worth it because this is the only place that gives a peek of this rare shark.
The thresher sharks are also called Fox Sharks or Mackerel sharks. Their tail-fins are as long as their body and their bodies are almost 5 to 6 meters long. These sharks are said to roam around in the waters at night but also surface in the early hours of the day where scuba divers can find them and get a look.
The best season for witnessing these sharks is from July to October. People who want to see these sharks especially can see them from sunrise till almost 9 in the morning. But those looking to see other marine creatures Monad Shoal offers devil rays, Manta Rays, pipefish, unicornfish, pygmy seahorses, and many more.
If you still are stuck upon thresher sharks and would like to see them make sure you get a two-classroom course from PADI. This is a thresher Shark specialty course that teaches about their evolution, behavior, and fundamentals.
Overall, Monad Shoal will offer an out-of-the-world experience with thresher sharks and all the other beautiful marine creatures.
4. Apo Island, Negros Oriental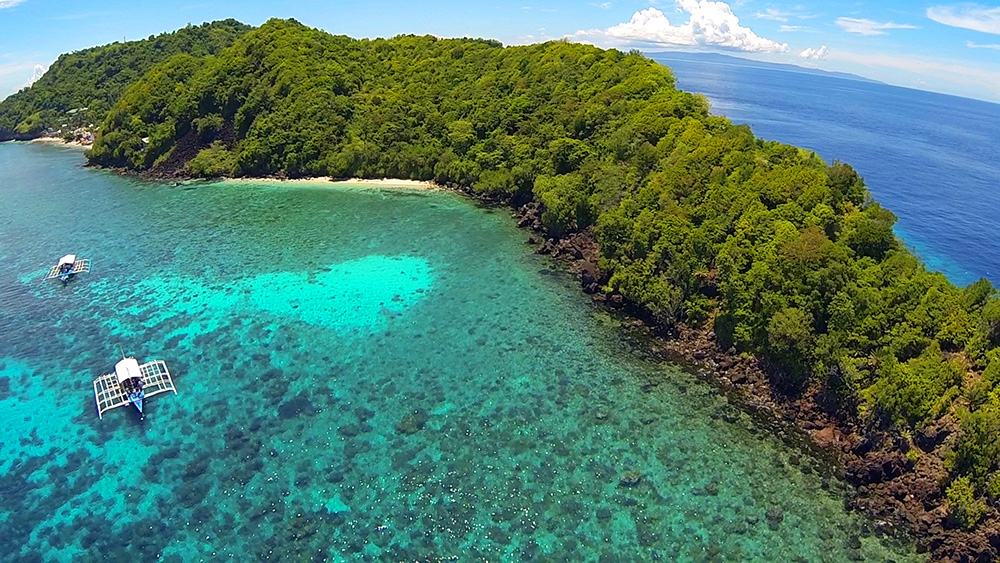 Volcanic Islands and scuba diving make an explosive combination. While listing down the top places for scuba diving in the Philippines, we saved the best for the last.
Apo Island is one of the prime locations for scuba diving here. Apo Island is a volcanic island spread over 12 hectares and enclosed in the most beautiful of reefs giving it an ethereal look.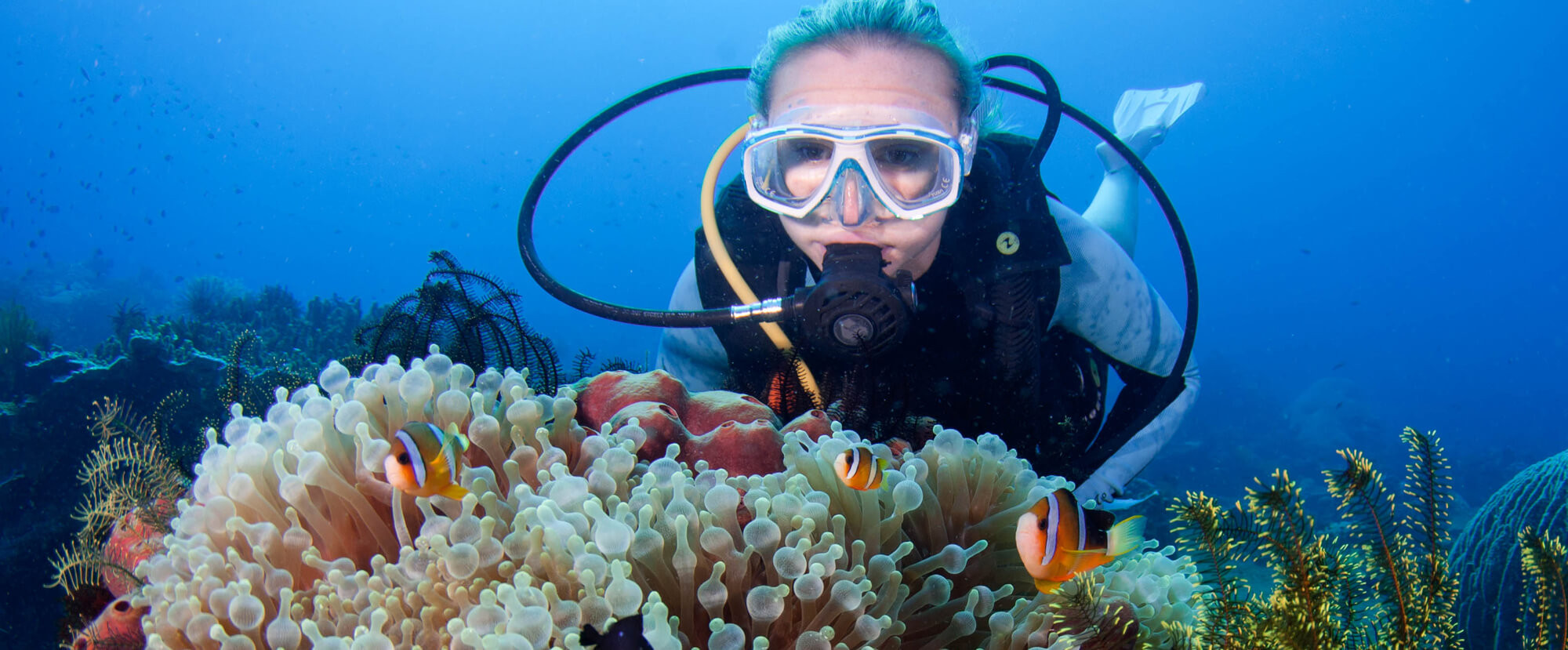 But that's not the unique part, the water around it is just equally magical. It contains over 600 species of fish and 400 species of corals that include Gorgonian Sea Fans and Bubble Corals.
Below are the topmost diving spots on Apo Island:
Coconut Point
To reach this spot, you need to move through strong currents. Coconut point is a sandy channel located between rock cliffs that will allow you to see Turtles, Jacks, Parrotfish, and much more. You can enjoy a swim or go as deep as 35 meters where you might also find snakes, sharks, and manta rays.
Largahan
Largahan is just the place for beginner divers. The coral formations there are just exquisite. There are frogfish, scorpionfish, and ribbon eels swimming between an old volcanic bubble that will keep you busy and fascinated.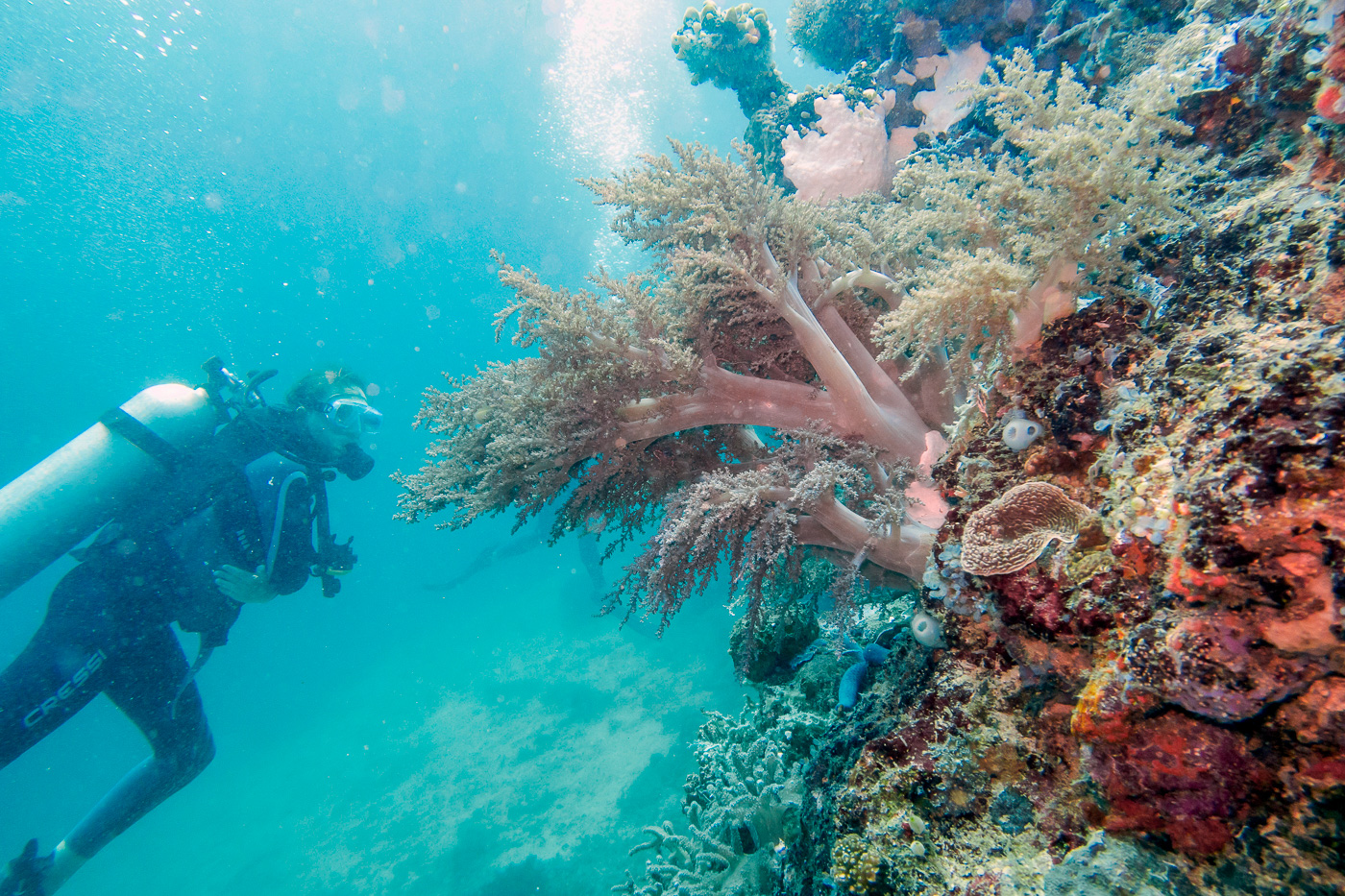 Mamsa Point
This is a sloping reef that is flatter initially and then turns steeper. This place contains a lot of Jackfish as the large currents pull a whole lot of them here. What scuba divers would find most interesting here is the way jacks form a protective circle against a predator.
Chapel
The chapel is a cliff dive facing the only Chapel of Apo Island. In the first 35 meters, you will see a lot of eels, turtles, and fish. If you are lucky enough you might catch sight of a thresher shark in the distance. The wall is decked in hard and soft corals moving through the cervices and caverns. You might also find fans, anemones, and sponges.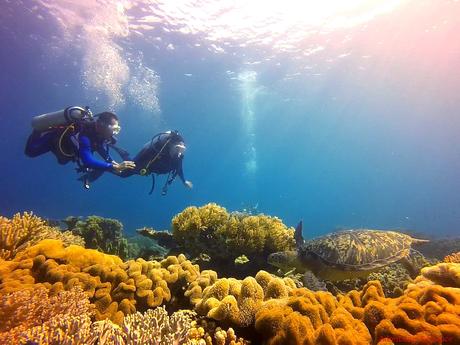 Apo Island is rich in marine life. Once you dive down here, you would never want to come up back again – exactly why it makes our shortlist for the Best Dive Sites In The Philippines.
5. Puerto Galera, Mindoro
Puerto Galera, with its lush mountains and gorgeous seascapes, is one of the best vacation spots in the Philippines. Apart from that, it holds the most beautiful beaches and scuba diving spots. The most amazing part is that the place holds all kinds of activities like swimming, kayaking, wind-surfing, star-gazing, rock climbing and partying. The rustic terrain ranges from white sand beaches to dark ones, appealing to all.
This is the place for impatient divers. There are no long boat rides to reach the ideal spot. Just a kilometer away from the coast you will find the perfect diving spot.
As soon as you dive into the water, you will feel like you are in some other world with the amount of diverse marine life you will find. According to scientists, this is a biodiverse spot catering to numerous species. Scuba divers will discover damselfish, flatwork sharks, hawkbill turtles, and cuttlefish here. 
Puerto Galera has numerous diving sites including Canyons, Monkey Beach, Sinandigan, Coral Graden, Sabang, Dalaruan, and many others. The abundant marine life here pulls divers from all over the world.
If you love marine creatures, then this place is hard to miss.
6. Manta Bowl, Ticao Pass
If you are a Manta Ray lover, then make sure you visit this place once. Manta Bowl is an underwater area spread about 8 hectares. This has a total of 5 different diving sites.
Manta rays use this whole place for feeding as well as cleaning. So, in this place, you will be able to witness them going on with their usual routine and see as they feed and play. 
Not only this, because the area is rich in planktons you can also find whale sharks, tiger sharks, and hammerhead sharks. Moreover, there are many other macro creatures along with stunning corals.
Something that divers must know is that this is a challenging diving site, best for advanced divers. One must dive here with an instructor. There are strong currents, drifts, and swirling eddies.
In Manta Bowl, you will find one of the most massive Manta Rays in the world which can grow up to 9 meters. This experience will be a memorable one and that's why it makes it into our list for the Best Dive Sites In The Philippines.
Conclusion
Diving is a daring sport and more than that it is the appreciation of mother nature. Underwater is a whole new world, and scuba divers plan on exploring it.
The Best Dive Sites In The Philippines are some of the most fantastic diving spots in the world, showcasing the best marine life the planet has to offer. But remember some of them are just as equally dangerous, so, just be careful and explore the unknown!
If you are in the market for some new diving fins then we have written about our favorite diving fins – you'll find it useful. If you are also looking for a new scuba mask then we also wrote about our best scuba mask recommendations. You'll definitely need them if you're checking out the Best Dive Sites In The Philippines!
Other posts you may like: