10 Best Freediving Watches in 2023 – User Reviews & Buyers Guide
Freediving is getting more and more popular as the years go on. Head into most dive centers and you see more freediving courses booked up than scuba diving courses.
Why? We aren't sure for the exact reason as to why it's getting so popular but maybe people who are avid scuba divers are pushing the boundaries even further and trying to test their limits.
Freediving is sort of a mixture between scuba diving and snorkeling, you are essentially diving to fairly deep depths with no gear other than your freediving fins, mask, and snorkel.
You get to stay relatively close to the shore whilst exploring depths you couldn't with no freediving training.  For this, you'll want to have the best freediving watch which will allow you to track your dive.
Let's Dive Right In!
Best Freediving Watch – Quick View
Best Overall: Cressi Leonardo Freedive Watch
Next Best: Oceanic GEO 2.0 Dive Computer
Best Budget Option: Multifunctional Sports Wrist Watch 
Professional Freediving Watch: Suunto D6i Novo Freedive Computer
10 Best Freediving Watches
Best Freediving Watch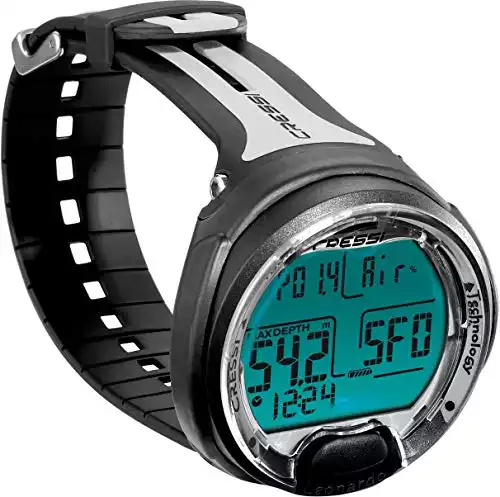 Cressi Leonardo Freediving Watch
One of the main selling points that we love on this dive watch is the single button interface allowing you to swiftly swap between air, nitrox, and gauge modes. This is great as there is no need to spend hours learning complex menus and what worse than having trouble navigating your way through your watch whilst freediving.
What is also great about this best freediving watch is that you will be able to always see the time. No matter how deep you like to dive the backlight will keep the screen visible.
The freediving watch face is also large, which allows you to easily see your information and the time in dark & low light conditions.
Key Features:
A single button Dive Computer makes it effortless to set Air, Nitrox and Gauge modes.
It is easy to use and easy to read all the information due to the high-definition screen that gives large numerical displays.
FO2 adjustable between 21% and 50%. PO2 adjustable between 1.2 bar and 1.6 bar.
User-selectable deep stop function and adjustable unit of measure: imperial or metric.
Software is compatible with all versions of Windows and Mac.

Next Best Freediving Watch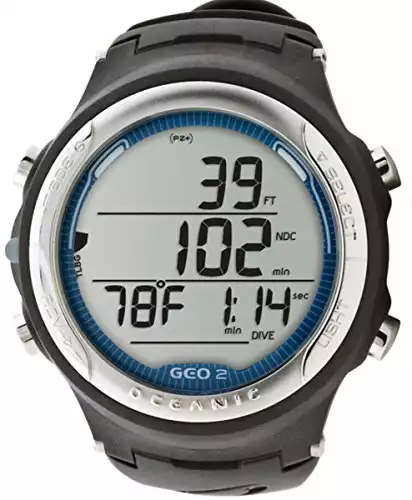 Oceanic GEO 2.0 Dive Computer
This freediving watch from Oceanic is one of the best-rated on the market. It utilizes Oceanic's own dual algorithm to help you track and manage your dives.
Perfect for freedivers of any experience level - the interface is super easy to navigate and understand.
In addition to the other awesome features, this watch just looks awesome. It's stylish and looks great both in and out of the water. We know that looks come secondary after performance and safety, but it sure does help!
Key Features:
2 nitrox mixes to 100% oxygen and an intuitive user interface with a step back, time, date & temperature.
There are audible alarms with user acknowledgment and up to 99 dives recorded in the 'log book'.
After your freedive you can easily re-check your dive time and maximum dive depth.
This watch runs on a CR2430 Lithium battery with an operational depth of 100 meters.
There are a dual time display and a backlight for night and low light conditions.
4 operating modes: watch, normal, free dive, and gauge.

Best Budget Option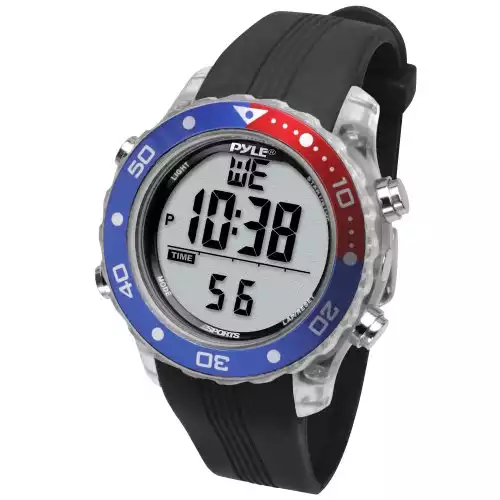 Digital Multifunction Sports Wrist Watch
Pyle has produced one of the best freediving watches at a very affordable price when compared to others on the market. You can quickly record and recall up to 100 dives with info like water temp, dive depth, and even the type of water you were diving in.
You can wear this watch up to 100m deep so you can even wear it on your scuba diving trips. There are 5 various modes to switch between and you can alter the clock face between a chronograph and underwater mode (automatically activates once 1.5m deep).
Our favorite feature is the built-in watch safety alarm. You will be warned when surfacing more than 6m per minute. This will prevent you from getting compression sickness or harming your eardrums.
Key Features:
5 function modes such as current time, dual time, chronograph, countdown, and diving. Designed for diving, snorkeling & swimming.
This dive watch provides water resistance up to 10 atmospheres or 330 feet and works in fresh and saltwater.
There is also an automatic dive alarm when emerging faster than 6meter/min.
Underwater dive mode automatically activates once over 1.5 meters deep. It displays water temp, depth, dive time, current time with submerging, and emerging depth indicators.
You can quickly recall all dive information and store up to 100 dive records.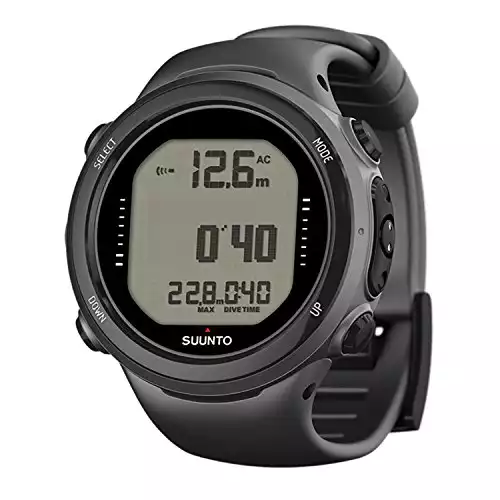 SUUNTO D4i Novo Scuba Diving Computer
Produced in Finland, this freediving watch is produced by one of the leaders in the industry. There is also a whole range of colors and options to choose from so you can be sure to find one that matches your dive setup.
An optional wireless air integration tool helps you to calculate your remaining air time when scuba diving.
This lightweight freediving computer watch is ideal for both freediving and scuba diving making it incredibly versatile.
Key Features:
Full continuous decompression algorithm.
Four modes: air, nitrox, free, and off.
Innovative apnea timer, and a timer in air/nitrox modes.
Updateable firmware.
Optional wireless air integration - current cylinder pressure, remaining air time.
Built-in dive planner.
Detailed graphical logs and dive data on your PC/Mac using Suunto DM5 software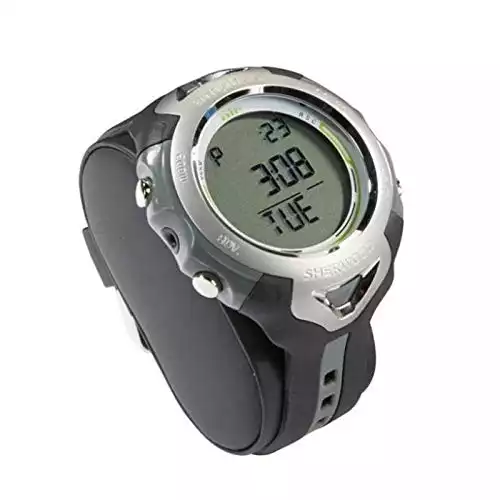 Sherwood Amphos Wrist Computer
This is a great freediving computer produced by Sherwood Scuba who has brought many excellent scuba and freediving watches to the market. With 4 operational modes, you can use this watch regardless of whether you are freediving or just going scuba diving.
Another great feature is the safety alarms with flashing icons that warn you of your depth level and resurface speed.
There is also an included USB cable that allows you to easily download and analyze all of your dive data onto a mac or PC.
Key Features:
Four Operating Modes (Time, Dive, Freedive, and Gauge).
Two Gas (21-50% and 21-100%).
DSAT Decompression Model/Modified Haldanean.
Safety and Deep Stop with a countdown (Min: Sec).
Logbook: 24 dives.
History Mode which saves info such as Total Dives, Max Depth, Total Dive Hours, Lowest Temp Data Retention, and all data is Maintained during a battery swap.
Loading bar graphs display levels of Nitrogen, Oxygen, and Ascent

Professional Freediving Watch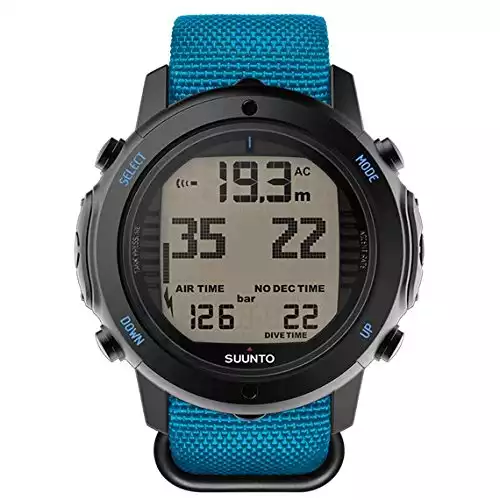 SUUNTO D6i Novo Zulu Scuba Diving Wrist Computer
Another Suunto watch to make our list of the best watch for freediving. The D6i is a more refined model and upgraded version of the D4i however it does come with an increased price tag.
It's a watch-sized dive computer for people who take their scuba and freediving very seriously. There is a tilt-compensated digital compass and a wireless air integration so you can keep an eye on all of your levels.
The Zulu strap is durable and originally designed for military use, so be sure it can take heavy-duty wear and tear. It's easy to adjust on the wetsuit but also very comfortable around the wrist whilst not diving.
The new, refined Suunto D6i Novo Zulu is a watch-sized dive computer for those who take their diving seriously. Including a tilt-compensated digital compass and wireless air integration, Suunto D6i is in favor of professional divers.
The extremely durable Zulu strap, originally designed for military use, can take heavy-duty wear and tear and is widely trusted by professional divers. Easy to adjust on wetsuit but also most comfortable around wrist when not diving.
Key Features:
Computer, USB Cable, Owners Manual.
Suunto D6i Novo Wrist Computer.
More than Just a Dive Computer.
Share Unforgettable Dives, Images, and Video with the World.
Optional Wireless Air Integration.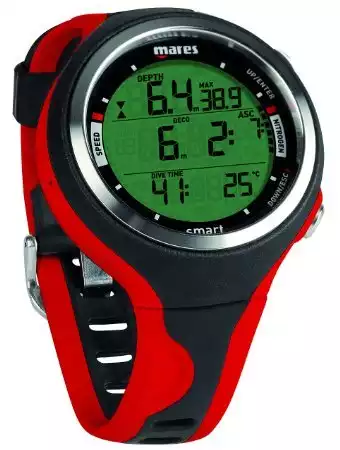 Mares Smart Wrist Dive Computer for Scuba Diving, Freediving and Spearfishing
The first thing we loved about this freediving watch is the appearance. It has a sleek and elegant design that looks good in and out of the water. Another great aspect is that for all the features you get, it comes in at a reasonable price.
The user interface is a breeze to use, the buttons are placed strategically to allow for rapid switching between modes. The last thing you want to happen 30m down is to not know how to check your air levels!
Great for freediving and scuba diving with very positive customer reviews about both.
Key Features:
Super sharp and clear display.
Perfect ergonomics and user-friendliness and gas switching.
Mineral glass display.
Segmented display.
Software upgradeability.

SUUNTO Zoop Novo Wrist Scuba Diving Computer
Suunto is one of the leaders in the industry for producing the best freediving watch. As you can see we have featured their products several times already in this list!
This freediving watch is a complete dive computer packed into the casing of a watch. It's super easy to integrate all of your air options onto the clock face. The Suunto Zoop is super easy to understand and navigate with all of your key diving data available at just a glance on the big and well-lit backlight display.
The freediver watch has full decompression capabilities and five different modes - Air, Nitrox, Gauge, Freediving, and off.
Key Features:
Backlit Display, Enlarged Segment / Matrix Screen.
Excellent contrast and Information with Bigger and Clear Digits.
4 buttons to enable a more intuitive/ easier user interface.
Battery housing reliability improved, Improved Optional USB PC Cable.
A comfortable and durable strap that looks great in the water and out.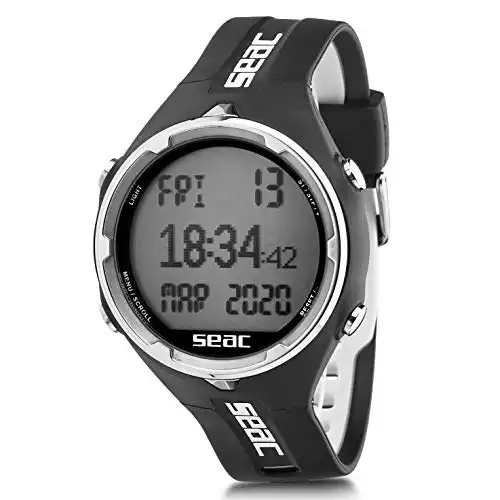 SEAC Action Italian Design Maximum Performance Dive Computer
The Seac design philosophy is in pursuit of great ergonomics for performance and the utmost simplicity in user-friendliness while making no compromises on safety.
For more advanced divers you can set the watch into gauge mode and have total autonomy thought the dive with your depth gauge and stopwatch functions.
The bright LCD screen is visible in even the darkest conditions. One of the features we love is the built-in safety features which warn the user if the max depth is exceeded if the decompression stop is not respected and if you are ascending too fast.
Overall this is a fantastic looking watch that can be stylish even when out of the water.
Key Features:
Scuba mode: get access to all recreational dive profiles.
Uses Buhlmann ZHL16C Decompression Algorithm, 1 or 2 mixes (air, nitrox & mixes).
Freediving mode gives info such as dive/surface time, current, and maximum depth.
Saved up to 40 hours of diving records in scuba mode and 18 hours of diving records in freediving mode.
Many built-in safety alarms, decompression violation alarm, ascent speed alarm, max permitted altitude warning.
Easy to view LCD screen can operate to depths of 100m deep in both fresh and saltwater.

SCUBAPRO Black Mantis (M1) Scuba Diving Computer
This could easily be our favorite looking freediving watch on our list. It has a very sleek design with a smooth black tech coating which provides resistance to scratches and abrasion as well as saltwater.
The casing is built from the highest marine-grade 316L stainless steel with a two-toned brushed finish that both protects and looks great. Magnetic control buttons eliminate the need for holes, maintaining the casing's watertight integrity and maximizing mechanical reliability. Great for freediving.
The M1 is the wristwatch-style dive computer for divers who want the Smart technology offered by SCUBAPRO's ground-breaking Human Factor Diving™ but who don't need air integration or an on-board digital compass.
Key Features:
Targeted to recreational and technical divers as well as CCR divers and freedivers.
Durable Black Tech coating delivers excellent protection from scratch and saltwater corrosion.
Predictive Multi-Gas ZHL8 ADT MB algorithm accommodates three gases (21-100% O2).
PDIS (Profile Dependent Intermediate Stops) calculates an intermediate stop based on N2 loading, current, and previous dives, and breathing mixes for safer diving.
Microbubble levels let you adjust the level of conservatism in the algorithm to match your experience level, age, and physical conditioning.

How To Choose A Freediving Watch – Buyers Guide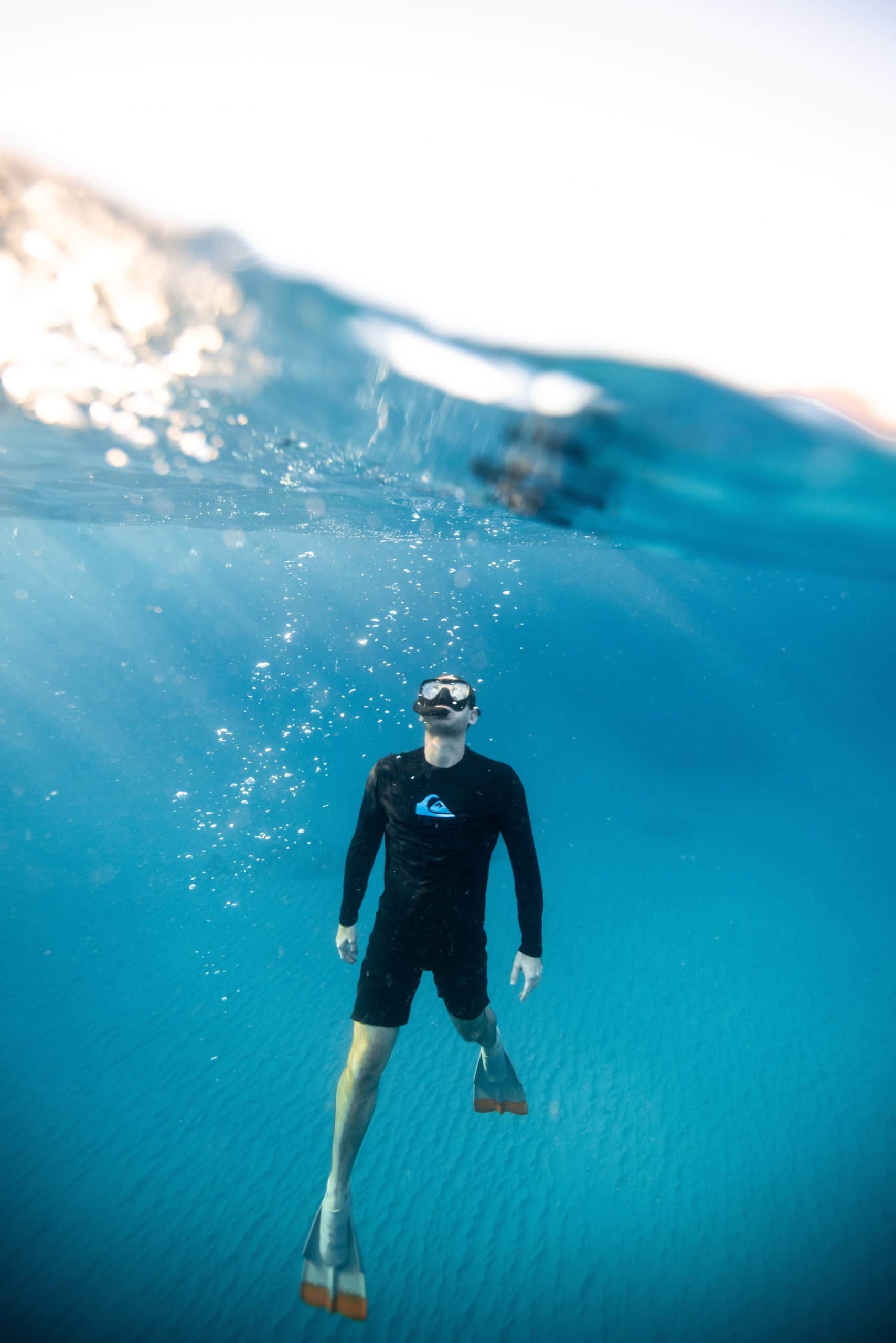 Tracking Your Depth
As you dive further under the water you're essentially putting yourself at greater risk. Of course, freediving is inherently more dangerous compared to other sports out there, but with the right training and equipment that danger can be greatly reduced. Using the best watch for freediving allows you to track your dive and keep your mind thinking about your depth and dive time.
This will ensure you don't get too carried away and end up diving too deep. You can also buy the best watch for freediving which has built-in depth and time alarms that you can pre-set before your dive.
Improve Diving Performance With A Freediving Watch 
Wearing a freediving watch tracks your depth and time making you a safer diver and potentially increasing the chances of avoiding a horrible accident. However, freediving watches can also be used to confidently track and set goals on your freediving journey.
For example, let's say on your first 5 dives you average 8m in dive depth and you want to reach the 10m landmark. Well, you can use your watch to track and store your dive data to see how fast you can progress up to your goals.
What Should I Look For In A Dive Computer?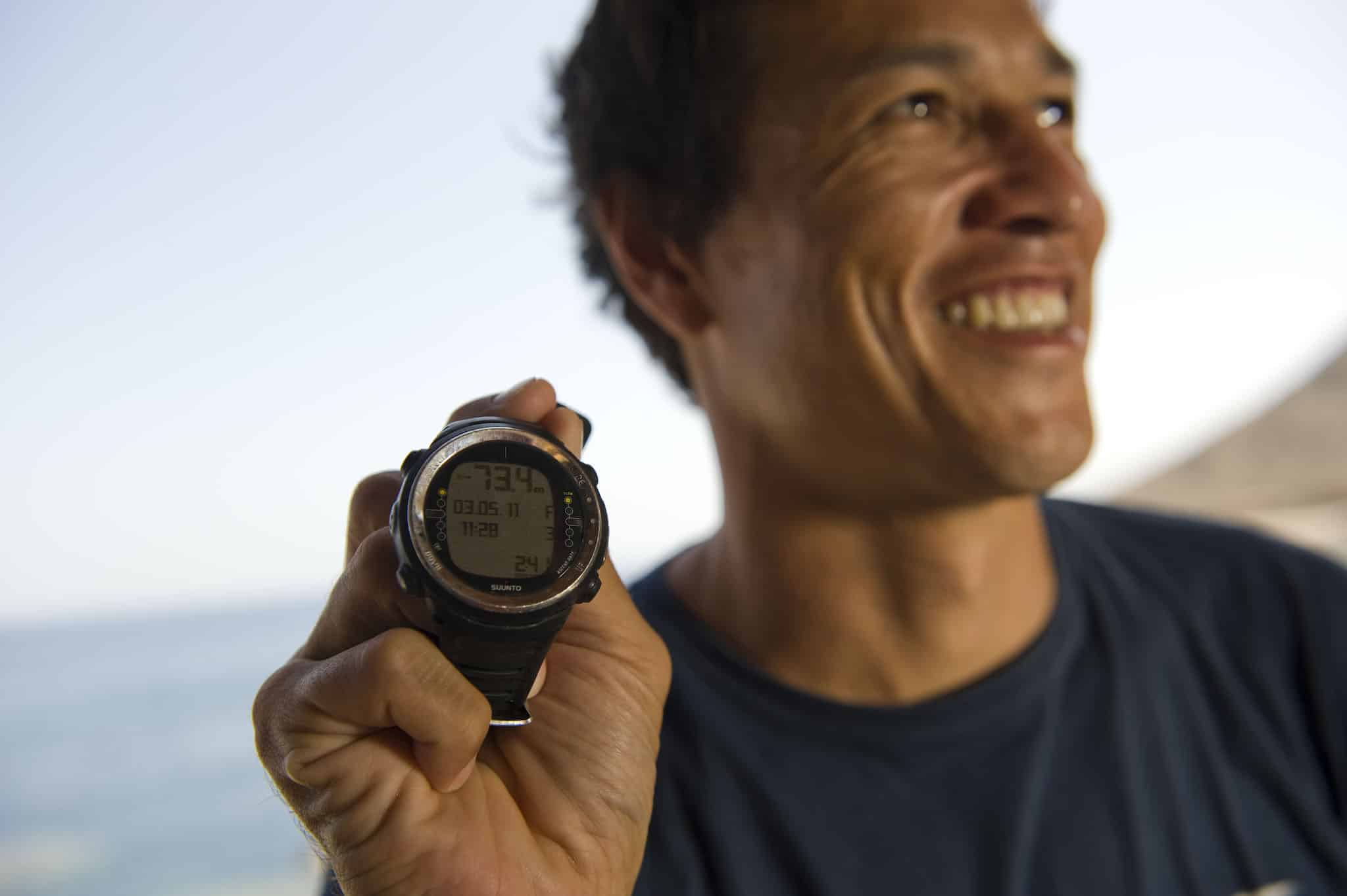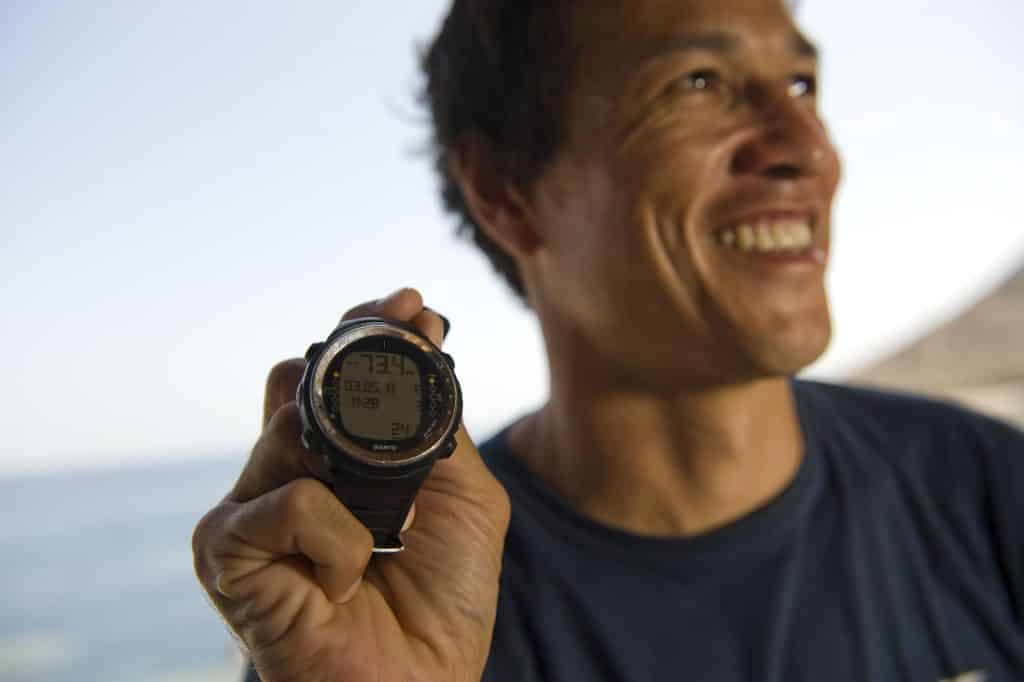 Easy To Understand User Interface
There is nothing more frustrating than being 15m under the water whilst holding your breath and wondering how to even get your watch to display anything you want. The last thing you need is a complicated dive watch when the whole purpose of the freediving watch is to assist you and keep you safe.
Pick a dive watch that allows you to switch between modes and features quickly and easily whilst underwater. Many of the watches on our list have single or dual button interfaces.
Another key point related to usability is to select a watch with a bright backlit LCD screen, it will make it so much easier to view your watch in dark water.
Freediving Watch Storage/Memory
It's important to choose a freediving watch with a decent amount of storage and dive limits before you need to download the information to a PC or Mac. Of course, this will differ from person to person… Will you likely download your info after every dive or would you wait until all 40 dives are complete then empty the data?
Remember there may be times when you are traveling to go freediving or scuba diving and might not have access to a PC every day.
Decompression Limits
Decompression sickness and nitrogen narcosis is a common issue that can potentially cause long term damage in scuba divers. It's not as common to get DCS in freedivers as they aren't inhaling compressed air.
However free divers do need to equalize their ears by pinching their nose and blowing gently. The depth you equalize differs from person to person but keeping an eye on your watch and depth gauge will allow you to understand and remind you when to equalize and resurface.
Freediving Watch Alarms
If possible I would always opt for a freediving watch that has built-in safety alarms. Alarms can warn you of dive depth, dive times, and the time it's taking you to resurface (to avoid DCS). Essentially there is no harm in buying a watch with these built-in features as ultimately they are to protect you from danger.
Materials and Durability
It's unlikely anyone would spend a good amount of money on a freediving watch if it was only going to last one or two outings in the water. Choosing a watch produced from durable, waterproof, and corrosion-resistant materials will increase the longevity of the watch.
Look out for a watertight casing and materials like silicone, stainless steel, and aluminum.
Best Freediving Watch – Conclusion
As we said earlier freediving is getting increasingly popular across the globe and the importance of remaining safe whilst you are out in the water is extremely important. Having the best watch for freediving will assist you in the water whether it's from a dive tracking and goal setting, safety, and just overall dive experience standpoint.
There is no question that there is something awesome about glancing at your wrist and seeing that you are 30m deep without the need for any breathing equipment! Freediving really gets the adrenaline pumping.
We believe that any of the best freediving watches on our list will serve you really well whilst on your dives. They are all made from reputable diving brands and have some awesome features.
Thanks for reading this guide on the best watch for freediving. We really hope it's helped you choose your ideal freediving watch!
Other Related Diving Posts: