10 Best Wakeboard Life Jackets in 2023 [Reviews]
Intro into the best wakeboard life jackets
Everyone knows that wakeboarding is one of the most adrenaline rushing water sports you can do. Nothing beats riding at high speeds on the surface of the water however you need to be protected with the best wakeboard life jacket to ensure you stay safe in the water.
You never know what might happen and hitting the water at high speeds can be like hitting concrete. Making sure you are able to stay afloat in these scenarios is extremely important.
To help you select the best wakeboarding life jacket we have put together this guide of our favorite top 10 life jackets and buyers guide so you have all of the information to make an informed choice.
We know how tough it can be to sift through hours of products trying to find the best ones. But don't worry we have done all that for you so you can spend more time out on the water!
Quick View:
Best 10 Wakeboard Life Jackets 
Best Wakeboard Life Jacket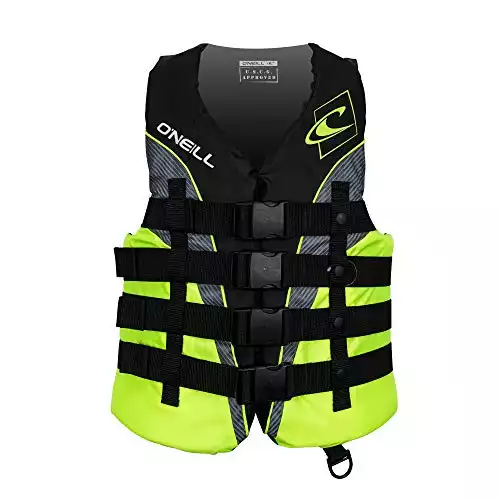 O'Neill Wetsuits Men's Superlite USCG Life Vest
Key Features:
USCG approved personal flotation device; perfect for wake sports, waterskiing, tubing, and swimming
Minimal bulk design allows full mobility
Durable coated Polyester shell creates a strong exterior
Lightweight Polyethylene foam is soft and comfortable
Very relaxed-fitting vest, which is suitable for most body types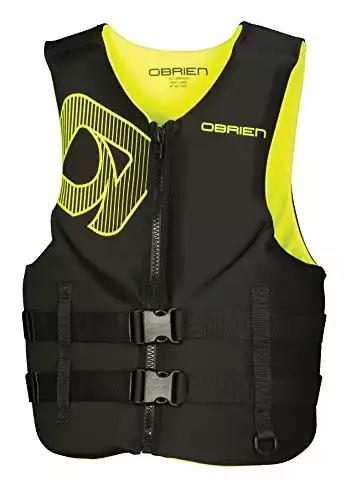 O'Brien Traditional Neo Life Men's Vest, Yellow
Key Features:
Neoprene Outer which gives the rider a Comfortable Fit
Zip closure and two adjustable belts ensure the jacket is tightly fitted to your body even whilst wakeboarding
Arm and neck holes are spacious and allow for lots of movement whilst wearing the vest
USCG Approved
Available in a range of sizes and colors

Competition Wakeboarding Vest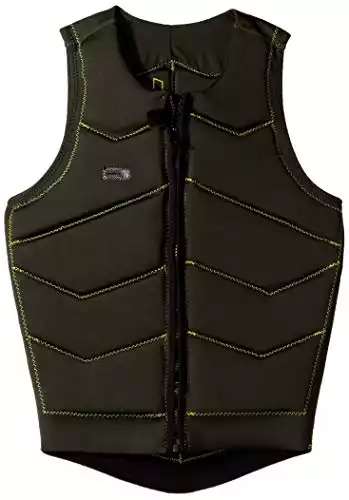 O'Neill Men's Hyperfreak Comp Vest
Key Features:
Not approved by the U.S. Coast guard as this wakeboarding vest is for competition waterskiing and wakeboarding
Anatomical flex points so you can move and adjust easily in the vest
Strategic seam placement allows flex points
Simple front zip design allows for easy entry and exit into the life jacket
Reversible design
Nytrolite foam core allows for quick-drying and makes the life vest lightweight
Body: 95% polyester, 5% spandex; Lining: 100% nylon; All panels bonded to neoprene
Available in a wide range of sizes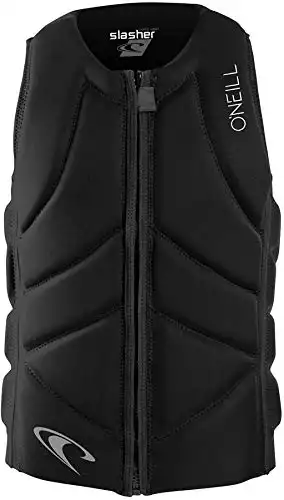 O'Neill Wetsuits Slasher Comp Life Vest
Key Features:
Not Approved By the U.S. Coast Guard As The Vest Is For Competition Waterskiing and Wakeboarding
NytroLite Foam: 3x Lighter, 10% More Buoyant, and Absorbs 15-20% Less Water Than Regular PVC Foam
Anatomical Flex Points increase the range of motion and prevent restricted movement. This is great for experienced and comp wakeboarders
Snug Fit For The Performance-Oriented Wakeboarder Or Waterskier Looking For A Life Vest Which won't Move During High Impact
UltraFlex DS neoprene provides warmth and flexibility
Full zip-up front with hook-and-loop tab prevents unwanted zipping
79% polyester, 21% spandex; Lining: 100% nylon; All panels bonded to neoprene

Body Glove Men's Phantom Uscga Life Vest
Key Features:
Yamamoto Neoprene With Durable Outer Shell With Ultra-Light Interior Lining
Lumbar Protection Pad With Segmented Neoprene Panels For Increased Flexibility
Advanced Air Foam Technology With Beveled Soft Pvc Front Foam For Maximum Comfort
Front Zip Entry With 2 Heavy Duty 1.5" Belts With Durable Quick Release Buckles
Concealed Back Side Straps With Strategically Placed Drain Holes To Shed Water From The PFD

Best Women's Wakeboard Life Jacket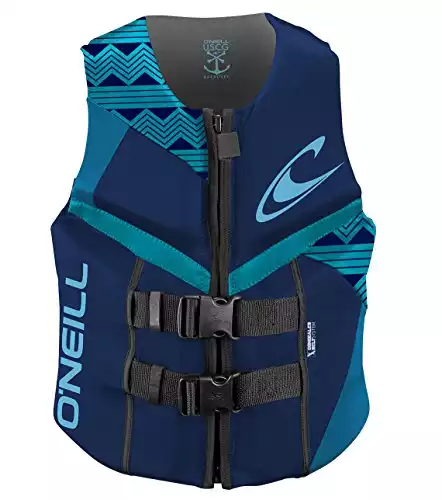 O'Neill Wetsuits Women's Reactor USCG Life Vest
Key features:
USCG Approved Personal Flotation Device; Perfect for Wake Sports, Waterskiing, Tubing, and Swimming
Segmented Foam Core And Anatomical Flex Points Allow Unrestricted Movement
Quick Release Safety Buckles And Heavy Duty Front Zipper Create an Unparalleled Sense of Security
Minimal Bulk Design Allows Full Mobility, While Expansion Panels Enable a Comfortable Fit
Relaxed Fit For The Water Sports Enthusiast Who Wants Some Room To Move
Positive customer feedback and many reports saying the vest fits snuggly without being overly tight on the top half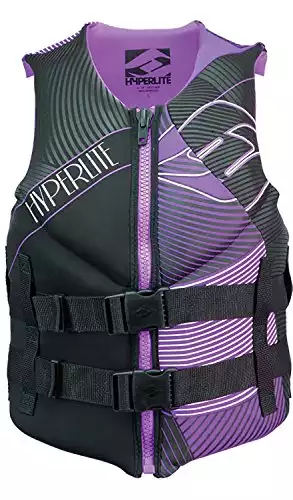 Hyperlite Ladies Indy Wakeboard Vest - Pink Large
Key Features:
The front zipper along with 2 adjustable strap design allows for a snug fit
Great color design is sure to catch the eye
This life jacket fits well without being overly restrictive allowing you to easily wakeboard
Not a competition vest, tailored more towards the beginner and intermediate wakeboarding experience level
USCG approved life jacket
Great customer feedback mentioning it is great for wakeboarding and other water sports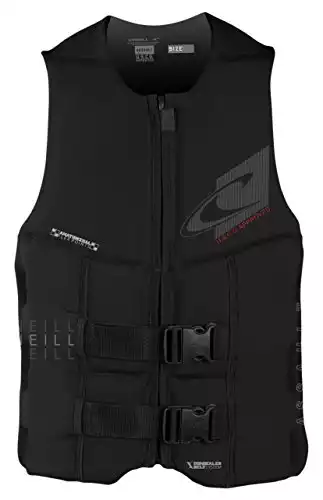 O'Neill Wetsuits Men's Assault Life Vest
Key Features:
USCG Approved Personal Flotation Device; Perfect for Wake Sports, Waterskiing, Tubing, and Swimming
Minimal Bulk Design Allows Full Mobility, While Anatomical Flex Points Enable Unrestricted Movement
NytroLite Foam: 3x Lighter, 10% More Buoyant, and Absorbs 15-20% Less Water Than Regular PVC Foam
Low-Back Lumbar Pad Provides The Extra Support You Need In Your Core
Snug Fit For The Performance-Oriented Wakeboarder
Great customer feedback with reports mentioning how comfortable the vest is with awesome lower back support - this is important as you will be stood up for long periods of time whilst wakeboarding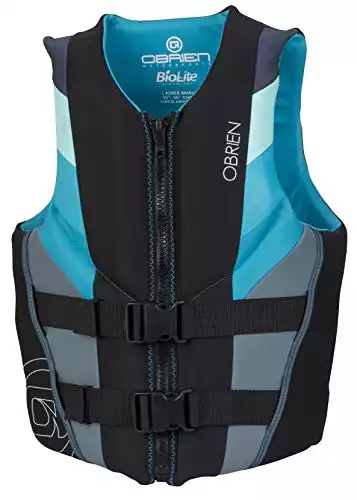 O'Brien Women's Focus Neoprene Life Jacket
Key Features:
Biotite construction - Neoprene alternative that is soft, lightweight, breathable and eco-conscious
Front hinge and wide armholes for enhanced range of motion
Segmented panels and wide armholes maximize your range of motion, while the front zipper and two adjustable belts dial in that snug fit to keep you safe on the water
PW lanyard attachment ring
Harmonized U. S. Coast guard and Transport Canada Approved life jacket
Designed to move with your body; Perfect for wakeboarding, wake surfing, waterskiing, kneeboarding, tubing, jet skiing, swimming, and other water sports
The BioLite outer material is environmentally conscious, adds breathability for faster drying, makes it lighter, and still provides exceptional comfort

What Features To Look For In The Best Wakeboard Life Vest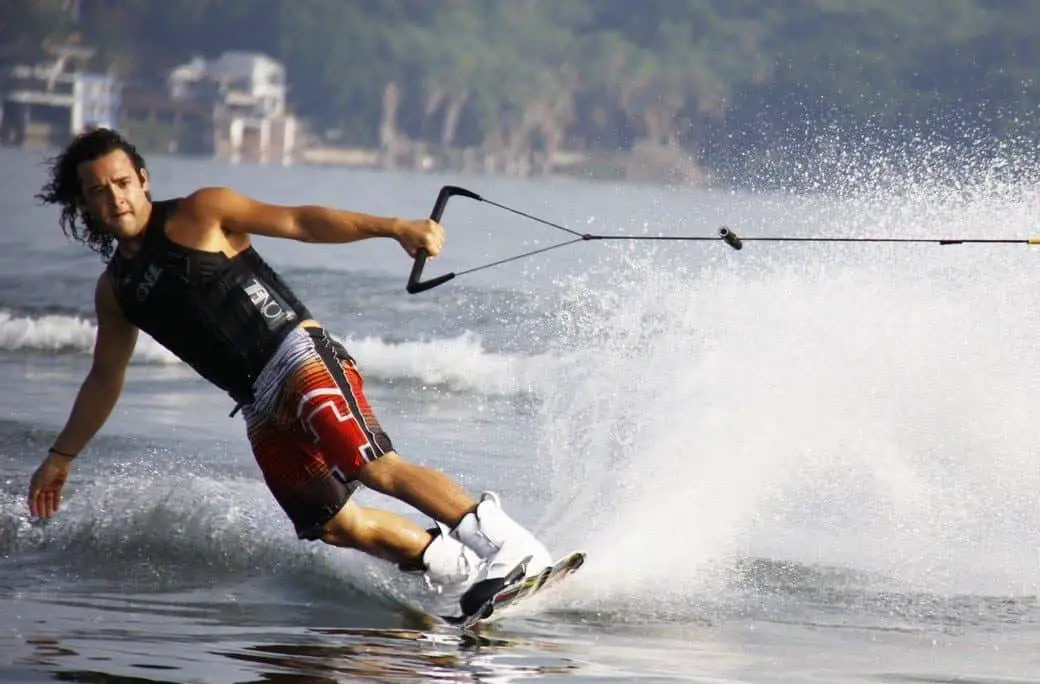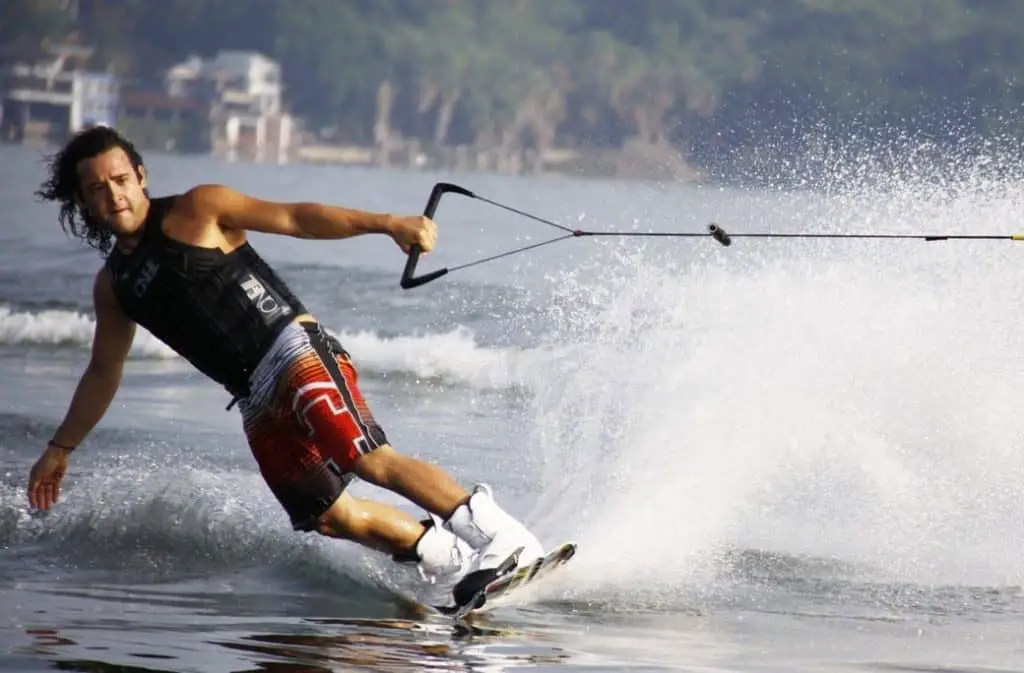 Sizing
Picking the right size of life jacket for wakeboarding is crucial to how comfortable you are whilst on the water and to your overall safety. Picking the wrong size could potentially be dangerous as the whole point of a life jacket is to keep you afloat and most importantly your head above the water level.
If you are specifically on the search for infant and kids life jackets then it's important to include those specific phrases in the search term as non of the standard life jackets will do the job and we haven't included any in our list, but you can check those out here.
Also, it's worth mentioning that life jackets are also usually male and female-specific, luckily for you we have included examples of both in our top 10 list for the best wakeboard life jacket. Just double-check you are buying the right kind before you order.
Wakeboarding life jackets are dedicated to the particular sub-set of water sports which included things like wakeboarding, jet skiing, water skiing, and other fast-paced sports. This is due to the higher impacts involved. If you were to fall and hit the water you want to make sure the lifejacket doesn't come off and compromise your ability to stay afloat.
This is why most regular life jackets won't stand up to wakeboarding. The best wakeboard life jacket is snugly fitted and tight around your waist and upper body. This allows it to remain in place and also stops it from moving too much which would prohibit your ability to move around freely.
Before ordering double-check the measurement guides provided by the manufacturer in the product details. And read the customer reviews many times they will provide user feedback as to whether a large fits more like a standard medium size and vice versa.
Material Choice
One of the key decision factors we looked at whilst choosing the 10 best wakeboard life jackets was the material choice used to manufacture the vest. All of the vests we have chosen are made from high-quality materials and will all last a very long time.
Common materials like polyester and nylon are used right across the water sporting industry whether it's for producing gloves, wetsuits, boots, and much more. They are lightweight, durable, and can be made water-resistant. They are a great choice for your wakeboard life jacket.
Probably the most popular material for the best wakeboard life jacket is neoprene, this again is used right across all sorts of items in water sports. It has all of the great features that nylon and polyester have but it produces comfortable items with a natural level of stretch which makes it great for activities that require you to move around a lot.
Style Choice
Whilst it's our duty to say that you should always choose functionality and safety ahead of looks – and this is true! But we would all be lying slightly if we said we never take the style and looks into consideration…
Now style choices don't necessarily just improve the way the jackets look there are also some design features that add functionality to the jacket and they differ from one jacket to the next.
The first thing to look at is zipper vs buckles or both. Either option is absolutely fine and the life jacket will still function fine. It's usually down to a personal preference. I doubt that a zipper will ever come undone but a buckle does add a layer of security you wouldn't get without one. Most Competition wakeboard life jackets don't have buckles as they might snag or catch whilst the pro is backflipping through the air… Something not all of us will be doing.
Another design feature is the size of the arm and neck holes. As long as you buy the right size it's unlikely you'll ever slip out of the jacket whilst floating. But choosing a jacket with bigger holes will give you more freedom to move and a bigger range of motion with your arms. If you can see yourself doing 360 spins and flips then the extra room will help.
Wakeboard Life Vest FAQs
What Is A Wakeboarding Life Jacket?
Wakeboarding life jackets are not the same as a life jacket you would use to say go kayaking or paddleboarding.
Due to the speed, you may hit the water if you fall off the jacket has to be snuggly fit to your body to ensure it does not come over your head and leave you stranded without aid. They are also very lightweight to allow you to easily move whilst on the board.
If I Fall Will The Life Jacket Keep Me Floating?
The whole point of a life jacket is to keep you afloat and more importantly keep your head above the water if you are knocked unconscious.
All of the jackets apart from the competition vests on our list have been approved by the US Coast Guard.
This ensures they are competently designed and have passed certain tests allowing them to be classed as safe to use for water sports. 
What Are The Main Differences Between A Wakeboarding And Jet Skiing Life Jackets?
Whilst there is a huge range of life jackets out there ranging from kayaking jackets, fishing jackets, and even inflatable PFD's.
They are all designed in a slightly different way to provide different levels of safety, mobility, and usability depending on the sport and location. 
​Jet Skiing life jackets and Wakeboarding Life jackets are very similar in many respects in that they both have to offer good mobility and a wide range of motion for your arms.
And that they have to remain tightly snug to your body to prevent them from coming off in the case of a high-speed impact such as a crash into the water. 
Conclusion
Overall choosing the best wakeboard life jacket will ensure you have a more enjoyable time out on the water and improve your safety.
Wearing a life vest gives you peace of mind and you can focus on the more important aspects of wakeboarding like keeping your balance, mastering the technique, and showing off with the wide variety of tricks I'm sure you have in your arsenal…
Ensuring you choose the right wakeboard life jacket will be more comfortable on your body and improve the actual level of safety it provides.
For example, choosing the right size and shape for your gender and body type will allow the jacket to be tight but not uncomfortable and be buoyant enough to keep you afloat if you fall in (which if you are just beginning to learn wakeboarding, you will!).
Firstly make sure you choose the right size for your body, this is crucial, and failing to do so can actually be very dangerous. Lucky for us most of the jackets are highly adjustable and with a few tweaks of the straps and buckles you can get a good fit.
Before wakeboarding test your life jacket out. Head into the shallow water and see if it can keep you afloat Roll onto your belly and back and see if you can keep your head above the water in all positions.
Next check the material, you want a soft, water-resistant, and lightweight material like neoprene. This will ensure your best wakeboard life jacket functions well and is durable enough to last you years.
​Other Boarding Posts: