Every fly fisherman knows the importance of having the best fishing gear possible, especially when you're standing for hours in the water. Warmth, waterproofing, and comfortability are paramount for every angler.
To help you decide which waders you should go for we have listed our best fly fishing waders. We looked at a few key features when deciding which waders made our shortlist, these were:
Warmth
Waterproofing
Comfort
Adjustability
High quality boots
Storage/pocket size
All of the best fly fishing waders we picked are high quality and excel in each of these categories. Below our choices, there is a guide on what fly fishing waders are and what key features you should look out for.
Quick View:
Let's dive straight in!
Best Fly Fishing Waders
Best Fly Fishing Waders
Compass 360 Stillwater II Breathable Fly Fishing Wader
The Stillwater II breathable wader by Compass 360 is practical, solid, and definitely deserves our top choice in our list of best fly fishing waders.
The waders are created with a sturdy, premium, highly water-resistant, breathable, 4-layer fabric. The Stillwater II has a huge zippered low-profile chest pocket which is perfect for holding everything you need access to whilst fly fishing. 
The Stillwater II wader is made with contour fit, double taped, 4mm 100% neoprene booties. The 4mm neoprene bootie provides warmth and protection for your feet along with comfort as you maneuver throughout different terrains. 
Not only are the waders affordable but they also come with a 1 year manufactures warranty for defects. 
Customers regularly comment on how comfortable the waders are to wear, even when spending prolonged periods of time in the water. They also mention how quickly the waders dry out after a fishing trip. 
What we like:
4mm Neoprene booties
Light Weight
1-year of Warranty
Easily adjustable suspenders 
Fleece-lined chest pocket
Next Best Fly Fishing Waders
Foxelli Neoprene Fly Fishing Waders
Foxelli is a renown brand name when it comes to fishing and hunting, producing excellent gear made specifically to make your time in the outdoors more comfortable. We believe these waders really deserve our top pick. 
When you first receive and put on your Foxelli Neoprene Fishing Waders, get prepared to experience comfort whilst fly fishing like you've never had before. 
Many customers comment on the comfort and ability to remain warm whilst fly fishing in these waders, even when spending hours in the water.
The waders also come with customisable, versatile chest suspenders guarantee that you'll find a cozy fit.
Produced using 4mm thick neoprene material, these waders offer great heat retention properties and are made to last.
Twofold sewed, tape-fixed creases are there to ensure that no water is getting inside.
The PVC boots have anti-slip soles for the best footing and hold on wet and slippy surfaces. Customers comment on how easy the waders are to get on and off. 
What we like:
Anti-slip PVC boots
Durable and tear resistant
Comfortable design
Best Budget Fly Fishing Waders
TideWe Chest Fishing & Hunting Wader
Another extremely popular wader choice amongst fly fishers - TideWe have produced an exceptional product here, which has proved to be an excellent choice for many anglers over the years. 
Nylon-reinforced PVC upper with waterproof boot attachment and taped seams guarantees 100% waterproof reliability.
Adjustable H-back web suspenders with durable quick-release buckles, flip-out chest pocket, and top drawcord, delivers convenience. TideWe also throws in a free 100% water-proof phone case is included to protect your belongings.
Whether you're fly fishing, hunting, doing farm work, or any other activity where you are going to get wet or muddy then these waders perfect for you. 
What we like:
100% Waterproof
Lightweight 
Comfortable design
Anti-slip boots
FISHINGSIR Fly Fishing Chest Waders
The manufacturer claims this next-generation nylon fabric a knitting density that is 2.5 times higher than common nylon in every square inch.
This makes these waders rugged with a soft touching feel providing comfort and warmth so you can spend a longer amount of time in the water. 
Waterproof PVC boots with a visible seam ensure the boot is 100% waterproof.
Adjustable back straps ensure you have a snug fit, as well as this there is also a waist belt so you can adjust how tight the waders are on your body. 
What we like:
Comfortable Material
High-density nylon maintains warmth
PVC boots with anti-slip bottom
Dark Lightning Fly Fishing Waders
Produced from two main materials, the nylon-reinforced PVC upper, new two-ply composite waterproof material gives these waders the same strength & waterproof rating, but 35% lighter than normal rubber waders.
Dark Lightning high chest waders taped all seams and DOUBLE TAPED the weak points which typically rub more to ensure the longevity of the product and ensure you can spend hours in the water with no leaks. 
Customers report on how comfortable and durable these waders are in the water, and how the large pocket is useful for storing lure and equipment boxes that you need close to hand. 
What we like:
Comes with a boot hanger
Two material design 
Comfy design
H back straps for easy adjustability
What are Fly Fishing Waders?
Waders have a wide range of applications in many different fields ranging from farm life to fishing.
They are used by fishermen to stay dry and warm whilst walking around in the water. Fly fishermen who stand in the water to cast their fishing line really need waders to be able to stay out in the water for long periods of time.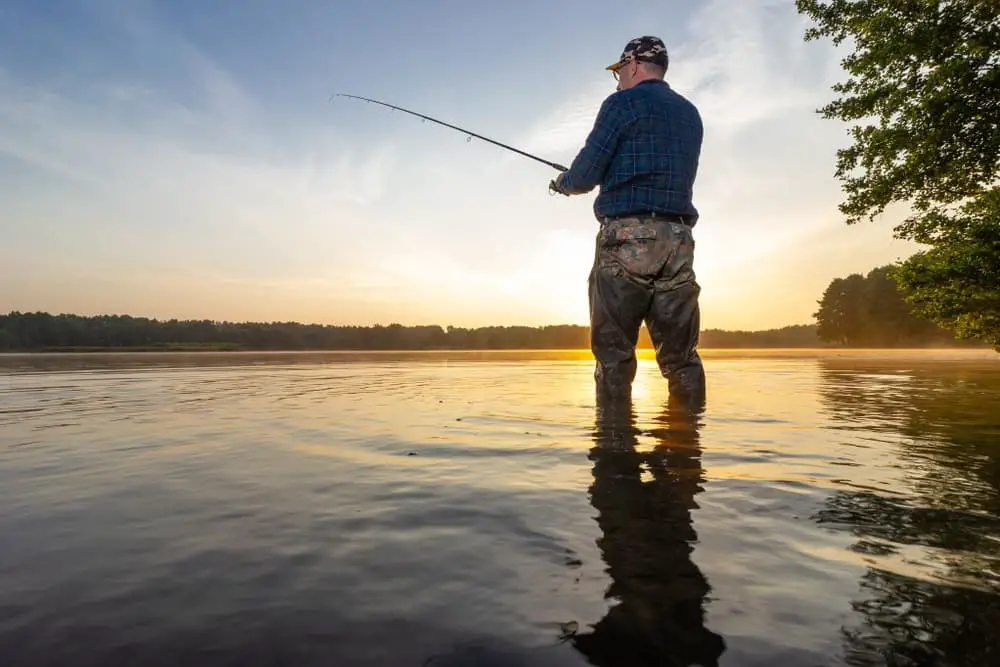 Fly fishing waders are usually produced from breathable and waterproof materials such as nylon which are designed to keep you fully dry but don't cause you to overheat due to their breathability.
With waders, you have the ability to fish in extremely cold waters and in adverse weather conditions and still remain comfy. This is due to the insulation inside of the waders which helps keep you warm.
Fishing waders usually come in two forms – Breathable & Non-breathable. Most anglers prefer to use the breathable waders in the warmer months when over-heating and sweat might be an issue. You can still add base layers underneath the breathable waders if you want to use them in the colder months as well.
The non-breathable waders are made out of a thicker rubber polymer that looks and feels 100% waterproof. Most people prefer to wear these in the colder months due to their ability to retain heat and moisture ensuring you stay warm. Non-breathable waders are said to leak less due to the thicker material, so they are often used alongside fish finders and other electronic devices.
Stocking Foot vs Boot Foot Fly Fishing Waders
When trying to decide which fly fishing waders you want to buy, you'll come across two main types: Stocking foot or boot foot waders.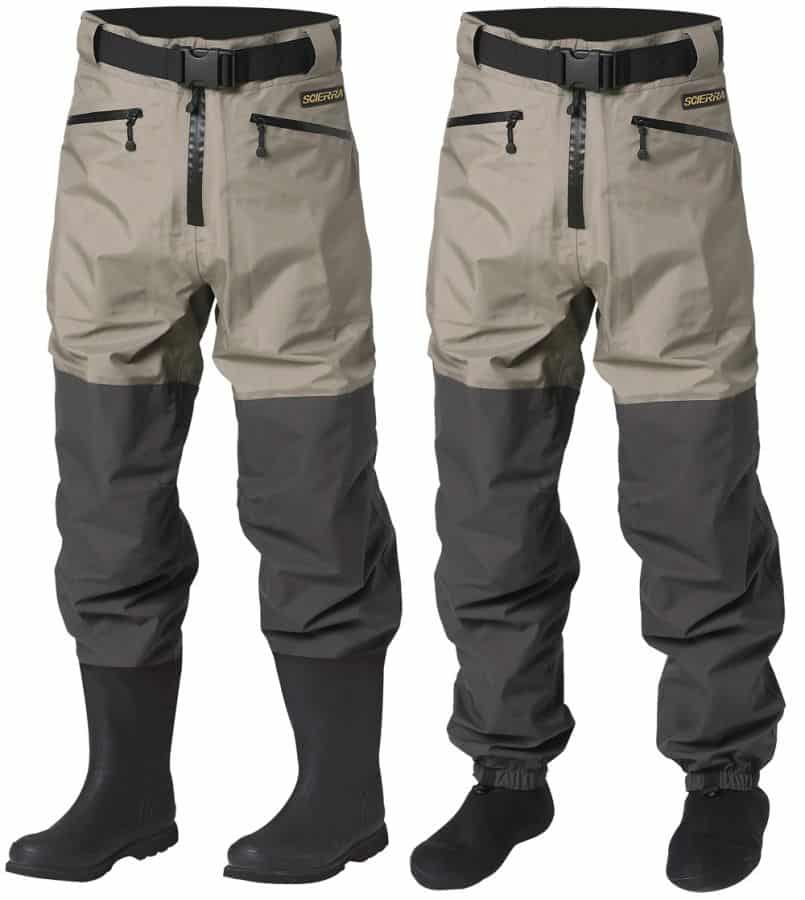 If you like the simplicity of simply stepping into an all in one booted wader then go for boot foot waders.
The boot is sewn or glued onto the leg of the wader. Most people also opt for this type if they will be fishing on fairly stable ground as the booted waders tend to offer less ankle support and give the 'baggy' fit.
This type of fishing wader is usually used by the close shore, river, and lake anglers.
If you have no idea where you'll be fly fishing next then I'd opt for stocking foot waders.
Stockingfoot waders allow you to choose your own boot. You can choose a boot that offers more comfort and better ankle support than boot foot waders.
This also allows you to change the boot depending on the terrain you are going to navigate that day.
Stockingfoot waders also tend to last a lot longer as the boot is the main aspect of the wader people want to change more often. I hear some people mention they have had their pair of stocking foot waders their entire fly fishing career.
Because you have to purchase wading boots and stocking foot waders. On a hot day where you don't want to wear your waders, you can just slip on your wading boots and fly fish wearing a pair of shorts.
Basically, if you go for stocking foot waders you end up with a more adjustable/versatile setup, but you trade this for the convenience of being able to just slip on some boot foot waders.
Best Fly Fishing Waders Material Choice
So now that we have gone over what fishing waders are and the main types of fly fishing waders, let's talk about what the main production materials are and the benefits of each.
Essentially fly fishing waders are produced from 2 different types of materials – Neoprene and a specialized breathable fabric such as gore-tex or dri-plus (there are many more).
Neoprene Fishing Waders
Neoprene waders are typically used by people fishing in colder water conditions and climates or used by more elderly people who want to remain warmer.
In these colder conditions, neoprene wader excels in keeping you warm when compared to other materials. There is a reason most deep-sea wetsuits are made from this stuff.
Generally, neoprene waders range from 3mm thick to 5mm thick – the latter being the warmer of the two. If you are fishing in varying temperature waters you could opt for the thinner waders and wear a warmer base layer of clothing under the waders.
The main issue with neoprene waders is that they lack when it comes to breathability. This can be an issue for anglers by causing them to become too hot whilst fishing. You can also be left with condensation inside the wader due to the lack of airflow in the wader. Despite this, they are king when it comes to keeping warm.
In conclusion, if you are planning on fly fishing in colder water then neoprene waders will most likely be the best choice for you.
Breathable Fly Fishing Waders
Breathable waders are usually made out of a modern compound such as Gore-tex. They are specially designed to keep you completely dry whilst allowing air to flow and your body to breath. No condensation builds up as your body heat and sweat can escape the wader.
Due to heat and sweat escaping, breathable waders are not as warm as neoprene equivalents but the materials have come a long way in recent years and most anglers cant see the difference.
They will most likely still keep you warm and dry in colder climates and you can always wear more clothes underneath.
Another key point of breathable waders is that the materials tends to be much softer and flexible and therefore more comfortable than neoprene waders.
If you are spending hours on end in the water or walking around a lot then you may benefit from the extra comfort you'll get from a pair of fly fishing waders made from a breathable material.
Size and Fit of Your Fly Fishing Waders
When buying a pair of fishing waders, make reference to the sizing guide and chart provided by the manufacturer.
You want to ensure you get a snug fit in your waders to ensure you can fish comfortably whilst keeping full range of motion in your casts.
Getting a snug fit will also ensure not as much air escapes or enters the waders – this will help keep you warm in the colder months.
What Weight Should Your Fishing Waders Be?
This always comes down to personal preference and how strong/fit you are as a person.
But if this is your first time buying a pair of fishing waders, then I would always recommend going for the lightest option.
Most higher-end waders make a point of being produced from lightweight materials. It will make casting and moving around in the water much easier.
Fishing Wader Boot/Sole Material
If you choose boot foot waders or are purchasing some wading boots then it's important to eveluate the sole material and design as this can improve your comfort and safety in the water.
Felt Soles
Although felt soles seem to be getting more outdated in recent years, it is a popular material for boot soles whilst fishing.
Although felt struggles to perform well in muddy water or sandy river beds, it offers great traction on algae-covered and slippy rock surfaces.
Take note, some felt soles are banned in some US states for fly fishing so please look into your local state laws!
Rubber Soles
Similar to what you would find on the bottom of a rain boot, rubber soles have aggressive tread designs on the bottom which give great grip and traction on slippery rocks.
You will often find these soles on PVC boot foot waders. Although they provide a good grip in the water, they aren't the comfiest option as they don't offer much flexibility.
Hiking Boot Soles
Soles similar to that which you would find on a hiking boot are usually found in set ups using stocking foot waders – but not always.
The sole is similar to the rubber sole in that it has a good tread design to offer grip, but they usually also have some flexibility to make walking and hiking further distances more comfortable.
Conclusion
Regardless of which fly fishing waders you choose, I hope I have helped you make a decision or taught you how to make a more informed choice. We are positive that if you buy any on our list then you're making a great choice.
To recap, our top two choices of fly fishing waders are Compass 360 Stillwater II Breathable Fishing Wader & Foxelli Fly Fishing Waders. 
With either of these two choices you'll be fly fishing with warmth and comfort at an affordable price!
Happy Fly Fishing!
If you also fish from a kayak and enjoy our product reviews then check out out top list of fishing kayaks for under $1000.
If you use a fish finder whilst fly fishing then we also reviewed a bunch of Fish Finders.
Latest Fishing Posts: