Best Speargun For Spearfishing – The Ultimate Buyers Guide
Spearfishing has been around since humans started making basic tools for hunting and gathering food. They used harpoons and other rigid and flexible barbs to catch fish.
Choosing the best speargun is just as important as spearfishing itself. However, choosing a speargun is not always a simple task, especially if you're a beginner.
Below we have listed some of the best spearguns and their pros & cons. We have tried to include options for every experience level and budget. Let's dive right in!
Best Speargun at a Glance 
Speargun Reviews
How to Choose the Best SpearGun?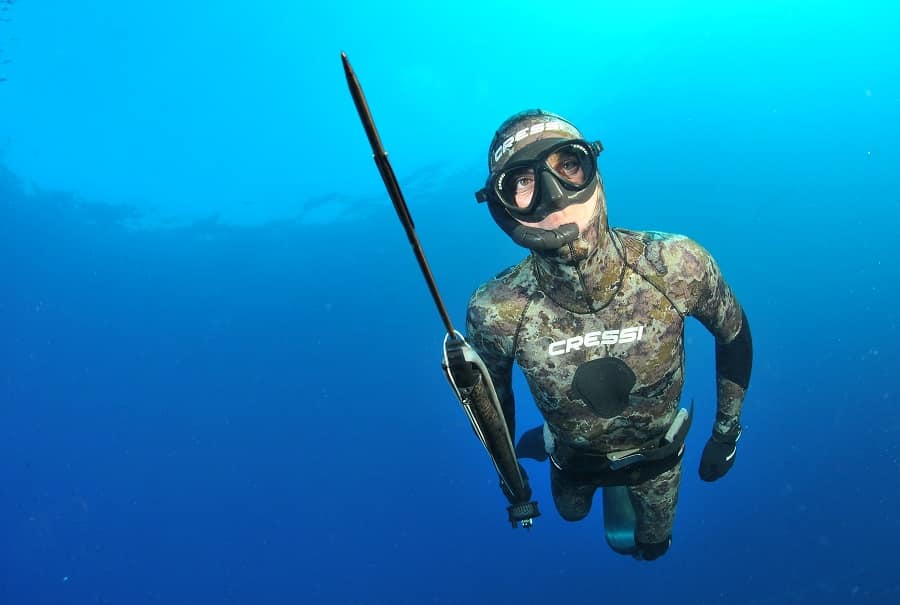 Before choosing the best speargun for yourself, you need to determine the kind of spearfishing you need it for. If you just started spearfishing then you will require a less powerful gun because you'll be staying near the surface more often. However, if you are going scuba diving then a stronger and more accurate gun is a smarter choice.
Type of Speargun
Spearguns are mainly of two types, pneumatic and band spearguns. Pneumatic guns are compact. A blast of compressed air helps to launch the spear. These spears are usually made for use in shallow waters. 
Band speargun use rubber bands to launch the spears. This one is easier to use and is also quite versatile and silent at operating. It launches spears with more power and is usually better suited for scuba diving.
Spear Type
After choosing the gun, you need to look carefully at the spears. A thinner spear will move faster but kill smaller prey. Spears are usually pretty standard as they are made up of stainless steel shaft and nose. You may need to choose the width of your spear which usually come in 6, 8 or 9 mm.
Length of Speargun
The length of the speargun is very important in deciding its use. If you choose a longer speargun which has more power and a longer spear, you'll be able to catch bigger fish. 
On the contrary, if the gun is too big, it becomes difficult to maneuver with under the water and potentially affecting how precisely you shoot. We would recommend going for an 'all-rounder', these are medium-sized guns which incorporate the best of both worlds.
How to Maintain Your Speargun?
Just like most machinery and equipment, taking care of your speargun will increase its lifespan. It also prevents any accidents and misfiring.
Here are some tips to keep your gun in top condition:
Soaking your gun in freshwater after a fishing expedition will help wash excess salt water away. Hence, it avoids accelerated corrosion.

After that, wipe out the gun with a towel.

Try to store bands in a zip lock bag and keep it inside a fridge. This will keep them nice and stretchy for longer.

Rubber bands might degrade if kept under the sun. So, store them in the shade.

Do not keep wooden guns under the sun because the stock might warp due to heat.

Wash your pneumatic gun with fresh water if it comes in contact with sand. Neglecting to do this can cause the gun to misfire.

You usually do not need to lubricate it but a dry lubricant won't do it any harm.
If you want to learn more, Click Here.
Conclusion
Spearfishing is a daring sport and it is becoming popular. However, it can be an arduous task choosing the right speargun for yourself. If you're a beginner at this sport, then you must know that finding a gun of the right size, speed and weight is important but confusing. You need to decide if you are looking for a band type or a pneumatic one depending on your use. 
Along with this, it is important to know if you need speed or precision. As already mentioned above, spearguns are quite specific to their use. I have been into this sport for a while now and I keep each one specific for the type of spearfishing I am going for. 
So, it is quite essential to carefully sift through all of them to find the right one for yourself
For us, JBL Woody 38-Special Speargunun is the best speargun choice because the pneumatic gun is great for beginners as well as experts. The butt is very visible in water so you can shoot easily. The power is also adjustable and it also comes with a safety catch. 
The 11mm barrel is great for fish hunting and the steel cord reinforces strength. Most importantly, the whole mechanism is very sensitive which makes shooting speedy.
If you want something that is professional and user-friendly at the same time then  JBL Woody 38-Special Speargun is a wonderful option to go for.
If you need some spearfishing gloves, then check out our top recommendations for spearfishing gloves.
If you're also looking for some free diving fins then check out our guide here.
Related Diving Posts: