Best Spearfishing Gloves – Our Favorites for 2023
Spearfishing Gloves
Spearfishing has been around since humans first learned how to hunt, therefore having the best spearfishing gloves possible will make your time in the water more comfortable, safe and hopefully improve your chances of catching more fish!
It's important to choose some spearfishing gloves that are strong enough to not tear, warm enough to keep you in the water for a long time, and flexible enough so you keep your hand dexterity and therefore can easily use your speargun for shooting and reloading whilst underwater.
Whilst comparing the best spearfishing gloves, we took many factors into the decision making process. We initially looked at the material which directly affects the strength, warmth, and dexterity of the gloves. Secondly, we considered the palm coating, this will help determine if the gloves will have enough grip to allow you to swim fast and handle the speargun appropriately without dropping it in the water.
After a lot of research we came to the conclusion there is no exact perfect spearfishing glove – usually, a glove has more particular qualities than the next. You, therefore, need to take into consideration your spearfishing style, where you intend to spearfish, and the fish you want to catch!
Best 5 Spearfishing Gloves
After hours and hours of researching spearfishing gloves, going over customer reviews and tech specifications. We have come to the conclusion of our 5 favorite spearfishing gloves that you should be using. 

Conclusion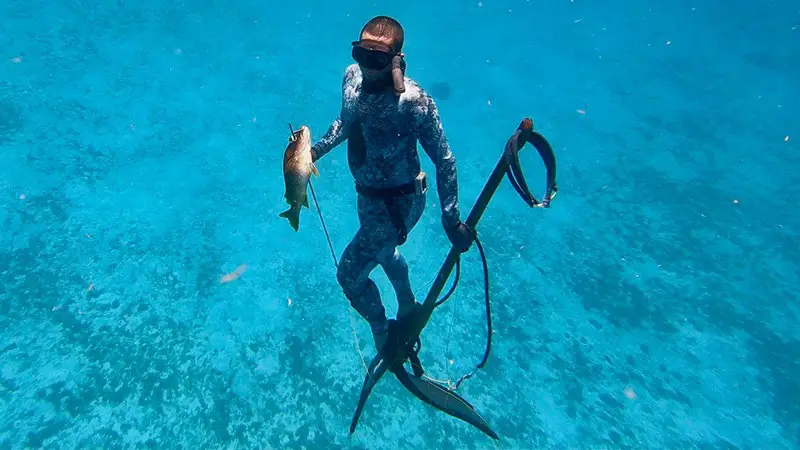 Overall our two best spearfishing gloves to buy are the Cressi Neoprene High Stretch Gloves and the D Vein Kevlar Spearfishing Dive Glove. Although any of the gloves on our list will serve you very well.
Our two top choices offer strength, warmth whilst maintaining a good degree of dexterity and won't hinder your ability to use the speargun.
If you are also looking for a speargun then check out our top recommendations for spearguns.
Related Posts: