10 Best Ice Fishing Lures For Pike
Catching big northern pike through the ice is one of the most satisfying activities you can enjoy during the winter. Pike actively feed throughout the winter months, so you can readily catch them if you know where to find them.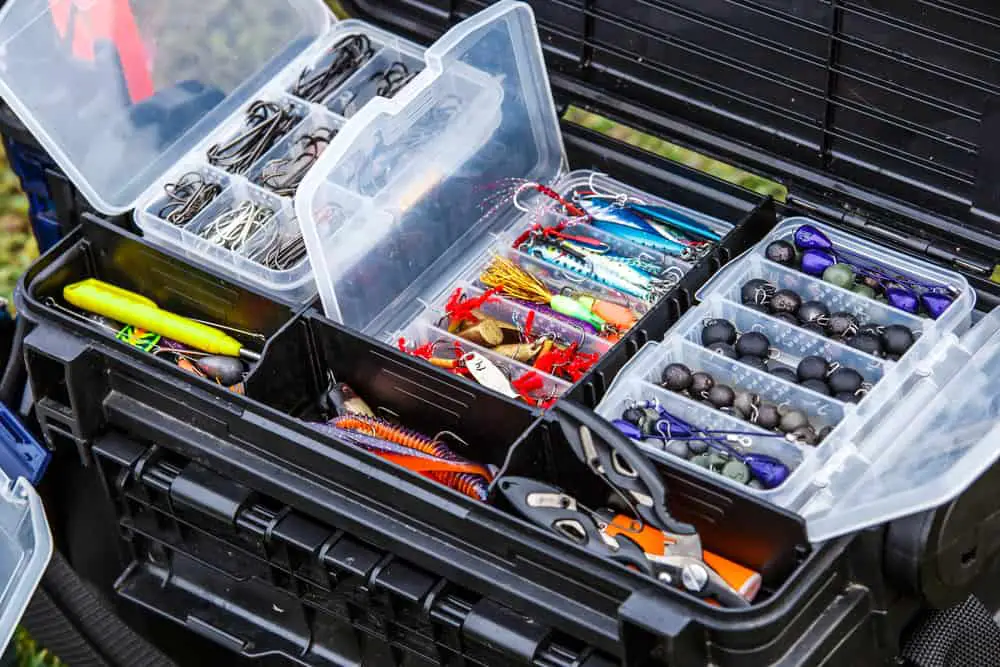 To make the catching process all the more easier, an effective fishing lure is required. The best ice fishing lures for pike dart and flutter erratically, mimicking the behavior of small baitfish. Lures that do their job will entice pike to swim towards the device and strike. 
This guide will take an in-depth look at 10 of the best ice fishing lures for pike, as well as a handy buyer's guide to provide some important guidance, and answers to a few of the frequently asked questions.
#1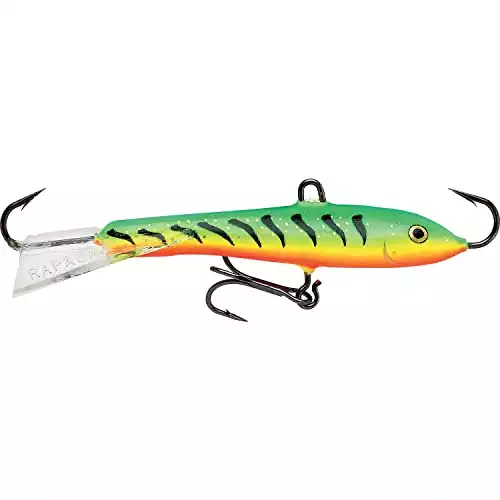 Rapala Jigging Rap Fishing Lure
The first device on the list is the Rapala Jigging Rap, one of the most popular ice fishing lures of all time. It swims in circles as it falls into the water, helping to stir up and attract any pike that may be loitering nearby. 
Furthermore, this lure has a balanced design with a profile that closely resembles a baitfish, something which northern pike are always on the lookout for. 
In terms of other features, the Rapala Jigging Rap has a center treble and two fixed single hooks (one reversed on the tail and another on the nose). This combination is perfect for providing consistent hookups. 
Finally, this lure comes in as many as five different weights, with the larger sizes being the best options for catching pike. 

Key Features:
Circular motion as it falls into the water to stir up and attract pike

Two fixed single hooks for consistent hookups

Similar profile to baitfish, which northerns are constantly looking for

Five different weight options

#2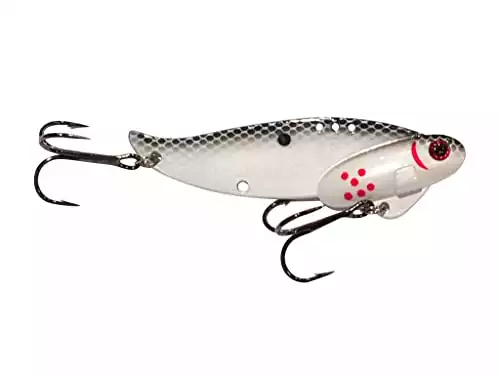 Blitz Blade
The Blitz Blade lure provides a realistic and lightweight design with unique offsetting fins on either side of the head. These fins also allow the lure to spiral downwards when the device sinks. 
This lure is constructed from 100% zinc alloy which is considerably lighter than traditional lead blades.
The construction of the device slows down its descent which closely resembles the descent speed of an injured fish. Moreover, zinc is also far safer for the environment than lead lures. 
In terms of sizing, the Blitz Blade comes in ¼ of an ounce up to 3-½ ounces. If you're looking to just stick to pike fishing, the larger sizes will be better suited to your needs. 
Key Features:
Realistic design with unique offsetting fins is both lightweight and good for the environment

100% zinc alloy construction slows down the descent of the lure to closely resemble the speed of an injured fish

Comes in different sizes, ranging from ¼ of an ounce up to 3-½ ounces

#3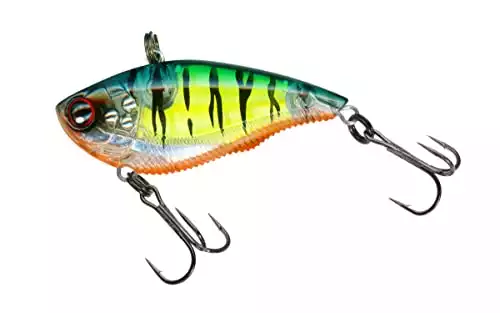 Yo-Zuri 3Db Vibe
The Yo-Zuri 3DB Vibe comes equipped with 3D internal prism technology that effectively reflects light to attract fish.
It also features a patented ribbed belly which creates distinctive wave-movements and vibrations that further entice nearby fish in the water. 
The 3DB Vibe has an incredibly lifelike body with a large fitted eye that adds realism and a focal point for pike to strike. Furthermore, this lure has plenty of premium components, including black nickel split rings and strong black nickel hooks. 
All things considered, the 3DB Vibe from Yo-Zuri is a solid ice fishing lure for pike during both the summer and winter. 
Key Features:
3D internal prism technology reflects light to attract nearby fish

Lifelike body shape with large fitted eye adds realism 

Patented ribbed belly generates a strong vibration throughout the water

Black nickel split rings and hooks enhance performance

#4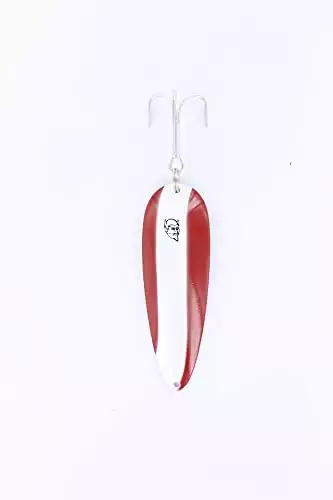 Original Dardevle Spoons
This classic lure from Dardevle remains one of the most popular and best, all-round performing baits on the market.
Its most famous color combination is the red and white option which provides a bright, flashy, and effective distraction for pikes in the water. 
With one ounce weight and 3.5 inches length, the Original Dardevle Spoon is big enough to work consistently well for pike fishing, as well as catching other game fish like bass and muskie. 
Cast or trolled, this spoon provides a unique wiggling and wobbling action that is irresistible for nearby fish in the water. 
Key Features: 
Color combination offers a bright and flashy distraction

Unique wiggling motion is guaranteed to attract nearby pike

One ounce weight and 3.5 inches length provides good size

#5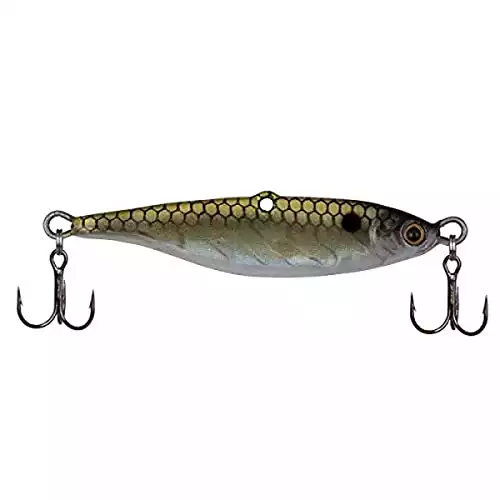 Sebile Vibrato
The Sebile Vibrato is one of the most effective lures on the market for attracting any pike that may be nearby.
The lure constantly vibrates as it travels through the water, with a slow flutter rate on the fall which creates a high amount of flash and disturbance. 
Furthermore, this excellent lure from Sebile vibrates on the pull to mimic the movement of a wounded baitfish. There are also two stout treble hooks attached to the device which effectively ensure that you won't ever miss a single hookset. 
In terms of size, the Sebile Vibrato comes in a variety of different models, ranging from 1.5 inches and ⅛ ounce to 2.625 inches and one ounce.
The lure has a compressed body with a thin back and wide belly, as well as a perfect center of gravity which gives the most efficient action and control to the lure - even in the lighter models. 
Key Features:
Slow flutter rate for high flash and disturbance

Vibrations on the pull to mimic the movement of a wounded baitfish 

Excellent center of gravity provides impressive control and action 

Two stout treble hooks ensure user won't miss a single hookset

#6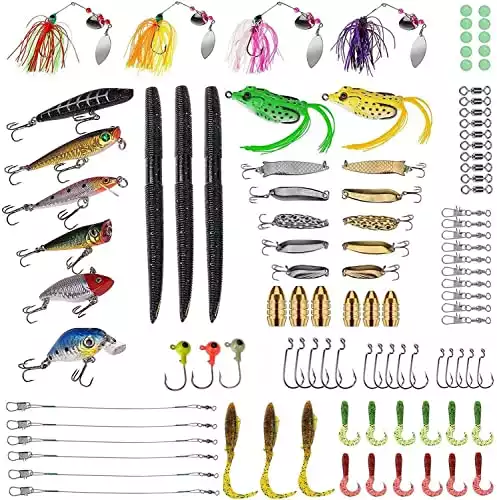 PLUSINNO Fishing Lures
This incredible set from Plusinno provides you with a wide range of different lure options, making it as easy as possible to select a lure that's perfect for your individual needs.
This 102-piece set not only includes lures, but also jigs, hooks, line stoppers, weight sinkers, and barrel swivels. 
The lifelike design crankbaits included in this set are made of 3D eyes and incredibly realistic paint. The high-quality lures will help you to attract more catches and provoke predators to strike. 
What's more, this set is super compact and easy to take around with you, so it makes an ideal gift for birthdays and Christmases. 
Key Features:
High quality, realistic lures to attract all types of fish, including pike

Not just lures, but plenty of other essential fishing equipment included in the set

Compact and easy devices to travel around with

#7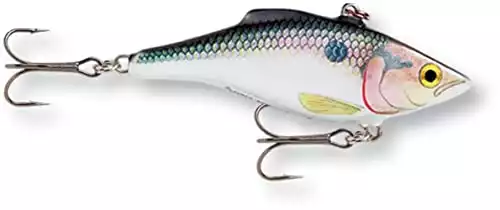 Rapala Rattlin Fishing Lures
The Rattlin Rap from Rapala is a classic lure for ice jigging. It comes in a variety of natural colors and sizes, with the 2-¾ inch and 3-⅛ sizes the best for pike fishing. 
The lure is equipped with two full-size treble hooks for efficient hookups, as well as sound frequencies that are harmonic and "in tune" with nature.
These sounds, combined with the well-renowned Rapala "wobble" make this device one of the very best on the market. 
To use the Rattlin Rap, you can opt for either short hard rips or long lift and fall motions. Both methods will provide you with loud rattles and excellent levels of vibration. 
Key Features:
Natural and harmonic sound frequencies perfect for attracting pike

Equipped with two treble hooks for sure hookups

Available in a range of different sizes and natural colors

Can be used with equal efficiency for either short hard rips or long lift and fall motions

#8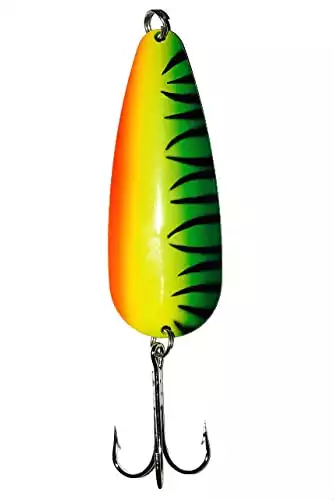 Guideline GTN Fire Tiger
With one full ounce of weight, the Guideline GTN Fire Tiger is another high-quality spoon on the market that can power through most conditions and is big enough for pike. 
The spoon is equipped with dual split rings to run true through the water, and is highly effective when the northerns are distracted and actively feeding on perch as their predominant prey. 
In terms of construction, the Guideline Fire Tiger is made of nickel and coated with enamel. Furthermore, the colors of this lure cleverly resemble the colors of a yellow perch to further entice the pike you're trying to catch. 
Key Features:
One ounce weight to power through the wind

Similar color scheme to yellow perch

Dual split rings to help the spoon run true through the water

#9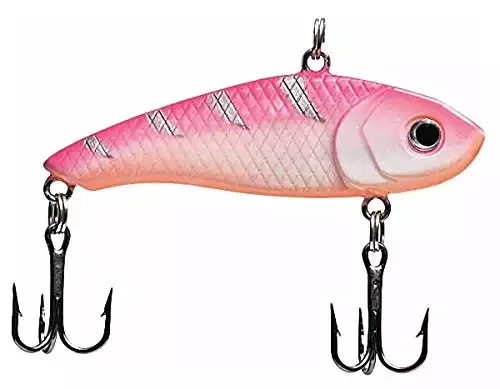 Dynamic Lures HD Ice Fishing Lure
This fantastic looking fish lure from Dynamic Lures comes in a range of nine colors, so you'll have plenty of choice if you're into the aesthetics of fishing equipment.
The hollow construction of the device also provides the perfect balance of sound and action for attracting nearby fish towards the lure. 
Despite its hollow construction, the lure is ideal for ice fishing and has a rapid and responsive sinking action that gets to work in no time.
Furthermore, it has two triple hooks on both the front and back of the lure to ensure that you successfully secure your catch. 
Key Features:
Hollow construction provides an ideal combination of sound and action to trick pike in coming towards the lure

A large range of different color options for those who want to experiment with various colors for catching different types of fish

Rapid and responsive sinking action ensures that the device gets to work instantly 

Optimally weighted to attract and catch stubborn fish

#10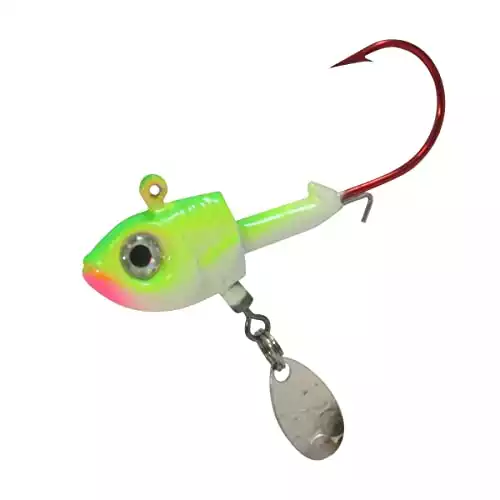 Northland Thumper Jig
The final lure on the list, and by certainly no means the least, is the Northland Thumper Jig. This device is an underspin jig that's ideal for fishing with soft plastics or live bait. 
The blade is a hammered Colorado style which provides the signature "thump". What's more, Colorado blades have a wider spin than the vast majority of other blades, which is perfect for vertical fishing during the winter months. 
At ¼ of an ounce, the Northland Thumper Jig isn't the heaviest lure around, but nevertheless, when tipped with either bait or soft plastics, it's more than enough to get down to the weed beds where pike tend to roam. 
Key Features:
Wider spin than most lures on the market, ideal for fishing in the winter

"Thumper" belly blade flickers, flutters, and flashes to lure fish in 

Blood-red wounded bait hooks stimulate the bite

Frequently Asked Questions
What Are Fishing Lures Made Of? 
Fishing lures can be made of a wide range of different materials, including plastic, wood, metal, rubber, cork, and tungsten. Furthermore, even materials such as animal hair, feathers, and tinsel can be used. The type of material used to make up a lure usually depends on the fish you have to catch. 
Is It Worth Using An Underwater Camera For Ice Fishing? 
When you're ice fishing for pike using a spoon, an underwater camera can prove very useful. This is because you'll often find that the flashy action of a big spoon attracts a fish to swim closer and investigate, but not actually grab the lure.
Therefore, using an underwater camera to notice when a pike is staring at your spoon is great because it'll allow you to quickly change to another lure type such as the jigging bait to catch the fish and seal the deal. 
What Do The Numbers Mean On Fishing Lure? 
A lot of rods have three sets of numbers noted on them. The first set usually indicates the length of the rod, the second set provides information about the line, and the third set gives the weight of the lure.