Best Snowboarding Gloves Of 2021 – Stay Warm & Dry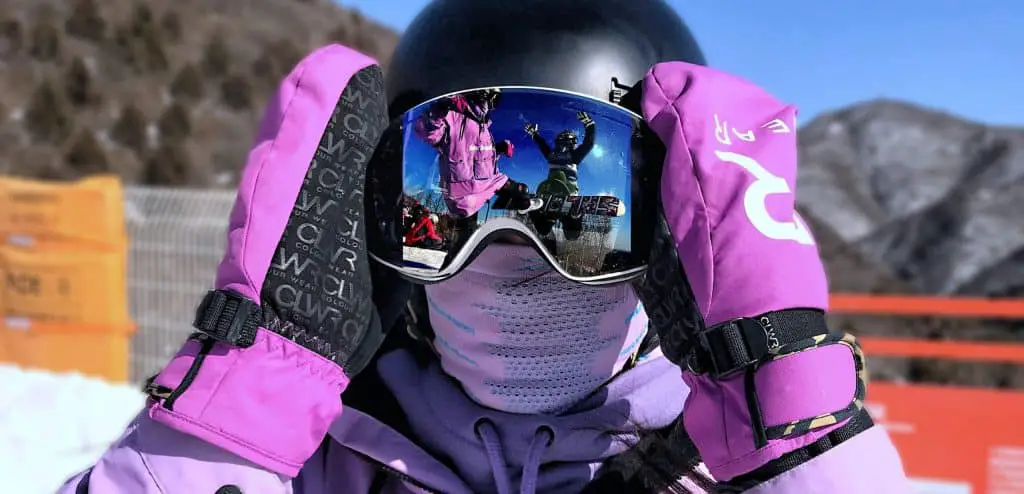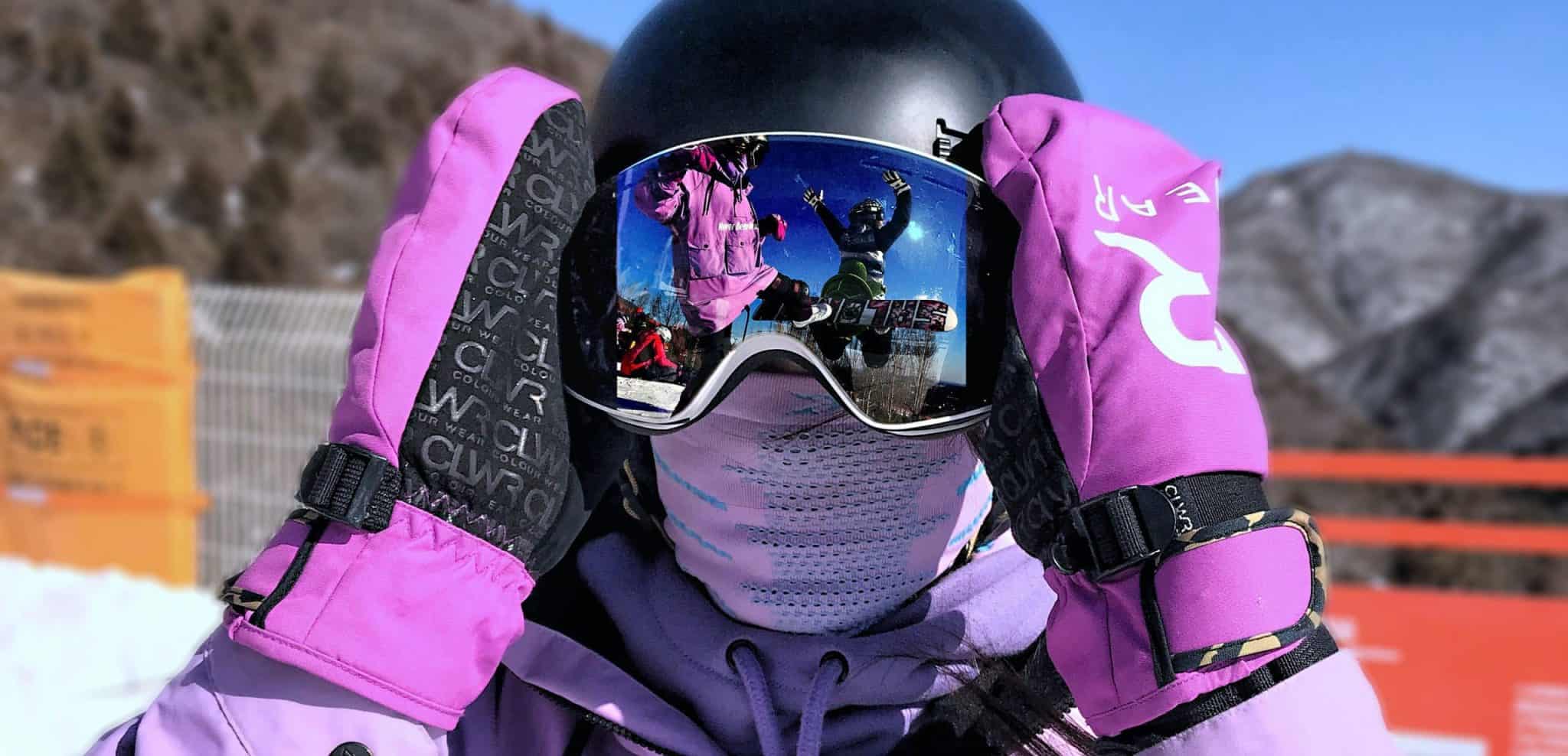 Choosing the correct gear for your next adventure on the slopes could be the deciding factor as to whether you enjoy your trip or not.
The last thing you want is for your hands to get cold and wet which could reduce your time on the slopes, or even worse lead to conditions such as frostbite.
There are a few factors you should consider when purchasing a pair of the best snowboarding gloves or mittens. The waterproof rating, fit, materials, extra features, and durability. We have talked about each consideration in more depth towards the end of the article.
Best Snowboarding Gloves
Best Snowboarding Gloves
Burton Mens Gore-Tex Snowboarding Gloves, Denim New
Our pick for the best snowboarding gloves goes to these gloves from Burton. Burton is a brand that needs no introduction in the world of snow sports. They have been producing some of the best snowboarding and skiing equipment for many years.
Waterproof & removable four-way stretch DRYRIDE Thermex liner updated with Screen Grab touchscreen control; Silicone grip palm offers a firm handle for securing any tool.
Thermacore insulation with brushed microfiber fixed lining provides added warmth
Ergonomic pre-curved fit.
Gore warm insert offers a dry and breathable level of performance.
A hidden heater/vent pocket can hold a disposable handwarmer or provide ventilation.
Next Best Snowboarding Gloves
Dakine Men's Excursion Gore-Tex Snowboarding Glove
Stretch softshell build lends a natural feel and grip for adjusting boots and bindings.
Waterproof-breathable GORE-TEX® insert features Gore Active technology for maximum breathability and temperature regulation.
Durable water-repellent leather palm.
Primaloft® insulation (170 g) and a wool liner (360 g) keep your hands warm.
Constructed from environmentally friendly materials.
Best Snowboarding Mittens
Burton Men's Gore-Tex Mitten + Gore Warm Technology
Another set of high-quality snowboarding gloves from Burton, although these ones aren't exactly gloves, mittens. Mittens don't offer as much dexterity and handling ability as gloves, but they will keep your hands warmer as your fingers are 'huddled' together.
Waterproof DRYRIDE two-layer fabric shell with Screen Grab Toughgrip palm for total touchscreen control.
Thermacore insulation with brushed microfiber fixed lining provides added warmth.
Ergonomic pre-curved fit.
Gore warm insert offers a dry and breathable level of performance.
A hidden heater/vent pocket can hold a disposable handwarmer or provide ventilation.
Best Budget Snowboarding Gloves
MCTi Ski And Snowboarding Gloves
The next set of snowboarding gloves on our list come in at a very reasonable price and are still packed with features that aid high performance, warmth, and durability whilst out on the slopes. They are low-bulk ski gloves with 40 grams 3M thermal Thinsulate insulations and 120 grams thick cotton which keeps the glove profile low but keeps hands warm.
The waterproof TPU inserts wick away moisture and helps hands stay warm and dry.
The section between the thumb and the index is reinforced with PU leather to protect against thumb joints pain whilst gripping onto the ski lift or poles.
Overall, we believe that for the price, these gloves are a great choice for your next adventure on the slopes. Whilst they may not perform as well as a Burton set of gloves if you are new to the sport, or only go snowboarding once or twice a year then these will work just fine.
The North Face Men's Montana Etip GTX Snowboarding Glove
North Face products are growing in popularity in all snowsports areas and it's easy to see why. They are producing snowboarding accessories that are on par in terms of performance and quality with some of the leading snowboard brands.
Etip functionality allows you to use your touchscreen device whilst out on the slopes.
GORE-TEX insert technology provides maximum dexterity and waterproof & breathable protection.
5 Dimensional Fit ensures consistent sizing.
Radiametric Articulation keeps hands in their natural relaxed position.
Water-resistant synthetic leather provides a soft yet extremely durable palm.
Best Women's Snowboarding Gloves
Best Women's Snowboarding Gloves
Hestra Womens Extra Warm Snowboarding Gloves
Whilst you can pretty much use Men's snowboarding gloves (and vice versa) for a woman, as long as you can get the sizing correct. You can still purchase dedicated female snowboarding gloves which are usually less bulky, have a tighter fit around the fingers and wrist, and come in different colors/designs.
These snowboarding gloves are produced from Hestra Triton fabric and durable Army Goat Leather, which makes these snow gloves windproof, water-resistant, and breathable, giving you the ultimate protection your hands need.
Extra features include handcuffs, snow lock, velcro closure, carabiner & Eagle Grip.
Best Snowboarding Gloves For Kids
Best Snowboarding Gloves For Kids
N'Ice Caps Kids Cold Weather Ski And Snowboard Gloves
It's super important that you get your kid's some high-quality snowboarding gloves. Largely due to the fact it's going to be freezing cold on the slopes and most kids have the need to start scooping up snowballs!
Jokes aside, frostbite is common, and whilst you probably have knowledge of how to prevent it, your kid might not. So it's best to protect their hands for your own peace of mind.
The gloves are insulated with 3M Thinsulate for warmth in cold winter temperatures.
They are also fully waterproof and will keep kids' hands dry in wet, snowy and icy conditions.
2.5 inch knitted cuff that can be tucked underneath your kid's jacket and coat sleeves to prevent snow from getting inside the gloves.
Easy to slip on and adjust: The gloves are designed with elastic in the wrist area, which allows plenty of room to fit kids' hands inside.
With over 30 years of experience shoveling snow in Minnesota winters, N'Ice Caps understand the importance of having quality and safe winter apparel.
Mittens vs. Gloves and Other Design Considerations
Gloves vs. Mittens
One of the main decisions you'll have to make when trying to choose the best snowboarding gloves for your next adventure on the snow is whether you'll be buying a pair of mittens or a pair of gloves.
Regular gloves will give you more dexterity and more control. They will also make adjusting your boots and bindings much easier without having to take your gloves off.
Although mittens don't offer much movement and dexterity in your hands, they are considered much warmer than traditional gloves as your fingers can 'huddle' together.
Even though mittens don't offer the same dexterity, there is still a lot of pro-level snowboarders who use them as they find they offer more comfort. And unlike skiing, snowboarding doesn't require poles, so dexterity isn't a big issue for snowboarders.
Double Layer Gloves vs. Single Layer Gloves
Double layer gloves usually have a removable lining on the inside which can be useful for snowboarding in a range of temperatures. If the weather is warmer then you can remove the shell so your hands don't overheat.
If you anticipate snowboarding in really cold temperatures then we would definitely recommend getting yourself a thick pair of double-layer gloves.
Under the Cuff Gloves vs. Gauntlet Gloves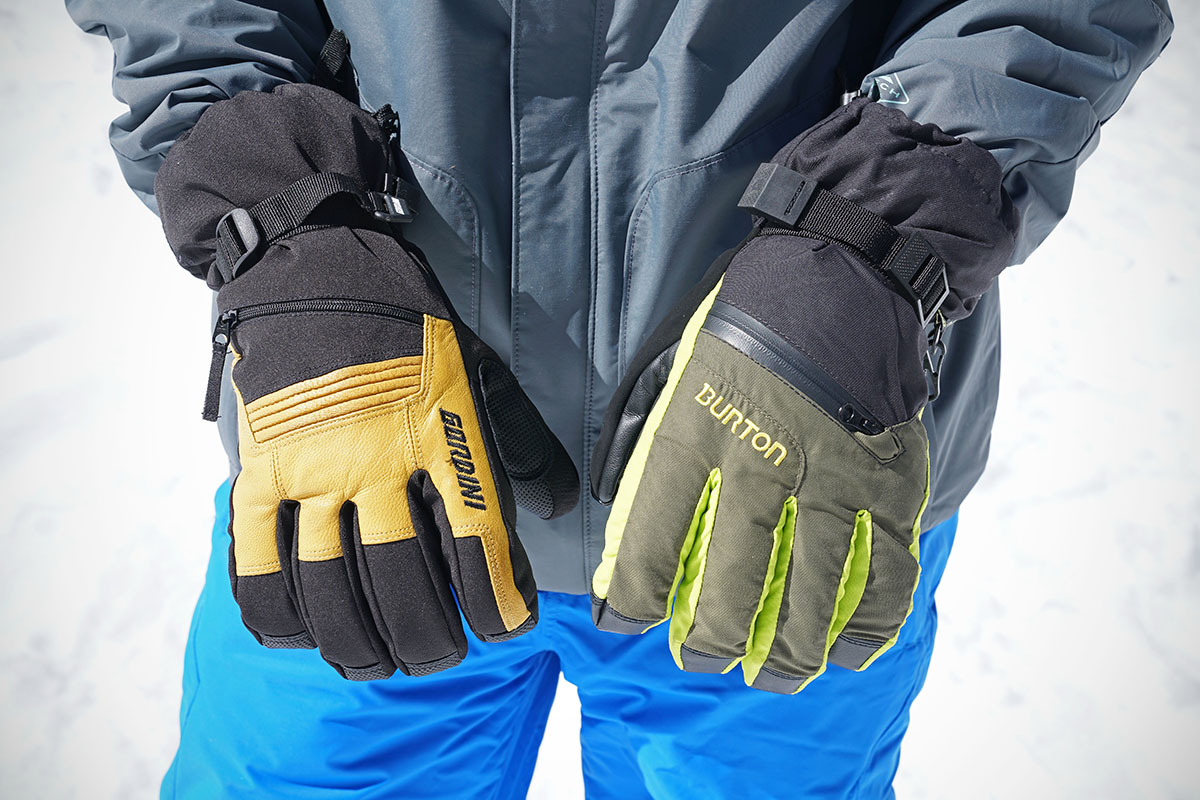 Gauntlet style gloves include an extended piece of fabric that tightly fits around your wrist. The purpose of the gauntlet section is to prevent any snow, water, or wind into the glove which should increase the overall warmth of your hands.
If you are a beginner and tend to be more prone to falling over on the slopes then a gauntlet style glove might be perfect for you.
Bear in mind that a lot of jackets also include a similar tight-fitting sleeve on the wrist so you may not need one on your gloves as well.
What to Look for in the Best Snowboarding Gloves 
Here are some of the glove components to keep your eye on when shopping for ski gloves:
Waterproof Rating: Whilst out on the slopes it's best to be prepared for everything you might encounter on any given day, whether that's heavy snow, rain, wind, and extremely icy conditions.

So it's best to double-check the waterproof rating of your gloves to ensure they're up to the task. The last thing you want is for your hands to get wet and cold which could stop your time on the slopes or even worse lead to frostbite.
Shell Materials: Almost all of the best snowboarding gloves you look at are produced from two main materials; synthetic materials and natural leather (usually goat or cow).

Natural leather is used as it is naturally water-resistant and has insulating properties. You also may come across gloves that are constructed from both materials e.g. a synthetic shell with a leather palm is a popular choice. Synthetic materials come in a wide range of choices and a wide range of prices.
Palm Materials: Leather palms (usually goatskin) is the main material of choice utilized by most snowboarding professionals as it is very water-resistant, lasts a long time and gives the rider great dexterity.

However please note that it does have to be treated from time to time with wax to remain water-resistant.
Durability: Leather materials are considered the most durable as long as it is taken good care of with waterproofing wax and cleaning them regularly.
But they tend to be more expensive than their synthetic counterparts. If you don't go snowboarding that often then you might find it more cost-effective to get a synthetic pair of snowboarding gloves.
Fit: Everyone's hands fit differently and come in many shapes and sizes. I would always recommend thoroughly checking the manufactures sizing charts and measuring your own hands to ensure that the pair you buy will fit.
Other Features: Other features that will improve your time out on the slopes and many that you will find on the best snowboarding gloves we've mentioned in this article are things like zippered pockets, articulated fingers, gauntlet cuffs, and wrist loops.

If you want to operate your smartphone whilst on the slopes without removing your gloves then you can choose a pair of snowboarding gloves that have touch screen sensitive thumbs and fingers.
Heated: Occasionally you may come across a pair of the best snowboarding gloves which have a built-in battery heater.

Whilst this may seem fancy, a good pair of insulated gloves should keep your hands warm without the need for this. Alternatively, many gloves have pockets for you to insert a hand warmer.
Conclusion
Finding the best snowboarding gloves for your next trip on the slopes shouldn't be a difficult task, just look out for the main features we have mentioned in this article and you should be fine.

Alternatively, all of the gloves we have mentioned above are a perfect choice for most people and will definitely keep your hands warm whilst in cold weather.
Other related winter sports posts: