Best Inflatable Paddle Board – Our Picks & How To Choose?
We understand how difficult it can be to choose the best inflatable paddle board for your next adventure.
With the sheer number of sizes, weights, brands, and additional features to choose from, it's easy to worry about where you might go wrong with a purchase when all you should be worrying about is the weather on the day of your paddleboarding adventure. 
The last thing we want is for somebody to purchase a stand-up paddle board and be unhappy with their choice, only to buy another one a few weeks later – costing more money and wasting more time. 
That's exactly why we have put together this resource which includes our top picks for the best inflatable paddleboard and buyers guide so you can fully understand the different features that need to be considered throughout the buying process. 
The Best Inflatable Paddle Board at a Glance
Inflatable SUP Reviews:
How to choose the best inflatable paddle board – Buyers Guide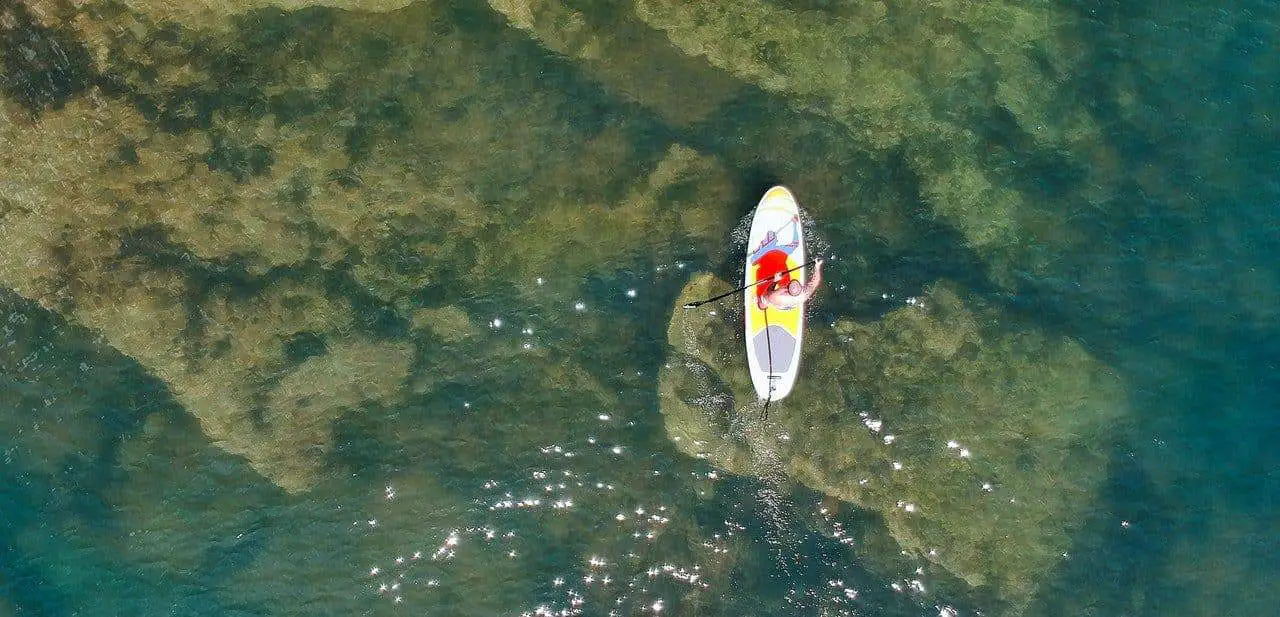 Durability
One of the main questions anyone buying an inflatable paddleboard for the first time is, how durable will my paddleboard be? Will, it burst straight away?
Whilst we inherently suspect that anything inflatable is cheap and can be easily 'popped'.
 All well-made inflatable water sports products, whether it be an inflatable kayak or paddle-board are usually made from high-quality military grade materials.
All of the iSUP's on our list are made from high-quality PVC. With 2,3 or 4 layers which make it resistant to punctures and scrapes.
Another point worth mentioning is that inflatable boards can take more of a 'beating' than traditional fiberglass boards.
Fiberglass boards can not compact and absorb the knocks against rocks and structures like an inflatable paddle board can.
This causes the fiberglass or wooden boards to chip and crack whereas a PVC board will just compress and withstand the damage. 
Accessories
One of the main benefits of buying an inflatable SUP online is that they usually come with everything that you need to head straight out on the water. 
Some of the most common accessories include A carry bag, an Aluminum paddle (although better quality SUP paddles can be bought separately), an ankle leash, and a pump to inflate your board. 
Size and weight of the board  
The size and weight of your paddle board can be dependant on what you plan on using it for.
Yoga SUP's are usually wider and more stable with a larger deck area.
Whilst touring paddleboards can be slightly more streamlined to allow for better efficiency in the water for longer day trips.
Most inflatable SUPs range from 9-11ft in length, 29-33″ in width, and weigh 16-22lbs. Youth and teen SUP boards are slightly smaller in all dimensions and tend to have less load capacity. 
Transportation 
One of the main benefits of getting an inflatable paddleboard over a traditional hard-board is the portability and ease of transportation. 
You can roll up your iSUP and throw it in your trunk instead of messing around with roof racks and trailers. 
Even getting your board from your car to the water's edge is a whole lot easier.
If you are blowing it up at the edge of the water, then using the included carry backpack, you can pretty much hike with your iSUP anywhere you want.
If you want to blow the board up near your car, they are lightweight enough to carry them solo or with a friend to the water. If you have carried a hard-board before you'll know exactly how tough they can be to transport. 
Inflatable Paddle Board FAQs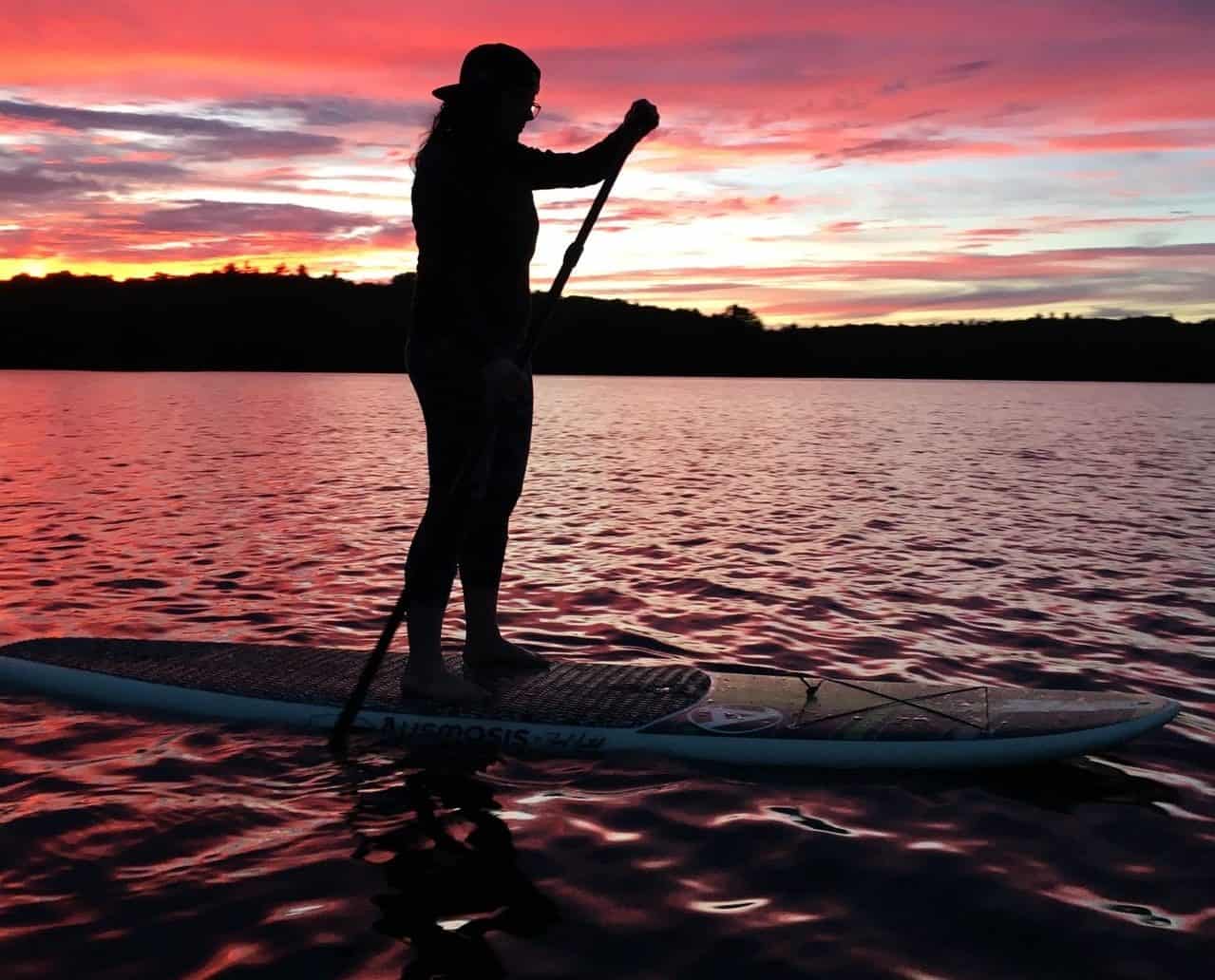 Are inflatable paddle boards good for beginners?
Yes! Inflatable paddleboards are a great choice for beginners looking to head out on the water for the first time.
In many ways, inflatable paddle boards are more stable and easier to use than traditional fiberglass boards. 
Another great thing for beginners is the cost of an inflatable board. A hard-board can easily cost upwards of $1000. Whereas most inflatable boards are priced between $200-$400, which is awesome if you are just starting out with the sport. 
Is it OK to leave an Inflatable SUP inflated?
It is Ok to leave your board inflated but it has to be stored properly and away from the elements.
Make sure you store your board somewhere dry and out of the sunlight as UV can damage the PVC and other materials the board is produced from. 
Also, understand that your board will lose small amounts of air over time. So the next time you head out on the water it's still a good idea to inflate your board back up to the required pressure for optimum performance. 
It is OK, but ideally, you would dry and clean your board and then pack it away in its carry board for your next use. 
How long do inflatable stand up paddle boards last?
The length of time your inflatable stand up paddleboard lasts is proportional to how well you look after it.
Many boards will last for at least 5 years and many more if they are well looked after. Multi-layer PVC boards will be more durable and long-lasting than single layer SUP boards. 
A long warranty shows that the manufacturer has confidence in the lifespan of your board, so it's always worth keeping an eye out for this. 
Are inflatable or hard paddle boards better?
It really depends on your skill level and uses. Hard boards offer better performance, are more agile and efficient in the water.
But they are heavier, harder to transport and are more expensive. We prefer inflatable boards as they are easier for your average person to use and transport. 
It's not as common nowadays to see someone on a hard SUP unless they are well experienced or are using it for surfing. 
Can you put a dog on an inflatable paddle board?
You can put a dog on an inflatable paddleboard. SUP boards are very durable and the PVC material is tear and scratch-resistant.
It's very unlikely that your dogs claws will do damage to your Inflatable SUP. 
Please do keep in mind that your dog is likely to need training before they are comfortable on a SUP before they can head out on longer trips with you.
But, the hard work and persistence are worth it! Few things are more enjoyable than being able to take your four-legged friend on an awesome adventure with you. 
How do you care for an inflatable paddle board?
To prevent unnecessary wear be sure to wash and dry the board with fresh water after each use, especially if you have been using your inflatable SUP in saltwater.
If you have dirt and grime on the board, you can scrub it with soap and warm water. Make sure to not store the board in a sunny area as UV light can degrade the PVC material and weaken your seams.
Ideally, once the board has been washed and dried, you should roll it back up and store it inside the travel bag in a dry area. 
Is sup good exercise?
Yes! Stand up paddleboarding is an excellent exercise. You will get a full-body workout whilst on your board.
The action of keeping your balance and trying to remain stable will provide an excellent workout for your core and leg muscles. And the action of paddling is a great workout for your upper body and arms. 
Do you wear shoes when paddle boarding?
There is no need to wear shoes like trainers or sneakers whilst paddle boarding. Most boards will include a soft EVA foam surface on the deck which provides lots of grip to your bare feet whilst wet.
If you don't like being barefoot in the water, then a good pair of water shoes or boating shoes will help you retain a grip on your board. 
Conclusion
Choosing the best inflatable paddle board for your next adventure isn't always a straightforward task.
We know how hard it can be to sift through hundreds of different options, materials, lengths, prices etc. that are present on the market. 
The team at watersportingadventure.com prides itself on being able to help people make faster and better-informed decisions so they can spend more time outdoors and on the water and less time behind a screen struggling to make a decision. 
We truly hope that this guide has helped you choose a new inflatable stand up paddleboard and gave you an insight into the various features you should consider before purchasing one. 
Happy SUP'ing!
Other boarding posts: