Best Stand Up Paddle Board For Yoga [5 SUPs for yoga]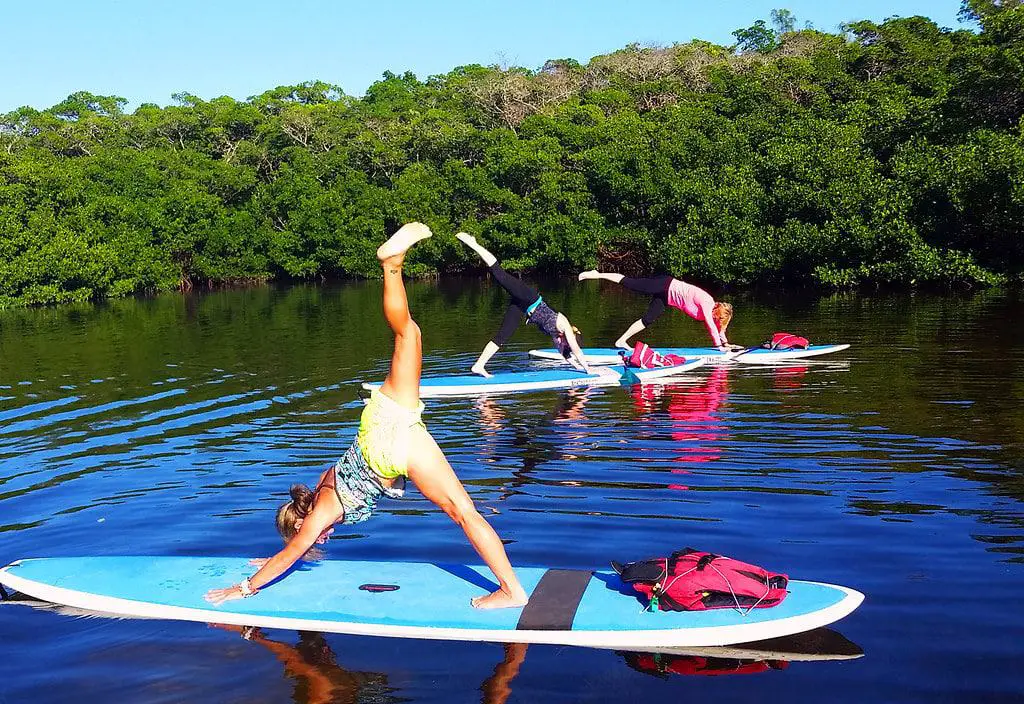 Stand up paddleboarding is becoming an increasingly popular water sport all over the world. Not only are more and more people taking to paddleboarding, but they are also starting to use it for carrying out their yoga routines – for this, you'll need the best stand up paddle board for yoga.
And no wonder why, nothing seems more meditative and relaxing than paddling out to the center of a lake at sunrise and practicing yoga on the water surrounded by nature. 
In this guide we are going to go over the best stand up paddle boards for yoga, we have chosen our top 5 picks for you so you don't have to spend hours sifting through the thousands of options on the market.
We have also put together a buyers guide that covers all the key features you will want to look at and consider before buying to ensure you are getting the best board possible for you. 
Let's dive right in!
5 Best Paddle Boards For Yoga – Reviews 
How To Choose The Best Yoga SUP – Buying Guide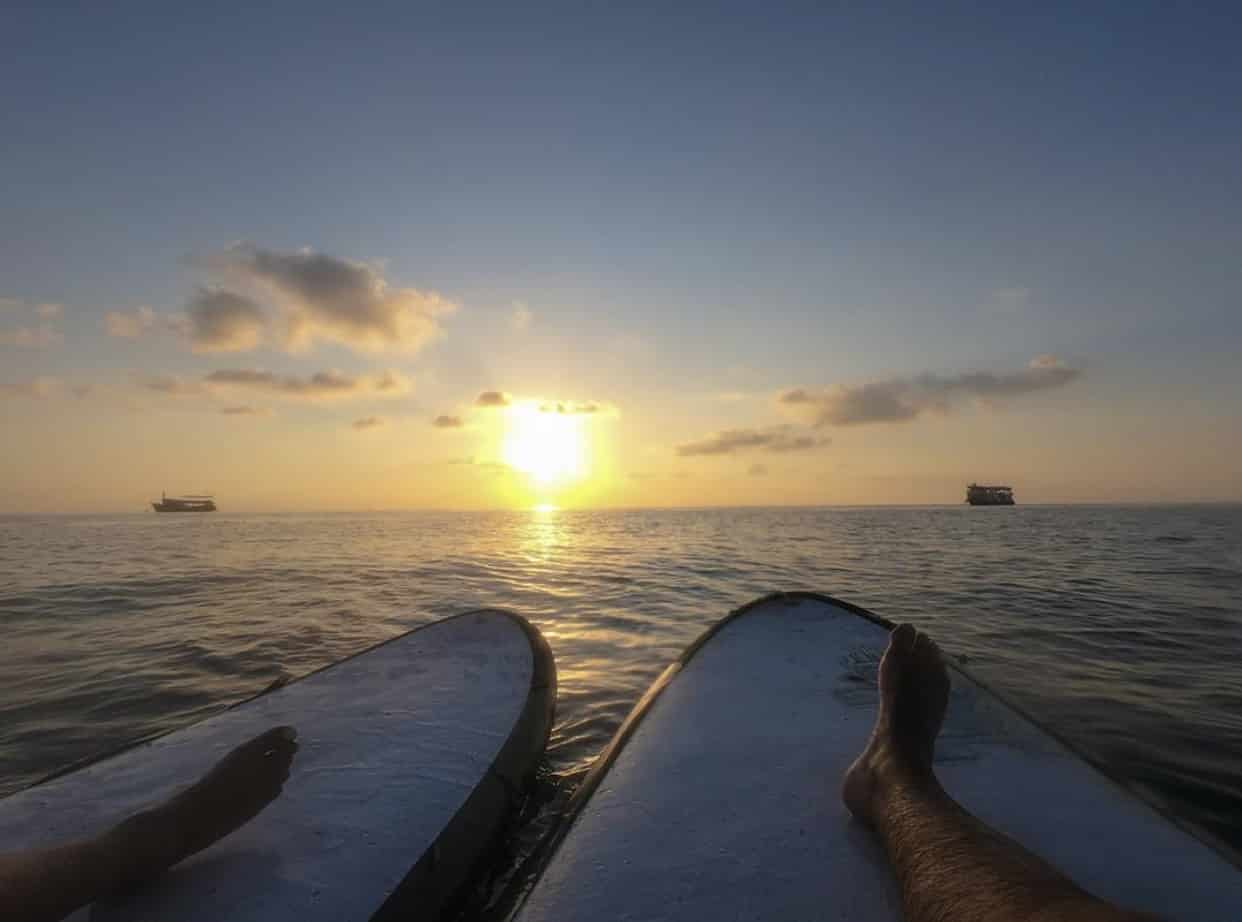 When trying to choose the best paddle board for yoga you must choose one which performs well and remains stable whilst on the water. Yoga SUP boards are typically wider than your average SUP. You must also consider how experienced you are on a board. Do you want one built for speed? We have chosen a few inflatable paddle boards for yoga in our list as they are very durable and super easy to transport anywhere. We would even recommend opting for a board in the middle range, meaning it's stable enough to practice yoga on, but it's also built for good speed and comfort in the water so you don't just have to use it for yoga. 
Why do yoga on a paddleboard?
Yoga is of course an incredibly healthy practice that millions of people take part in every day to improve their overall fitness and wellbeing.
Whether you are new to the world of yoga or have been practicing it for years, it's easy to see why this meditative form of stretching is good for your overall health. Bringing your usual yoga routine onto a paddle board might seem challenging at first but the rewards are endless. 
As a complete beginner, it is going to feel challenging on a board. Not just standing still but moving around on your board can be tough as you will have the fear of falling in.
But once you get used to the way your board moves and improve your balance you can really begin to trust that you won't tip the board over.
It will become much easier to clear your mind and focus on your yoga pose. Standing in the middle of a flat open lake can put you in an even more meditative state. 
Carrying out yoga on a stand-up paddle board has great benefits for your body. It will take your ordinary yoga practice to the next level and is a great way to get a full-body workout in.
When doing SUP yoga you will for sure feel it more in your core as you need to achieve perfect balance throughout your routine or you'll end up with a face full of water.
It might seem tough at first but with practice, you will get better and better. 
Yoga is often correlated with the calm development of the soul whilst being in a meditative state.
There is something super peaceful about waking up for sunrise, paddling your SUP board to the center of an empty lake, and practicing your yoga routine.
You will also find yourself having a deeper connection with the nature around you as you hear nothing but the birds chirping or the waves brushing up against the rocks on the shore. Sounds bliss? It is!
So which paddleboard for yoga is right for me?
All of the boards that we have given to you on our list are all specifically designed for yoga so they would be an awesome choice.
They all have the basic requirements for a stable board. We also included lots of inflatable paddle boards as they tend to last longer, be more durable, and can be transported anywhere. 
It's important that you understand the basic terminology and features whilst shopping around for the best stand up paddleboard for yoga so you can make a more informed choice. Below we have put together a list of everything you need to know to make the job easier for you. 
HULL TYPE
There are two main hull types used for the manufacture of stand up paddle boards. It is the displacement and planing hull types. Both can be used for doing yoga but one might suit you more than the other.
Planing hulls are very flat and stable, if you are a beginner only plan on using your board for yoga then this will be the best choice as they are usually wider and more stable.
Displacement shaped hulls are more streamlined and are typically built for more speed at the expense of stability. If you are comfortable on a paddle board then you will likely be fine using one of these types for yoga.
WEIGHT CAPACITY
Of course, you want to choose a board that can hold all of your weight comfortably whilst remaining very stable in the water, especially considering whilst doing yoga you could be putting more of your weight in a particular area of the board.
You will also want to consider any additional weight you'll have on the board with you… will you be taking your dog? A picnic? or other paddleboard accessories.
I would always recommend adding 20% to your weight and use that to choose your board as it will account for any weight shifts that occur on the board whilst you are carrying out your different stretches.
The extra capacity will give you the much-needed stability you need. 
BOARD LENGTH
When choosing your paddle board you never want to sacrifice the length as it will improve the stability of the board – better for yoga.
With a smaller board, you can make quicker turns, it will be lighter and move through the water faster.
But those small boards aren't the best choice for yoga. A longer board is slower but that doesn't really matter.
If you are worried about storing a longboard then opt for an inflatable one! They are fantastic and can be rolled away very small and packed into a carry bag.
A good compromise is to get a minimum of 10-11ft board as it will still be long enough and stable enough to lie flat on your board and carry out all of your elongated positions.
MATERIAL
The material that your stand up paddleboard is produced from will be dependant on the type of board you choose – rigid or inflatable? The rigid board can be made from foam, wood, epoxy, and many more materials.
It's always right to choose the best possible material for your board as it will make it more durable and increase its longevity.
If you opt for the foam type then make sure it's waterproof foam so it doesn't absorb water. Inflatable boards are usually produced from military-grade PVC, this makes them super durable and tear-resistant. 
You also want to consider the deck material. Whilst doing yoga you'll be lying down, stretching, and putting lots of pressure on your feet and hands. I would recommend a soft deck material like EVA foam as it is comfy and slip-resistant. 
MEASUREMENTS
We have already mentioned what the ideal length would be for your board, but now we'll talk about the other notable measurements.
You want to choose a thick board for yoga as it will be more stable in the water. Minimum 4-5 inches up to 6 inches will be a great thickness to go for.
When it comes to choosing the width, for yoga SUPs, you will want the widest board possible as it offers more stability and allows you to move more for your stretches.
Most specific paddle boards for yoga are built to be wider. All of the ones on our list have a great width for paddle board yoga. 
QUALITY
When it comes o choosing the best quality paddleboard most people tend to worry about the price.
Whilst you can occasionally grab a bargain. In our opinion, it is worth the extra investment to choose the best board possible.
It will be produced from better materials, have better accessories, and ultimately perform better, and last you much longer.
You will end up saving more money in the long run by making that initial upfront investment into the best stand up paddleboard for yoga. And another good point is that you want to get the most out of your yoga sessions.
After all, you carry out yoga to improve your overall health and wellness. Buying a high-quality board will improve your overall yoga experience. 
ACCESSORIES
When purchasing your board it's always nice to get all of the added accessories that you will need to head straight out on the water. All of the boards in our top 5 list come with everything that you need.
You will want a good quality paddle to use, a coil leash that attaches your ankle to the board so you'll never lose it if you fall off.
Some paddle board also have a bungee cord system to allow you to secure a dry bag to it for your valuables. Most inflatable boards will come with a foot or hand pump to inflate the board. 
PACKAGING
When you choose an inflatable paddle board for yoga you want it to fold down small and be transported with ease.
To successfully transport it to any location you will want a comfortable carry bag or carry backpack.
Most boards will come with these bags but it might be worth looking for one which doubles up as a dry bag so you can take it on the water with you.
Ideally, you don't want to have to leave the bag on the shore whilst you are practicing your paddle board yoga. 
Conclusion
So that's the end of the guide! We truly hope that you have been able to choose the best stand up paddleboard for yoga.
Remember to double-check all of the features and make sure the one you end up choosing is right for you. All of the boards we have chosen on our list are all purpose-built for SUP yoga and will serve you very well. 
In summary, our two favorite paddle boards for yoga is the ISLE Rigid Paddle board for yoga and the PEAK inflatable paddle board for yoga.
Once again we really hope you have been able to choose the best SUP for yoga and please do enjoy your time out on the water!
​Other Related Boarding Posts: