Top 5 Best Places To Go Skiing In Colorado: You Need To Go Here!
Ahhh, winter. Who does not love the first fresh snow of the year and gathering by a fire (electric or authentic) and trying to steal all of the heat you can?
Winter is not just about eggnog, Christmas, and snow angels, however. Some people love winter for different reasons: winter sports and skiing in Colorado. With winter sports growing in popularity, places are opening up all over the nation trying to attract tourists, some even going as far as to fake snow and making their own hills.
While these are good in a pinch, nothing can replace the feeling of rushing down a natural mountain with real snow splashing up into your face for these sports.
Colorado is notorious for some of its winter activities and with mountains like the Rocky's, skiing is definitely on the list.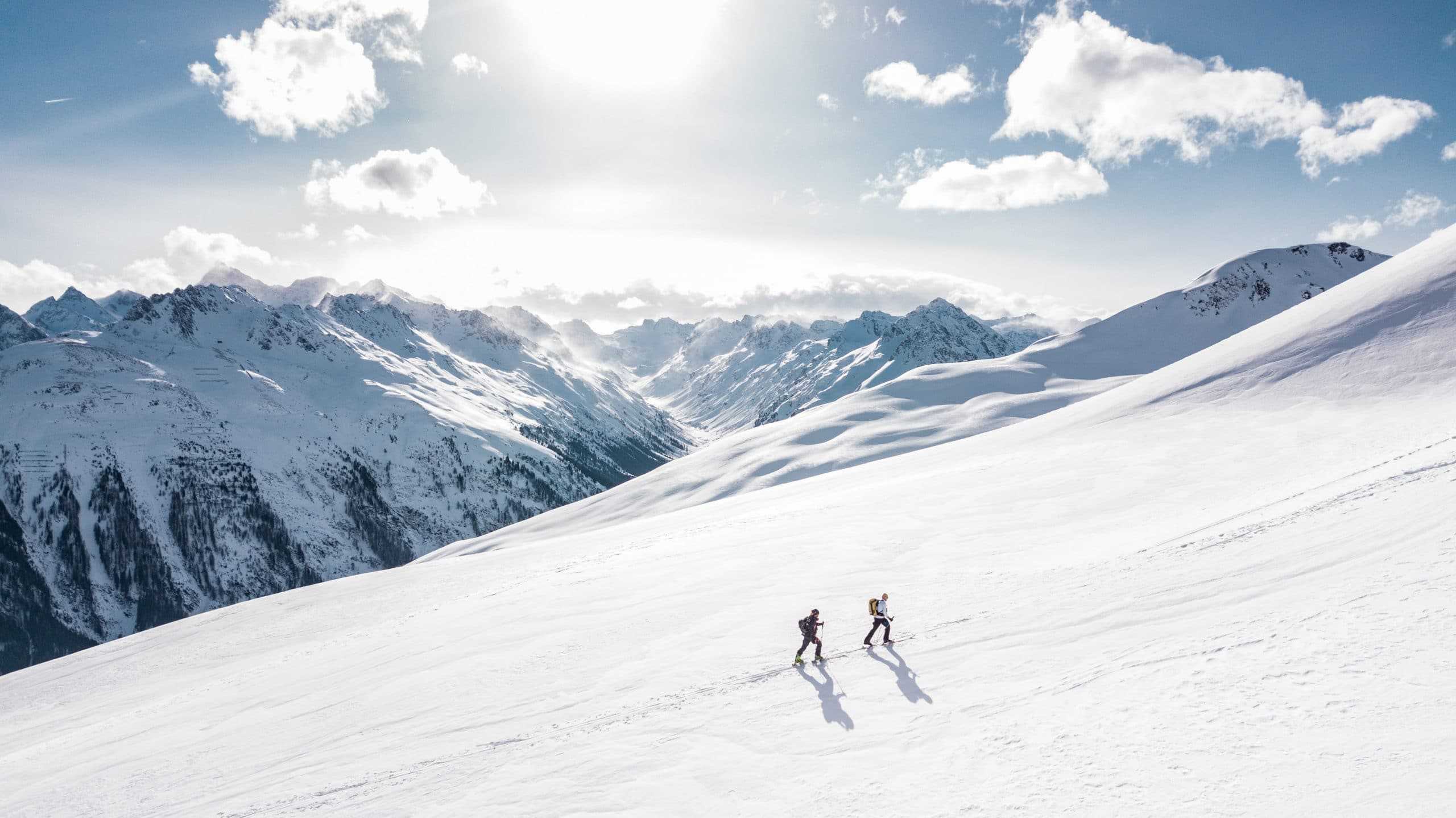 There have been plenty of ski towns and resorts built around this very idea to attract those looking for the rush of sliding through the snow.
Afterward, they are welcome to go to their resort and enjoy a nice cup of cocoa to warm them up and calm them down after such an adventure.
Now, just before you slip on your boots and grab your ski poles, you might want to wait and consider just which resort you will be using. Are you looking for a nice, quaint town for a snowy getaway without too much worry about the slopes?
Or are you looking for a dangerous trek rushing down an endless sight of white?
Maybe you are looking for a relaxing resort with side activities after you have finished skiing or a more family orientated resort for your kids whilst you carve down the hills.
Maybe you are looking for a good mix of all of these qualities.
Whatever the case may be, if you are wondering just where you are planning the next family trip to, you are in the right place. In today's article, we are going to be looking at our favorite spots for skiing in Colorado.
​1. Skiing In Aspen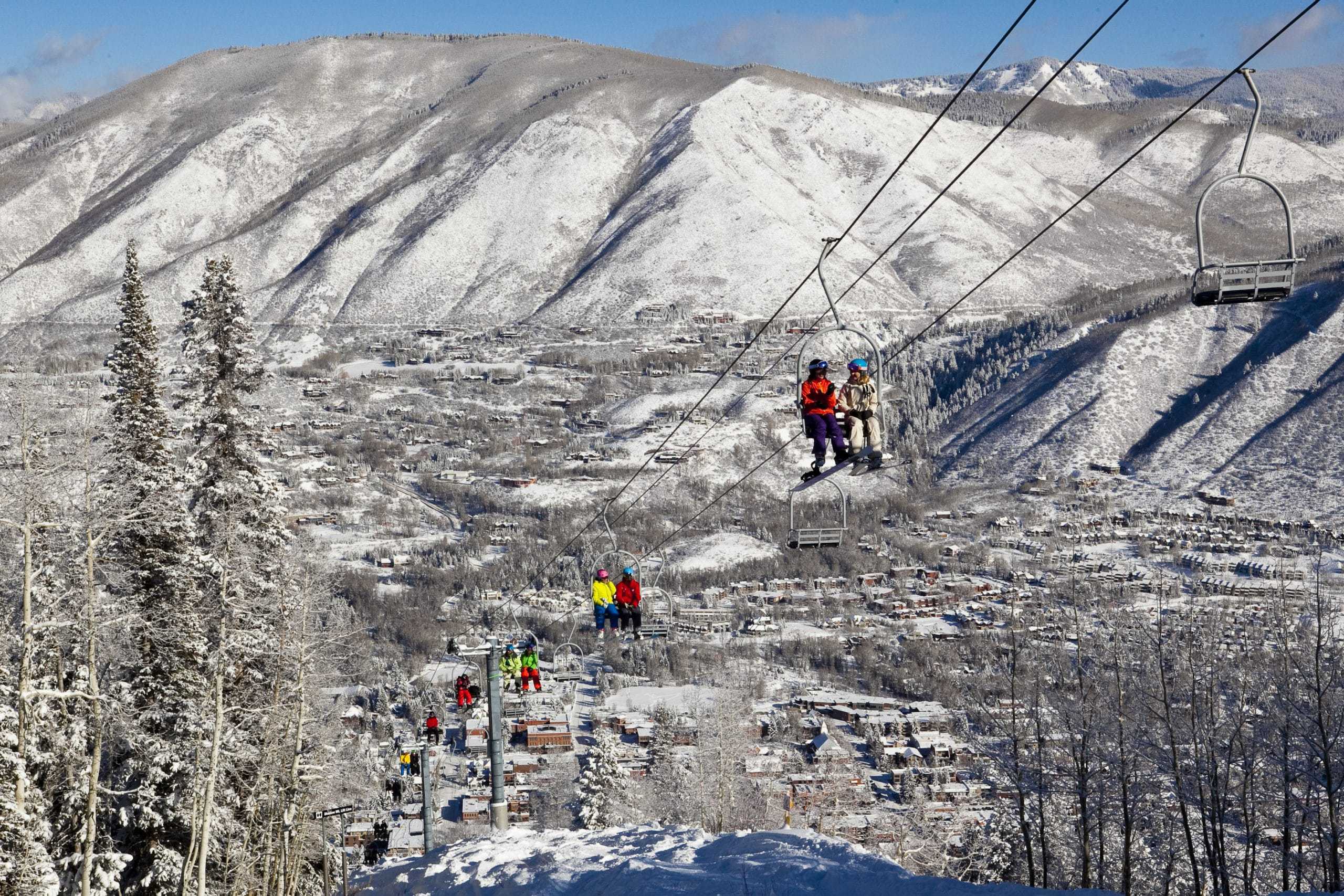 Aspen Skiing
While there definitely is some tough competition in attempts to gain a spot on this list, we had to give number one to the town of Aspen. Aspen earned the number one spot not just because of its four different and connected ski slopes, but also because of its versatility as a town.
When being used as a vacation spot it offers a beautiful view of some stylish architecture and when the fresh snow hits it looks like it fell right out of a snow globe (see picture above).
Aspen also offers more than just being a sight for sore eyes, however. The town's streets are also lined with brand name stores for the times you are not sitting by your resort's fire or slipping down one of the many slopes to choose from.
Offering places to shop like Gucci, Prada, and Ralph Lauren, Aspen can be a fun trip even for those who would rather not ski but spend a night on the town looking at apparel. Outside of these stores Aspen also offers local shops and restaurants that add to its small, winter town feel.
Aside from the extra stuff, Aspen also offers great ski slopes ranging in difficulty. The town has four connected resorts and slope areas all within eight miles of each other and all available to be transported between.
The four slopes include Aspen Mountain (the original formerly known as Ajax), Snowmass, Buttermilk, and Highlands.
Because of so much to offer, however, the stay does not come exactly cheap. A weekend stay for one adult can range from around $600 – $1000 not even including the lift and transport. If you are looking for somewhere to save up for and it is worth it, however, we highly recommend Aspen for your choice.
2. Breckenridge Skiing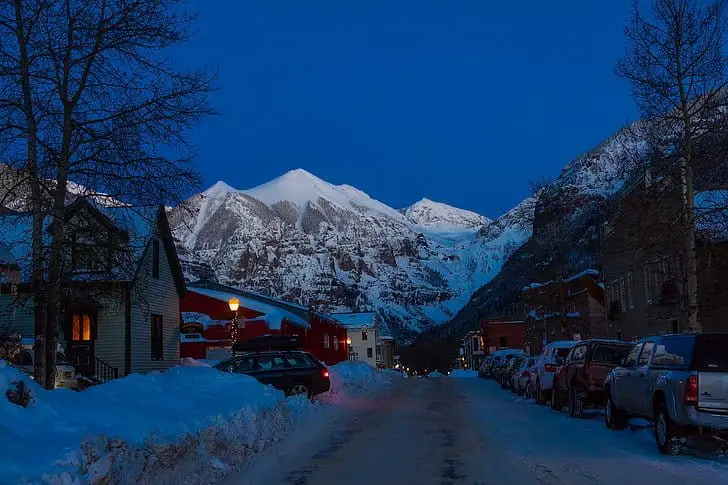 Breckenridge is another beauty on this list when the lights kick on at night. Furthermore, as the lights buzz, so does the social life below them. Breckenridge is a great town if you are looking for a lively place to stay without a dull moment.
A high-altitude life is offered here, not only possibly mimicking that of a penthouse life in some hotels, but also quite literally being high-altitude.
Breckenridge comes in at 9, 600 feet above sea level, which makes it the highest town on this list (in more than one way, but we will cover that in just a bit).
Breckenridge's night life can be safely said to be the liveliest on this list.
The town offers dozens upon dozens of different night activities when walking the streets. From restaurants and open bars to clubs and lounges, Breckenridge has a place for any night owl who comes and stays. On top of the nightlife, Breckenridge also has made itself known for its cannabis.
Being well known for such a thing is an achievement in Colorado and therefore it has earned the name "Amsterdam of the Rockies." The downside to this comes into play if you are not a fan of crowds and if that sounds like you, we recommend looking at another town on our list.
Clubs and bars are not the only things Breckenridge, as it is a ski town, after all. Breckenridge offers 2,908 acres of land to search for your skiing pleasure that consists of 5 ski peaks (peaks 6 to 10).
It has been heard of some complaining about Breckenridge's peaks being flattened out and more of a beginner's slope, but with such an expanse of land to explore, we believe those people simply are not looking hard enough.
3. Winter Park Skiing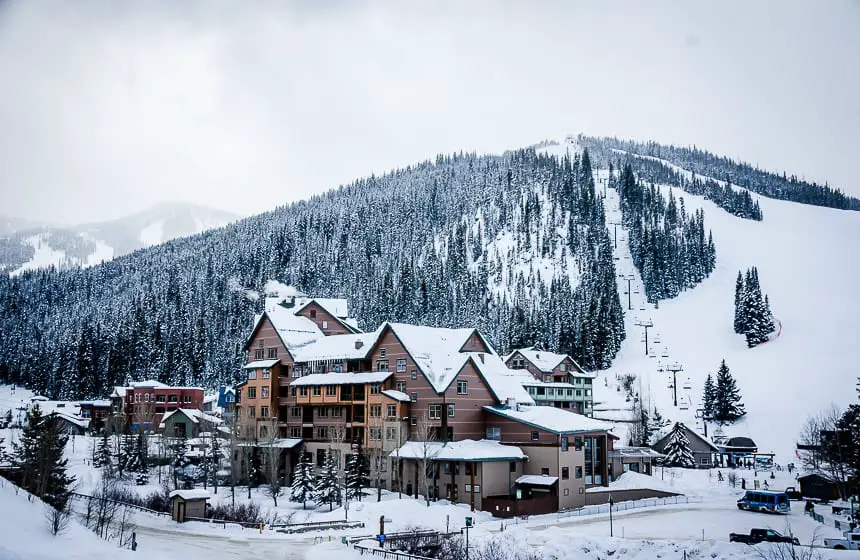 Winter Park is one of the more quaint, relaxed areas on this list and is a great visit for families. While in its looks it does not stand out as the other ones so far, it offers a homely feel to its customers. Winter Park divides into two sections connected by a gondola for its tourists.
One section offers a more lively downtown (nothing compared to Breckenridge though) with restaurants and some easily accessible areas for recreation (great for kids and families), while the other offers a very small mountain village to get a good feel of getting closer to Father Winter.
Winter Park is the closest large ski resort to Denver and even offers train service from Denver Downtown to the mountain in Winter Park. The train service unfortunately only runs from January to March on the weekends, but while it is there it certainly is something to be taken advantage of.
The snow life in Winter Park is extremely versatile and offers some different things from the others on this list. Being more family-oriented, Winter Park not only offers ski slopes but ski school and tubing areas as well.
For those not comfortable on the skis yet, either one of these options is great if they still want to get out into the snow, or eventually want to ski on their own and can learn from those in Winter Park.
Once graduated from ski school, individuals can take their pick from multiple levels of slopes ranging from wide bowls to steep alpine chutes. Combined with Mary Jane, Winter Park offers over 3,000 acres of its varying terrain which should give any skier enough land to play with and not run out.
Along the slopes, residents have also built ski shacks which are fun to keep an eye out for and possibly stop at for those rushing down.
4. Steamboat Skiing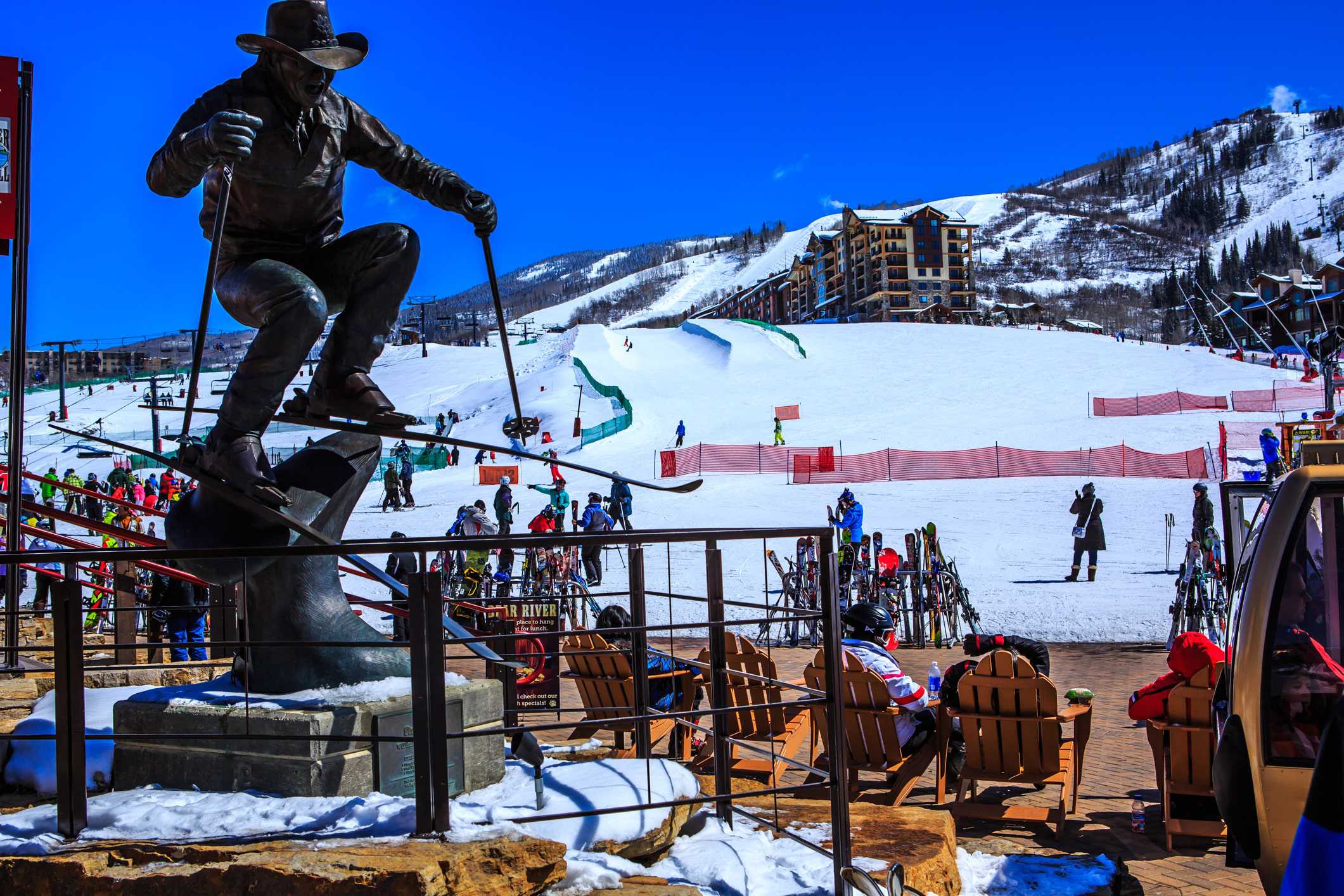 The small, western, cowboy styled town of Steamboat is a great place to go skiing but its main attraction actually is not the cold snow, but something quite the opposite.
Steamboat boasts natural geothermal hot springs open to be used by its tourists. Outside of this, the town is much smaller than the ones we have viewed so far, so if you are looking to avoid some crowds but still getaway, this might be the place for you.
Steamboat also offers a unique atmosphere and culture with a strong cowboy and Native American theme mimicking the old west as they hold on to those roots.
The town is a homely one and is even said to have a curse of being so homely. Tourists that have an extended stay often find themselves having a very hard time leaving.
Known as the Yampa Valley Curse by the locals, the mysterious attraction of the town continues to pull new people to keep staying just a little longer each time until they are soul bound to the town of Steamboat. Said to have been a curse placed by a Ute Native American Chief named Chief Colorow, we welcome you to visit Steamboat and attempt to resist the charm.
Once you arrive and grab your cowboy getup at F.M. Light & Sons, you will then be able to choose your slope among the 3,000 acres of terrain to ski on. Steamboat is praised for its snow quality when it is cold, but unfortunately, the area succumbs to heat easily and will melt away faster than others due to its lower elevation.
After a cold day of skiing through what is arguably the best glade skiing in the state, visitors can soak themselves in one of the two natural hot springs in the town: Old Town or Strawberry Park. The hot springs provide a natural, geothermal warmth to take off any freeze from the snow and relax your muscles in preparation for a good rest and another day on the slopes.
5. Keystone Skiing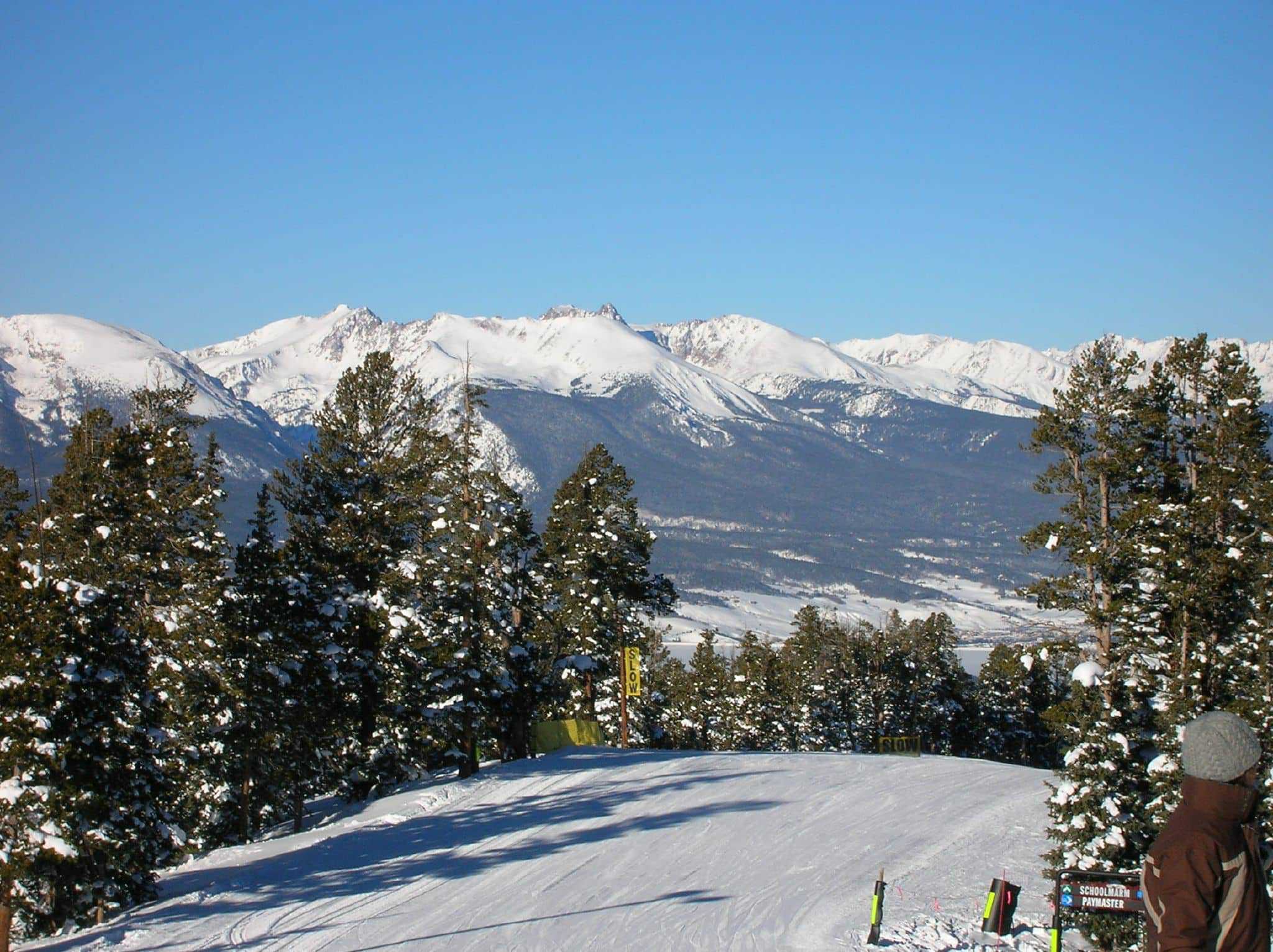 While skiing at Keystone is nothing to scoff at, it is certainly not the key quality that puts it on this list when competing with areas like Aspen.
If someone is looking for an experience that lies more in the "resort" than the "ski" in "ski resort" then this just might be the place for them. The nightlife is no comparison to Breckenridge, but the activities available here are unique, and were able to land it at number five on the list.
Keystone is fairly family-oriented quite like Winter Park as it offers an array of things to do for all interests and ages.
Outside of skiing, the very Christmas-Esque atmosphere provides the holiday warmth no matter when Keystone is to be visited. Keystone also offers an array of accommodation styles.
If one is looking for premium condos or casual hotels Keystone will have a place to lodge them. In the center of the area, an outdoor ice rink is located to spend leisure time after skiing or for those who would rather not ski and are along for the "resort" experience.
Even skiing at Keystone provides a slight unique gift that is different from the other areas on this list. The town has the biggest available area to ski coming in at over 3,100 acres, 3 peaks, and a ski terrain park with rails and ramps.
The price only makes the deal better as a season pass at Keystone will set you back by about $800 dollars (the average price for a weekend stay in Aspen). Moreover, Keystone has something in the skiing realm no other area on this list offers: night skiing.
Although it is only offered on holidays and weekends (being the main source for its crowds), night skiing is something to plan and check out at Keystone.
Skiing In Colorado – Conclusion 
These are not the only amazing areas to ski in Colorado as everyone's styles and preferences vary, but these are our favorites and offer a pretty good range for all tastes, budgets, and ages.
Plenty of great areas did not make the cut for certain reasons but the ones that did are sure to satisfy if the opportunity is taken.
Whether you choose to live lavishly at Aspen for a weekend, take the kids to Winter Park, or channel your inner cowboy at Steamboat, remember to stay safe on the slopes and happy skiing!
Related Skiing Posts: