Best Fishing Pole For Kids – Top Picks For 2023
It's a common saying that kids don't do what you say but imitate what you do. This is perfect for any mother or father who loves going fishing on the weekends, you can easily take your kids with you and let them enjoy the wonderful outdoors and the world of fishing right beside you.
Having the best fishing pole for kids is vital in ensuring they can fish and enjoy the experience to the max.
Best Fishing Pole For Kids at a Glance
Everyone knows that getting good at fishing requires both patience and experience. Kids usually have neither, however, if you can get them to love fishing. They'll soon become experts at a relatively young age.
Fishing with your child can be an extremely fun and rewarding activity for you both, you can teach them a new skill and create an everlasting bond.
This is why getting them the best fishing pole for kids will ensure that their attention and interest are sparked and it'll make casting the line into the water much easier.
There are tonnes of fishing poles for kids on the market, which can soon send your head into a spin if you end up shopping for hours.
To keep things simple and give you a helping hand we have put together a buyers guide which will detail the key features to look out for, an FAQ section and we have even reviewed our best fishing poles for kids, we think any of them will be a perfect choice.
5 Best Fishing Poles For Kids
How to select the best kids fishing pole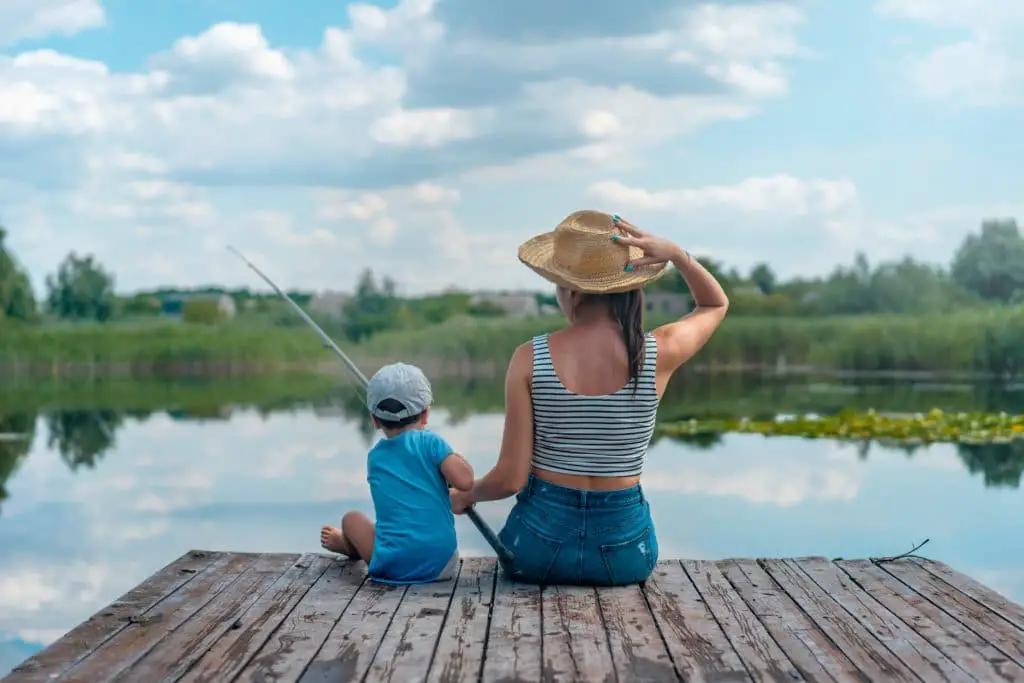 Rod Length
This is one key feature when trying to decide which is the best fishing pole for your kid. It closely correlates with weight in that it can make the fishing a lot more difficult and less enjoyable for a beginner if you get it wrong.
Some starter rods are very small which makes casting further and fishing harder however if it is the only size of rod your child can manage then that's fine. If your kid end up loving fishing then you can soon step up the rod length as they gain more experience.
Another great type of rod to look at is the telescopic rod. Being able to retract the rod to a more manageable size whilst carrying it can allow your kid to take full responsibility of their fishing trip and carry all their own goods.
If you go for a one or two piece rod your child might find it difficult to carry a full length rod around.
Handle
The handle is one aspect of a fishing rod that most people overlook and don't understand how important it is. Your kid is going to maintain interest if the fishing rod is comfortable in their hands and they can hold it for long periods of time.
Kids fishing poles have smaller handles and as it is designed for smaller hands. It must also be made from anti-slip but soft materials such as EVA foam or cork.
You need to consider the handle more when you're buying a longer rod. The bigger length puts more weight and strain onto your hands as you cast and move the rod. If you are getting a bigger rod make sure you opt for a comfortable handle.
Rod Weight
It's obvious that a lot of what we are suggesting comes down to your kids fishing experience and their age and that's why we included a mixture of super basic entry level rods and then slightly more experienced kids fishing poles on our list.
All rods will differ in weight, when it comes to choosing the best fishing pole for 5 year olds and up you want to focus your attention onto the weight of the pole. This is to ensure the rod is easy to pick up and manoeuvre.
Your kid wants to be able to easy cast into the water with one hand and still maintain full control of the fishing rod.
We know it's difficult to pinpoint the exact weight of rod your child can handle until you've bought and used it, so we would always recommend giving it your best guess whilst trying to go for the lightest rod possible.
If your kid, is more advanced for some of the rods on our list, then we have also reviewed the best ultralight fishing rods.
Best Kids Fishing Rod – Conclusion
Choosing the best fishing pole for kids shouldn't be a difficult task, we know there is literally hundreds of options on the market all claiming to be the best kids fishing rod, which can soon send your head in a spin.
But that's exactly why we have created this guide, to give you an insight into the different key features you should consider and to give our best fishing pole for kids recommendations.
Other Fishing Posts: