Sevylor Quikpak K1 Inflatable Kayak Review
Are you looking for a Kayak that is affordable, well-built, and can be taken pretty much anywhere easily and without any hassle?
The Sevylor Quikpak K1 does what it says on the tin, as it is quick to pack up and unpack whilst remaining lightweight in its design both on the water and whilst traveling.
Working as a hybrid between a boat and a kayak the Sevylor Quikpak K1 is a perfect inflatable kayak for an individual looking to get into recreational Kayaking.
Performing well on calm and clear waters due to its design and features, it is a stable and easy to use Kayak that is perfect for beginners.
It is extremely easy to become confused will all the different types of kayaks and how many advanced features you really need. Sometimes, all you need is the basics.
For beginners, it is all about ease of use. There is nothing easier to assemble, use, and then get packed back up into its own backpack than the Sevylor Quikpak K1
Quality: 4.5/5
Speed/efficiency: 4/5
Cost: 5/5
Ease of use: 4.5/5
View on Amazon
View Customer Reviews
Sevylor Quikpak K1 Inflatable Kayak Review
Key Features
Materials/Construction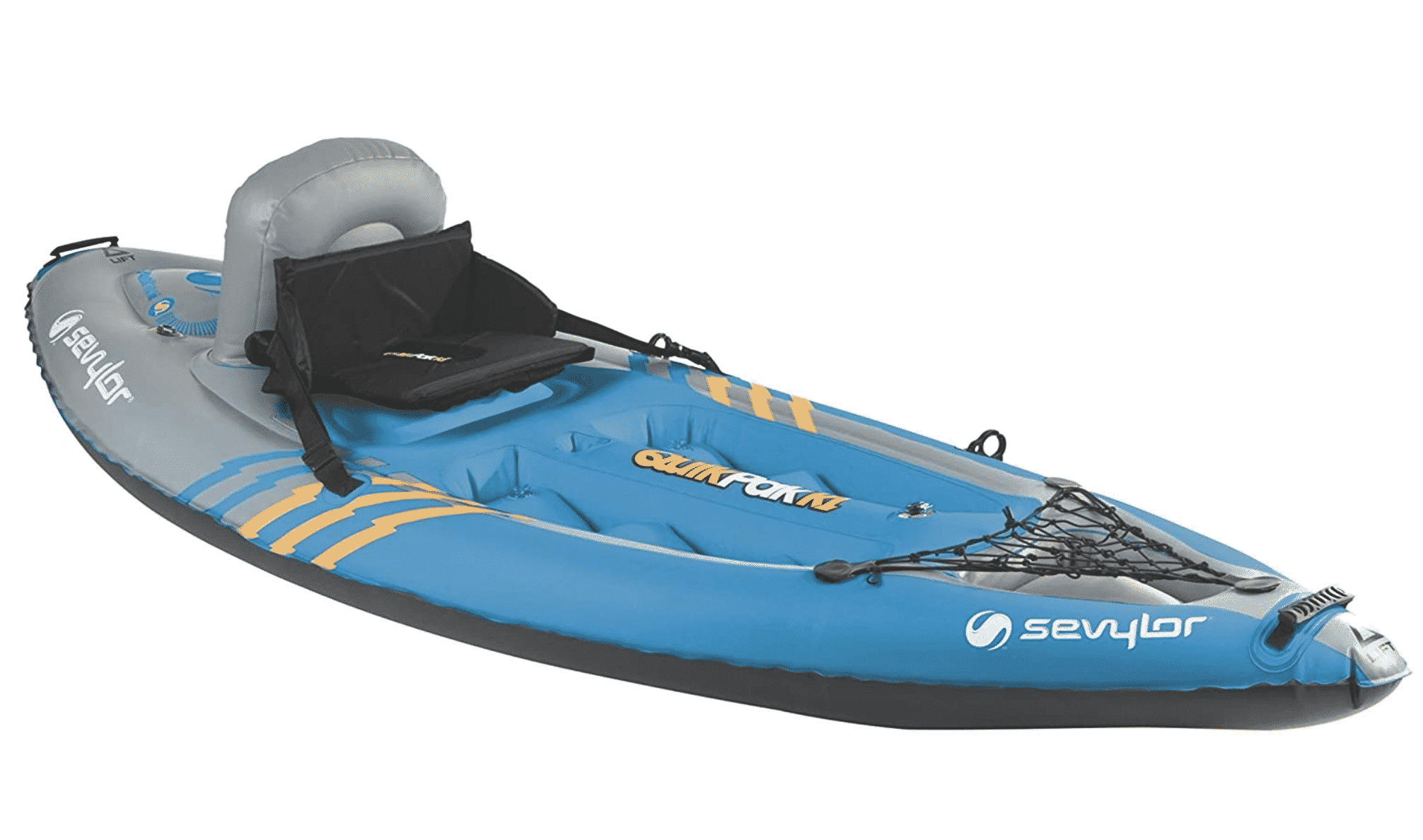 The Sevylor Quikpak K1 is made from 21-Gauge PVC which means that it can take most bumps and scratches, including rough-edged rocks and sharp submerged sticks and twigs.
It also includes a tarpaulin layered bottom surface which means that it can come into contact with most things that you'd expect at the surface of the waters and be just fine, it is a durable selection of materials that help to protect your kayak.
It comes with multiple air chambers, not only to keep it inflated and strong whilst in use, but also just in case you get a pesky hole puncture, the other chamber will be there to help you return to shore without getting wet.
The Kayak is perfect to be utilized for an individual as that is what it was designed for. It does include small storage space in the front of the kayak which would be suitable for a small bag or maybe a large lunchbox (not a cooler) to sit snug in the space provided.
However, anything larger would not be appropriate and may affect the performance of the kayak.

Durability
For a beginner choosing to take the Sevylor Quikpak K1 to the calm waters to simply enjoy a day out on their own, or with others so long as they have their own kayaks, this kayak is a great option. The tarpaulin flooring is enough to resist any nasty scratches that could pop the inflated structure.
The choice to use the 21-Gauge PVC enables the kayak to run smoothly in the waters, giving it a thick exterior that is hard to puncture – enabling you to enjoy the lakes stress free and giving yourself full confidence in your own equipment.
Now, the fact that this kayak is lightweight is a great thing for efficiency and ease of use for beginners looking to get started. However, we would not recommend taking this raft out to any stronger tides as it won't be able to keep up.
Because it is so lightweight and can simply fit inside a backpack – it means that its structure loses some stability and strength. Every positive has to have some sort of consequence and unfortunately, this is it.
However, to take out on calm water with some wind, bear in mind that it's not too strong to control the tide, the Sevylor Quikpak K1 is perfect.
Beginners wouldn't feel comfortable going on the stronger tides and adverse weather conditions; that's why this boat is designed with them in mind. Feel comfortable on the calm waters with an affordable inflatable device that is stable and balanced whilst remaining easy to carry around.
Ease of Use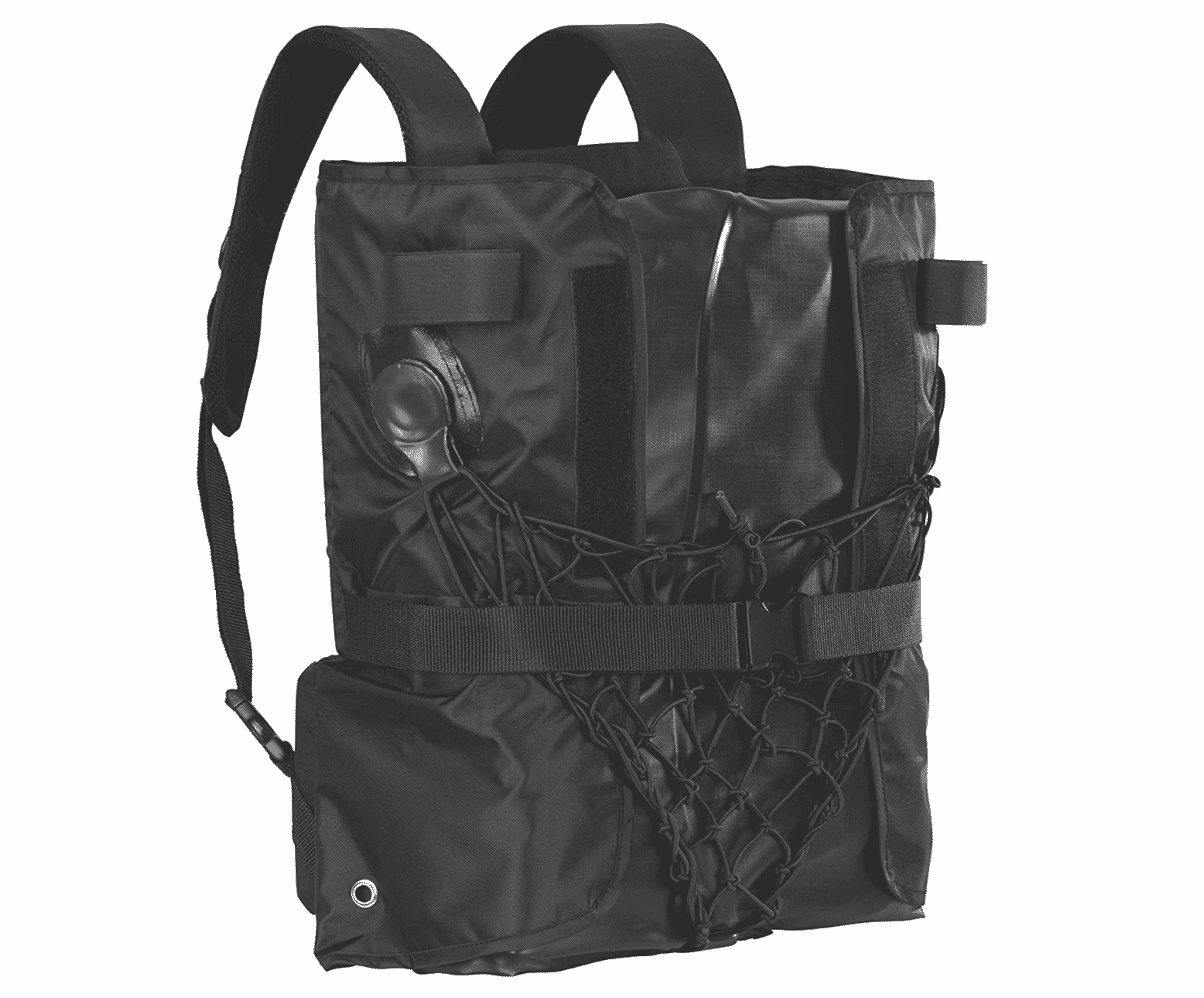 The Sevylor Quikpak K1 is probably the easiest raft to assemble and carry around with you wherever you may go.
It is one of the lightest, most hassle-free devices to hit the market. For those of you that are traveling and have such little room that you're not sure whether you can even bring a Kayak on your adventure, this 'Quikpak' solves all of your problems.
Fitting in just a backpack, you can carry your kayak on your shoulders as you escape to your adventure.
Stumble upon a lake that you'd love to get into the middle of, then you're in luck. Of all the inflatable Kayaks that are on sale across the market, it will be hard to beat the set-up time of the Quikpak.
Its 'sit on top' style means that when pumping up the kayak full of air there is less area to be filled up – meaning it gets inflated quickly.
Simply, because it is a single occupant kayak its setup time is dramatically reduced compared to other larger devices in which more volume of air is required in order to assemble it.
So, if you fancy a simple kayak that is just right for beginners with easy inflations and deflations and zipped up into a backpack to ensure that you have loads of room left in the boot of your car, then why not order the Sevylor Quikpak K1.
The Kayak is super easy to inflate, just as easy as any normal inflatable device. Generic hand pumps and even electric pumps can have the raft assembled quickly.
Performance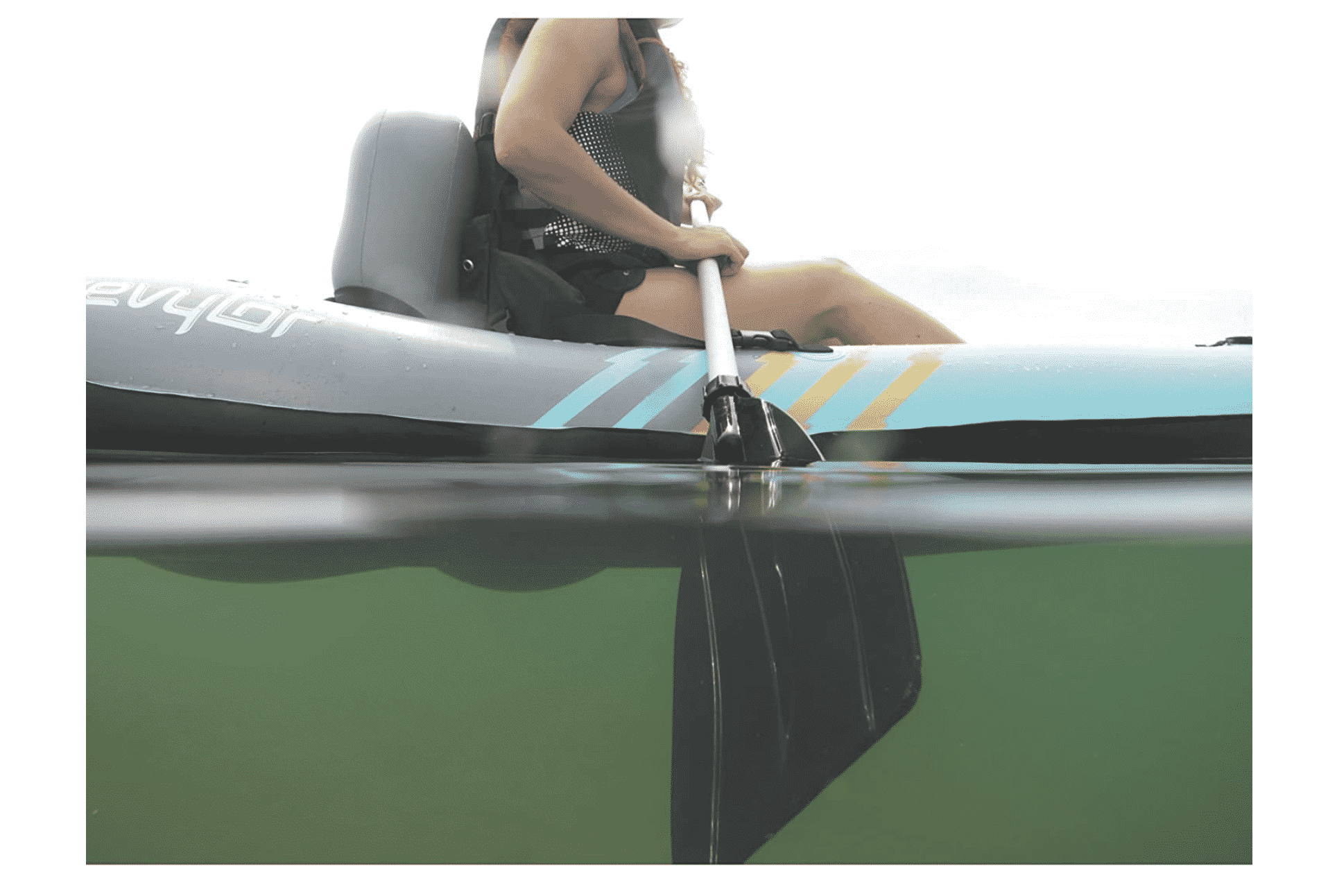 Because of its lightweight design and short skegs that although help to maintain the kayaks track, they can struggle when the conditions become slightly harsher. Heavy winds or harsh waves may cause the raft to become unbalanced and difficult to track.
However, in those calmer waters with the sun shining brightly and a glistening reflection sparking off the deep blue pools, the kayak works brilliantly. Even with its lightweight design, the manufacturer has included small skegs to help you with the streamlined ability of the raft.
Customers have consistently mentioned that the kayak felt stable whilst paddling with its accessories in the water.
For those people that hold a bit more weight, the inflatable kayak remains successfully strong, despite its lightweight design.
Due to its structure and look, the raft is super simple and easy to embark and disembark maintaining its stable nature as you grab the kayak to get onto it.
It is also extremely apparent within the community that the stability on the water, in conditions that suit the boat, gave beginners such confidence that they paddled further into the waters than they usually would allowing them to explore much more area, but also enjoy paddling the kayak for longer whilst remaining safe and confident.

Specs
The Sevylor Quikpak stretches 8 feet and 7 inches in length, and 3 feet in width.
It weighs 16.5lbs or just under 7.5kg.
Its maximum capacity is 400lbs or just over 181kg. That's why it has been recommended not just for beginners but also for those people that are larger or hold more weight and may be nervous as to whether they'd be comfortable in the raft.
Pros & Cons
Pros
It is so lightweight you can pretty much carry it around anywhere you want.
It is easy to store. Being able to pack it up into a backpack enables ease of travel and able to fit into tight spaces when packing.
It is super stable in the right conditions
The material that the Sevylor Quikpak K1 is made from ensures that it is durable and strong, whilst the tarpaulin flooring safeguards against most rough surfaces.
It has a huge maximum weight capacity to fit all sizes.
Great for beginners with an easy setup, inflation and deflation.
Cons
Limited space for storage.
Poor performance in rough water conditions.
Conclusion 
The Sevylor Quikpak K1 Kayak is a great choice for beginners on a budget. It is inexpensive and super easy to assemble and use that ensure you maximize your time on the water rather than waiting impatiently whilst working incredulously to assemble.
It comes in a backpack that not only serves as a place to store your kayak, but also is transformed to work as the seat for the 'sit on top' Kayak.
Whilst its performance is generally good, don't be put off by its less than apt performance in harsh wind and water conditions.
It is the perfect raft for beginners that wouldn't feel comfortable in those conditions regardless. It is incredibly simple to jump onto and also disembark remaining stable throughout paddling that makes sure to maximize the confidence of its user.
So, if you like lightweight, easy to travel with, and stable kayaks that will keep your bank account happy then the Sevylor Quikpak K1 is the Kayak for you.
Related Kayaking Posts: