Best Pike Lures – Fishing For Trophy Northern Pike
The Best Pike Lures
pike lures to suck them into your trap.
Selecting the right lure for the conditions is important. Different lures will work better depending on the time of year, time of day, and location.
In this guide, we are going to go over our top best pike lures and provide you with a buyer's guide to inform you of what features helped make up our decision.
We know that it's tough to find the best pike lures due to the sheer number of products on the market today. The team at Water Sporting Adventure has spent many hours researching and testing the best lures for pike so you can spend more time out on the water catching these amazing trophy fish!
Let's Dive Right In!
10 Best Northern Pike Lures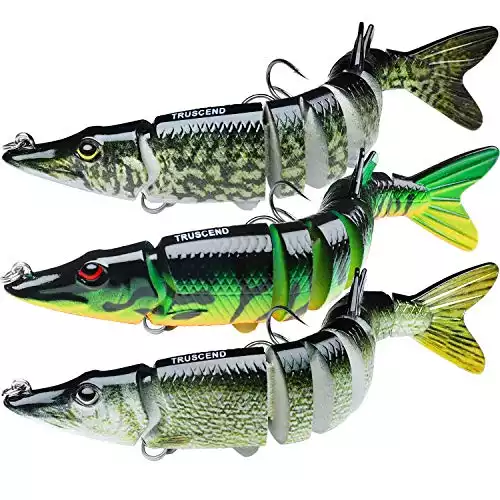 TRUSCEND Fishing Lures 4.9" Multi Jointed Topwater Life-Like Lures
Lifelike Pike Lures - Designed with nine segmented body sections, Truscend pike lures deliver a natural S-shaped swimming action at any speed, affording an incredibly flexible bend to deliver extra action. Makes it a prime target for hungry fish.
Multi Jointed Body - Constructed with a tough ABS plastic body that is supported by ultra-strong mesh woven fabric, which brings you an ultimate fishing experience.
Mustad Hooks - Rigged with 2 super sharp treble hooks, high durability, and flexibility in saltwater and freshwater.
Artificial Bait - 3D printing body with perfect pearl powder coating. Brilliantly replicates color and patterns of actual baitfish.
Widely targeting predator fishes such as bass, yellow perch, walleye, pike, muskie, roach, trout, etc. Suitable for saltwater and freshwater.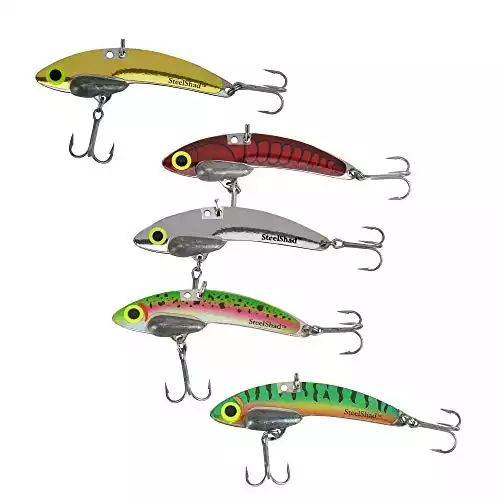 SteelShad 5 Pack Kit for Fresh and Saltwater
These pike lures are a set of 5 stainless steel premium fishing lures weighing 3/8 oz. If you have been struggling to find the best northern pike lures, you're in luck!
With VMC hooks and a fish-shaped body that perfectly resembles live, injured bait, it's the best addition to any anglers tackle box.
Whether you've gone fishing in the lake, river, or ocean, these lures are ready to retrieve your next big catch.
They work great in 2ft or 60ft water depths, in freshwater and saltwater.
Designed for extra distance in your casts and live-action throbbing, these lures bring strikes from all types of predatory game fish, including bass, walleye, trout, musky, striper, panfish, and pike. Cast and crank the lure just like a lipless crankbait or a swimbait.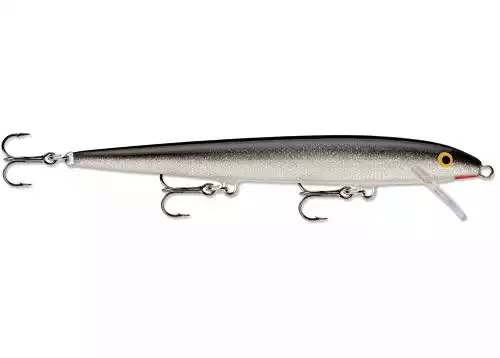 Rapala Original Floater 11 Fishing lure
Balsa Wood Construction causes the lure to float on the surface of the water making it easy to quickly twitch the lure through the water.
Natural Minnow Profile helps to replicate live prey fish which will naturally attract predatory fish.
VMC Black Nickel Hooks are razor-sharp and suitable for use in both freshwater and saltwater.
Available In Classic & Bleeding Patterns.
All best northern pike lures produced by Rapala are tank tested before getting boxed up so you can ensure that product quality is of the highest standards.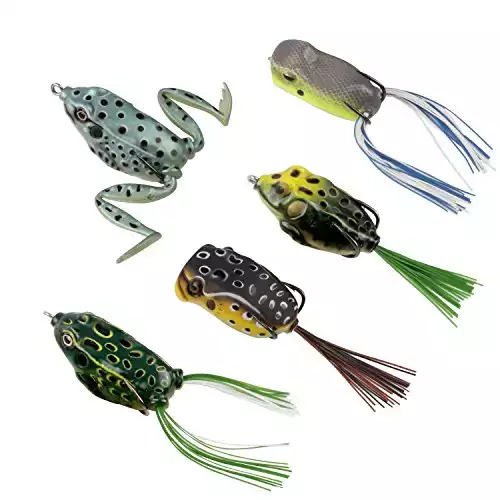 RUNCL Topwater Frog Lures
Lifelike Design: High-resolution body detail, life-like 3D eyes, and almost real swimming actions, flawlessly replicates an actual frog or bullfrog, to help anglers attract a bigger catch.
Excellent PVC: The frog lures are produced with environmentally friendly PVC with amazing deliciousness, which imitates the taste of an actual frog.
Perfect Angle Sitting: The core of gravity for RUNCL frog lures are constantly checked to ensure the best angle sitting inside the water, which helps with the success of hook up.
Weedless Design: With hooks embedded into the belly of the frogs, helps to expose the hooks better when the fish strikes, and no concern whatsoever about hanging up by lily pads or weed beds.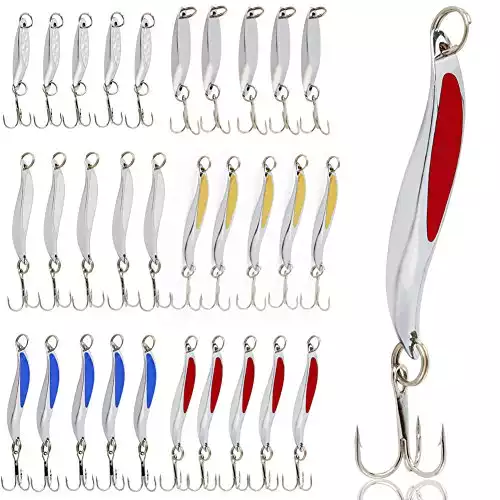 Sougayilang Fishing Spoon Lures
30pcs/package, with a narrow profile and compact design, assortment of 5 different colors which are all flashy to get the fish attention.
New design to decrease weight for better movement in the water.
Aluminium Alloy construction for corrosion resistance and a razor shark hook.
Perfect for fishing predatory fish like pike and bass.
Move and Vibrate a lot when moving through the water to attract more fish.
Weight: 0.1-0.21oz Length:approx 2.1-2.5in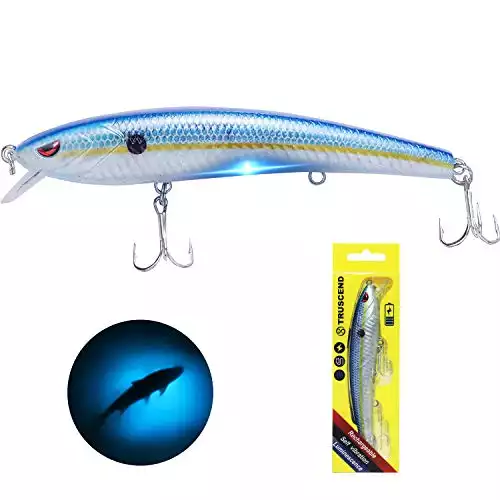 TRUSCEND Robotic Fishing Electric Lures 5"
Charged model and uncharged model for your choice. In addition to all excellent performance of normal lures, these patented flashing and buzzing lures are designed to target a fish's biological programming to strike, regardless of if they are hungry or not.
Equipped with Mustad treble hooks to provide maximum hooking capability which makes it a powerful fishing tool.
Hover design: You can stop this lure at any appointed water level you want. Integrated dual-tungsten steel ball central gravity transfer system for optimized casting range.
Suitable for both Freshwater and Saltwater, day and night fishing.
After charging for 2.5 hours, it can work intelligently for more than 12 hours. Anticreep proprietary technology protects the charging unit and battery from saltwater exposure and corrosion.
Perfect for targeting northern pike, largemouth bass, walleye, and musky.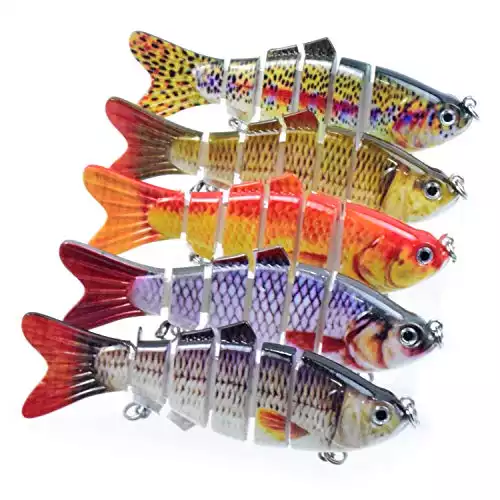 Lixada Fishing Lures 5" Lifelike Multi Jointed Pike Lures
3D printed multi-jointed body equipped with treble hooks and lifelike S shape diving action to replicate an injured baitfish.
Mustad Hooks - Rigged with 2 super sharp rust-proof treble hooks.
Suitable for use in both freshwater and saltwater.
Quality design and paint systems help replicate the natural colors of pike baitfish.
Widely targeting predator fishes such as bass, yellow perch, walleye, pike, muskie, roach, trout, etc.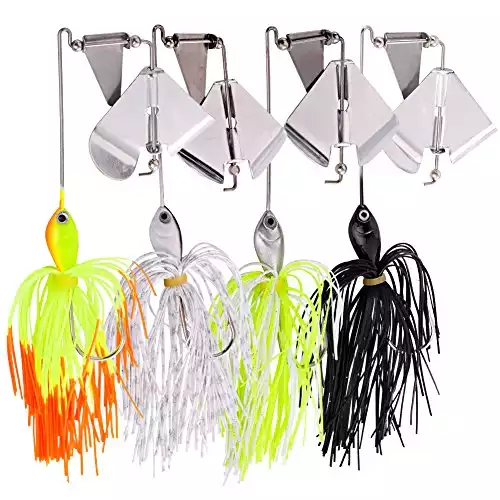 Sougayilang Spinnerbait Fishing Lures
Buzzbait with a 40-strand silicone skirt, high-quality hook, and 3D eyes.
Buzzbaits are extremely effective at covering large amounts of water very quickly. If you are covering an unfamiliar body of water then a buzzbait is a great way to quickly check the various locations out.
One of the main reasons buzzbaits are some of the best northern pike lures is that they travel so fast. They cause pike to reaction strike - essentially this means that because they move so fast they force a pike to rapidly strike when it passes by before the pike has time to realize it's not actually prey.
It takes full advantage of the pike predatory instincts.
Buzzbaits always deserve a spot in every angler's arsenal. They are a great way to switch things up if luck isn't on your side.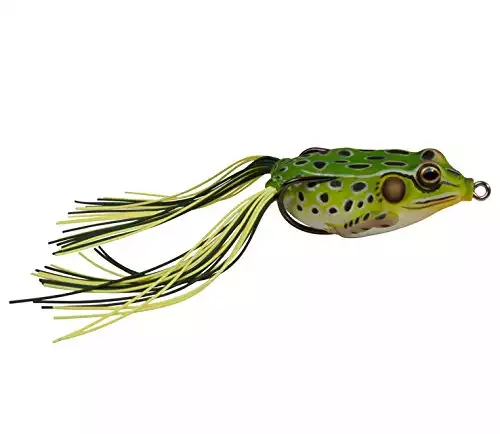 Livetarget Hollow Body Frog, 2-5/8"
2010 ICAST Best of Show Winner
Amazing detail and design quality helps to fool even the most intelligent fish. Perfect for pike fishing.
The soft body construction compresses to reveal ultra sharp hooks.
This helps to improve the quality of the hold on the fish as the lure will be deep in the mouth before you pull on the line.
There are 12 different color options and a whole range of sizes so you are sure to find the perfect pike lure for you. 

Best Pike Lures – Buyers Guide and FAQ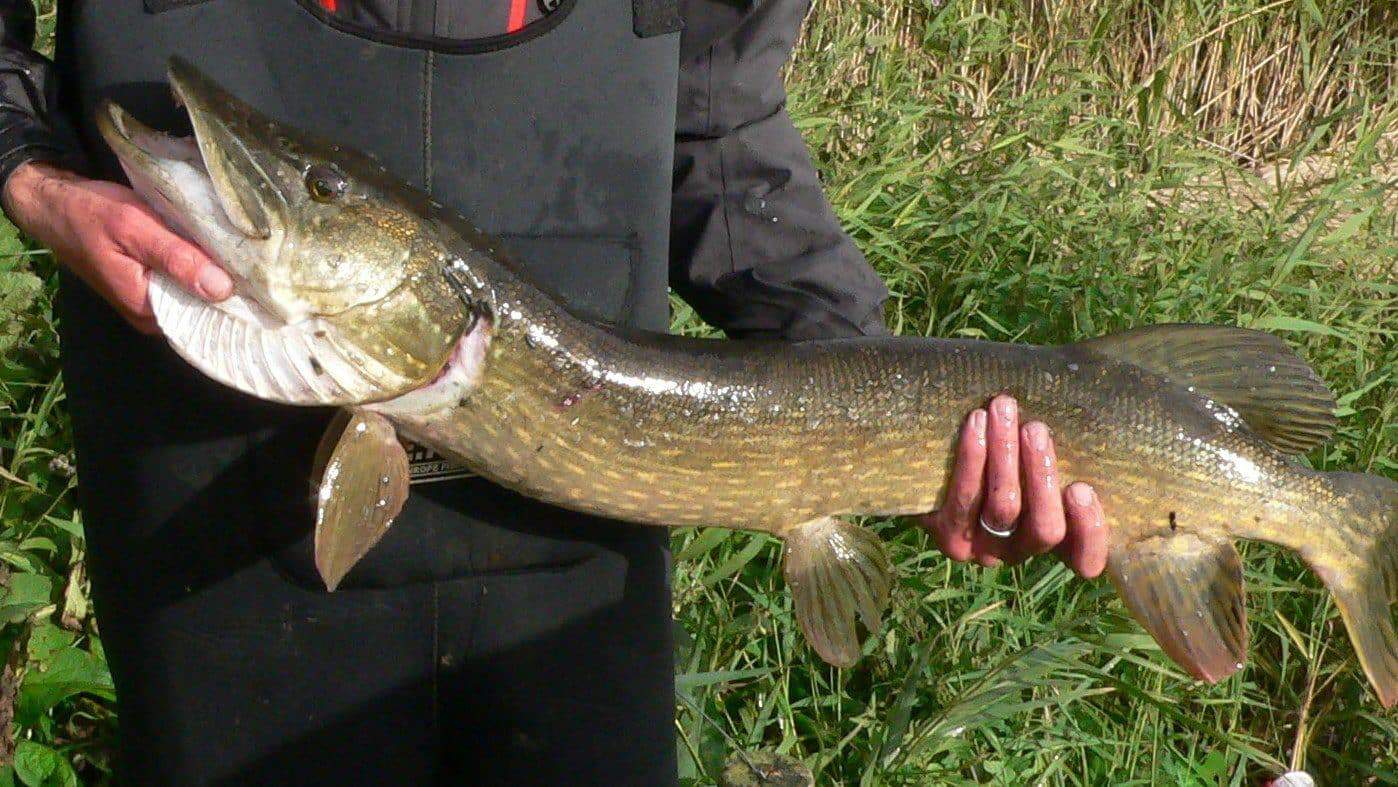 Time of Day For Fishing Pike
Choosing the right time of day to cast your pike lure for pike is important and will really increase your chances of landing one of these trophy fish. 
pike with a lure then you'll want to fish in daylight.
Early in the morning as the sun is rising, big lures will be highly effective as other large prey fish will be active during this time in the shallows.
After mid-day, you could also have some more luck with trolling your pike lures and using smaller lures. It all can vary massively though depending on your location. Remember it can take time to learn how to fish a specific spot and it often comes down to trial and error, so don't give up too quick!
Time of Year For Fishing Northern Pike
You can catch plenty of pike year round but there are some particular times when your chances will be increased.
In the spring pike will likely be in the shallow areas as this is where they are born. Spring is the end of the spawning season for pike so they will be very active and very hungry during this time. 
During summer when the water warms, pike will shift to deeper and cooler water in the center of the lake or pond, etc.
Remember pikes like cooler waters and seasons. The type of lure to use won't differ month to month as pike aren't particularly fussy eaters. 
What is the best type of lure to use for pike?
The main reason you see so many different types of lures for pike on the market is that pike don't really care what they consume. They are highly aggressive fish that eat a lot of food throughout the day. 
Live bait is very effective for catching pike due to the scent and movement, but if you choose a high-quality lure that can replicate prey fish well then you will do just fine and still be able to catch the larger pike. 
Using larger lures will of course catch larger pike. Many anglers who are only after the big pike will opt for a 6″+ lure to filter out bites from the smaller fish.
Crankbaits and spinners are an effective way to catch pike as they cause disturbance and vibration in the water which helps to replicate an injured fish – perfect for catching predatory fish. 
Spoons can also be great for catching northern pike as they are bright and shiny making them super visible in shallow darker water where pike will often hang out after spawning season. 
Type Of Fishing Line
It's important to get a high-quality fishing line with a pike as not only can they grow to be a very decent size but they also can put up a fight as well.
Your line will need to be strong and braided is probably the best option in regards to this and the color required depends on the color of the water that you are fishing in
Choosing The Right Fishing Line 
A high-quality fishing line is always of the utmost importance when going after predatory fish with large teeth like pike. Choosing a low strength line will not only lose your catch but also your lure and hooks.
The braided line is probably the most popular fishing line for hooking pike as it's very strong and durable to abrasion. The color of the line largely depends upon the color of the water you are fishing in – You want to opt for the least visible. 
Best Pike Lures – FAQs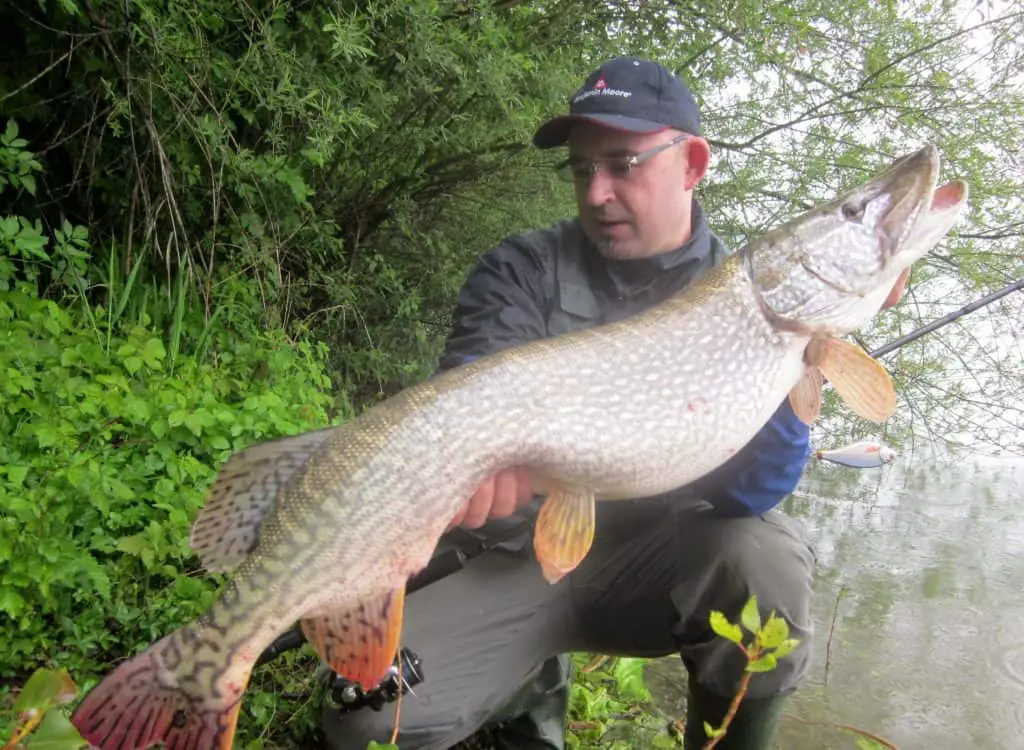 Can I reuse a northern pike lure?
Of course, you can! Fishing would quickly get very expensive if you couldn't use it more than once. But remember to always check the condition of your lures for rips, damage, loose hooks, and rust.
Using a damaged lure might decrease it's effectiveness, for example, if you are using a realistic prey lure and it loses its tail, it's not likely to move through the water in a way to attract predators.
What makes the best pike lures so special?
All of the lures on our list of best northern pike lures can be used for loads of other types of fish.
pike trolling lures we looked at will do the job absolutely fine and if you want to catch other fish like bass and walleye they will also be able to catch them. 
What size pike lure should I use?
The size of your pike bait or pike lure needs to match the size of the pike you are targeting.
Bigger pike will consume bigger fish. Smaller pike will eat smaller fish. It's that simple really. If you aren't interested in lots of bites from small pike them opt for using a lure over 4 -6 inches.
Conclusion
Going after northern pike is one of the most enjoyable ways to spend your time outside fishing. They put up a mighty fight and really get the adrenaline pumping.
However, if you are casting the wrong type of bait or lure into the water, then you'll have trouble attracting the bigger predatory fish. 
Lucky for us, pike strike almost anything so choosing a lure isn't too difficult and we believe that any of the ones we have pre-chosen for you on our list will help you land many pikes throughout the fishing season.
But don't limit yourself to one choice, grab a few different ones for your tackle box and experiment with different kinds.
You also have to consider other aspects of fishing like what's the best mono line or braided line to use?
What's the best fishing backpack to haul your gear and rod around in?
Choosing the best pike lures is just a small piece of the puzzle but it puts you closer to catching a real monster.
We truly hope this guide has given you the information needed to choose the best northern pike lures and that you have managed to choose one of our top 10 recommended choices. 
Happy Pike Fishing!
Related Fishing Posts: