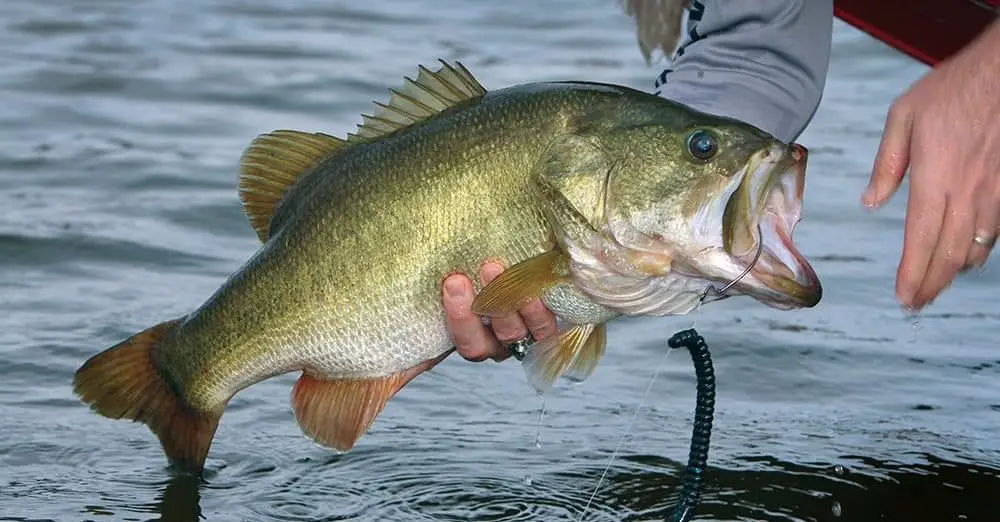 Intro Into Our Favourite Spinning Reels For Bass
Bass fishing has quickly become the most popular form of fishing in the United States. The popularity of Bass fishing has driven the development of fishing gear, ranging from lures, bait, rods and reels all specifically designed to help catch Americas most sought after fish – The Bass.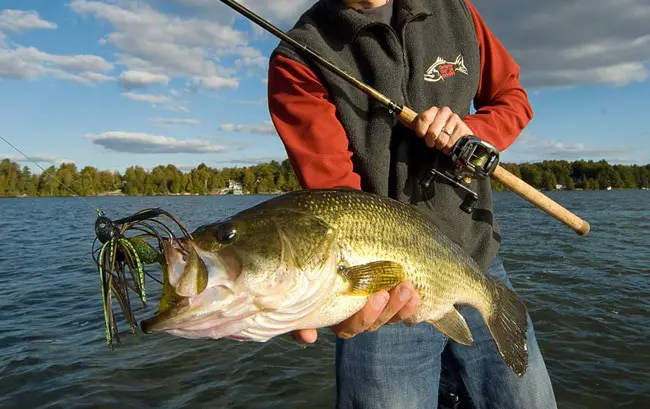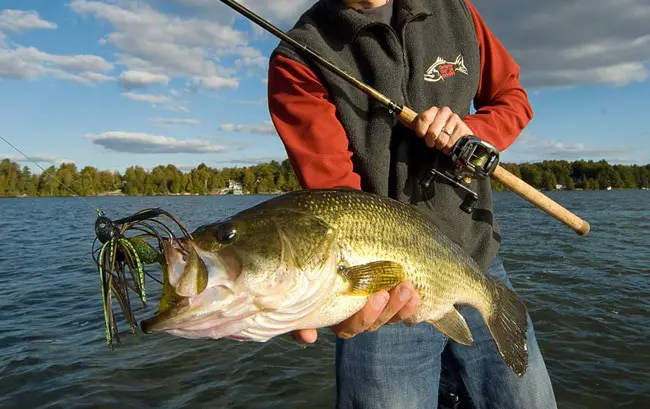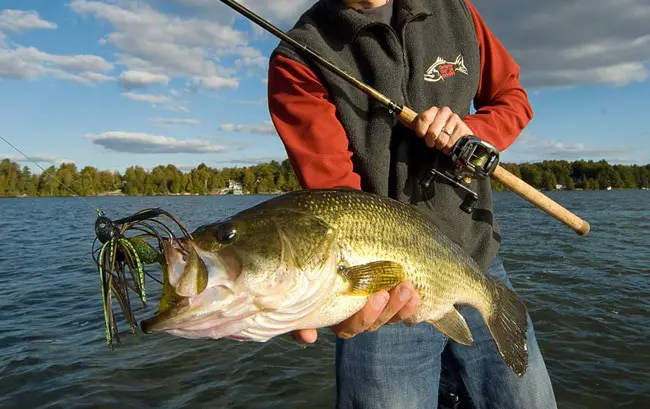 All Bass are well known for the strong fight they put up against anglers – this is a main reason why people love the thrill of fishing them. Depending upon the Bass species and various other factors such as water quality and food available, bass can be found in lakes, reservoirs, ponds, rivers, streams and creeks.
Although fixed-spool reels were introduced in use in the United States as early as the 1870s, spinning reels and rods did not gain wide acceptance as an angling tool until the 1950s – And since then the technology and ability these spinning reels have, has been perfected for catching Bass.
Finding a high quality and best spinning reel for bass can actually be a tough decision, even though there are now thousands of products on the market – this can make the decision overwhelming. We pride ourselves on writing the best product reviews on the web, pouring many hours into research and often testing the products themselves whilst on our own fishing trips in the US.
Below we have listed our best spinning reels for catching Bass, there will also be a description about the product, the pros & cons of it and information on where you can purchase it. We hope you find this article useful and that it aids you in purchasing a spinning reel of your own.
Let's dive straight in!
5 Best Spinning Reels For Bass in 2020
1: EDITORS CHOICE
Cadence has been one of the market leaders when it comes to producing high quality fishing reels and other fishing gear. This reel takes our editors choice spot due to it's high quality construction, drag system, comfy shape and weight.
The Cadence CS8 is produced from materials that bring high strength without the weight, the Cadence CS8 series reel offers premium performance at a very modest price. The frame is made from light magnesium with a carbon rotor gliding on 10 corrosion resistant bearings – Perfect for any weather conditions and water types.
You wont experience line slippage due to the carefully machined aluminium spool which also houses a carbon fiber drag system that will deliver a consistent pressure.
Another great feature is the ergonomic EVA handle knob, it's comfy in your hand and reduces the reel weight.
Premium materials, along with its availability in a variety of sizes, make it a great all-purpose spinning reel.
The Cadence CS8 is perfect for gamefish including freshwater fish like bass, walleye, and trout as well as popular inshore species like redfish, speckled trout and flounder.
We are certain that this spinning reel will exceed your expectations (it definitely has ours! The Water Sporting Adventure team now uses this reel as a go to for spinning). The feature list, quality and design has produced a spinning reel which you'd expect to pay twice as much for.
PROS & CONS
Built from corrosion resistant materials

Very light weight

Superior drag system

High strength construction

Comes in a variety of sizes

Ergonomic handle knob design
No cons with this spinning reel – Perfect choice!
View more products from Cadence >>
2: OUR TOP PICK
Another big name in the fishing world PENN – This is another excellent example of the all-in-one spinning reel choice and thats why it has taken our top pick position. This isn't the 1st time we've wrote about the brilliance of this spinning reel on Water Sporting Adventure, so that says something.
The PENN Battle II offers attractive looks, a very durable design, and a silky smooth HT-100 drag as just a few of the many reasons why so many anglers fish for bass with this reel.
The body has a full metal construction which makes it durable and gives the reel precise gear alignment, even under extreme loads – much needed when fighting powerful fish such as bass!
There is a rubber gasket which prevents the lines from slipping whilst fishing.
The ball bearings are all made from Stainless Steel, so you don't need to worry about corrosion any time soon. This reel will last you years.
The handle is ergonomic and fits very comfortably in your hand and remains comfy even whilst gripping hard in an intense fight.
The PENN Battle II is perfect for most gamefish including freshwater fish like bass, walleye, and trout.
This spinning reel has always been a favourite of ours and i'm sure it will be yours. The endless list of features which you tend to find in higher priced reels make this a perfect and affordable choice for your fishing bag.
PROS & CONS
Corrosion Resistant

Light weight construction

Anti Line slip rubber gasket

Comes in a variety of sizes

Ergonomic handle knob design
5 ball bearings, similar models can have up to 8
View more products from PENN >>
3
The Daiwa BG Bass spinning reel is said to of been 40 years in the making, using all the knowledge and experience the Daiwa engineers have in producing the ultimate spinning reel to be used for all types of game fish and in every fishing condition.
The Daiwa BG has a machined aluminium body to provide strength, corrosion and scratch resistance. It also has an aesthetically pleasing black anodized body.
Daiwa BG spinning reels also have integrated the largest drive gear in the history of Daiwa spinning reels. This increases the gear-tooth contact, provides a smoother and extended gear life as well as more power and torque – Perfect for Bass fishing!
The screw in handle gives zero play between the handle and main gear system, this offers the angler more confidence and control whilst using the reel.
The ABS spool's maximized core diameter and reversed taper mean 100% useable line. No "dead" line buried in a deep core. You can fill the reel to the max and use it all.
This reel also utilises an air rotor to provide 15% less weight than a standard reel rotor.
This spinning reel is another great choice in our list. Daiwa have really perfected the art of producing a brilliant spinning reel with this one. Another thing worth mentioning is that you can get all these awesome features at an affordable price.
PROS & CONS
Anodized body

Air rotor

Maximized line capability

Comes in a variety of sizes

Screw in handle design
Some users report the gears can grind after a few months of use
View more products from Daiwa >>
4: BEST VALUE
KastKing are another brand featured numerous times on our website, whether it be for rods, tackle or reels. KastKing has firmly cemented themselves as a premium fishing brand amongst many anglers across the world.
The Valiant Eagle Spinning Reel is a testament to American fishing and we think they have embodied the American fishing culture perfectly by producing an excellent product, perfect for catching one of Americas favourite game fish, Bass.
This spinning reel has speed, power and a relentless spirit whilst on the hunt for big game fish. The emerald green edition honors Americas symbol whilst providing a fast gear ratio of 6:2:1. It has a lightweight yet strong enhanced graphite frame and rotor. As well as a multi-disc carbon fiber drag system with a power of 22lb.
For long, accurate and consistent casts the spinning reel uses 11 Stainless Steel ball bearings for a remarkably smooth operation.
Another key feature is that it doesnt need a mono line backing if you want to load up the reel with a braided fishing line this is due to it's 'braid ready' reel spool.
The aluminium handle with EVA knob is both comfy, lightweight and easy to operate.
This spinning reel is another great choice in our list. KastKing have really embodied the American spirit with this high tech spinning reel. An added bonus is that it is one of the cheapest options on our list. In our humble opinion it's a bargain!
PROS & CONS
11 stainless steel bearings

6:2:1 Gear Ratio

Emerald green edition

Comes in a variety of sizes
Graphite frame may not be as durable as aluminium alternatives
View more products from KastKing >>
5
This reel from RUNCL makes our list due to it's performance, quality and affordability. Many people would place this reel on the lower end of the spectrum of best spinning reels for bass, but that's due to it's price. If those same people got their hands on one of these i'm sure they would quickly change their mind.
It has a full metal body with an anodized finish to offer superb corrosion and scratch resistance. The 10 shielded stainless steel bearings offer a smooth and uninterrupted action to the reel.
The spinning reel has a 'entire shield system' which works to offer added protection and prevent water, sand and dirt out of the reel to provide more longevity to the reels life.
CNC-machined aluminium vented spool as well as a hollowed out rotor significantly reduces the weight of this reel and makes up for the added weight from a full metal body.
It also features a multi disc drag system made up of carbon fiber washers for reliable stopping power. A key addition for fighting powerful fish such as bass.
Many users report on the fact the spinning reel performs very well with heavier braided fishing lines.
Affordable yet very impressive, we are confident this spinning reel will aid any angler very well on their hunt for bass whilst not breaking the bank.
PROS & CONS
10 stainless steel bearings

Entire Shield System

CNC Machines Aluminium Spool

Affordable
Full metal body might not be as lightweight as carbon alternatives
View more products from RUNCL >>
Spinning Reels vs Baitcasting Reels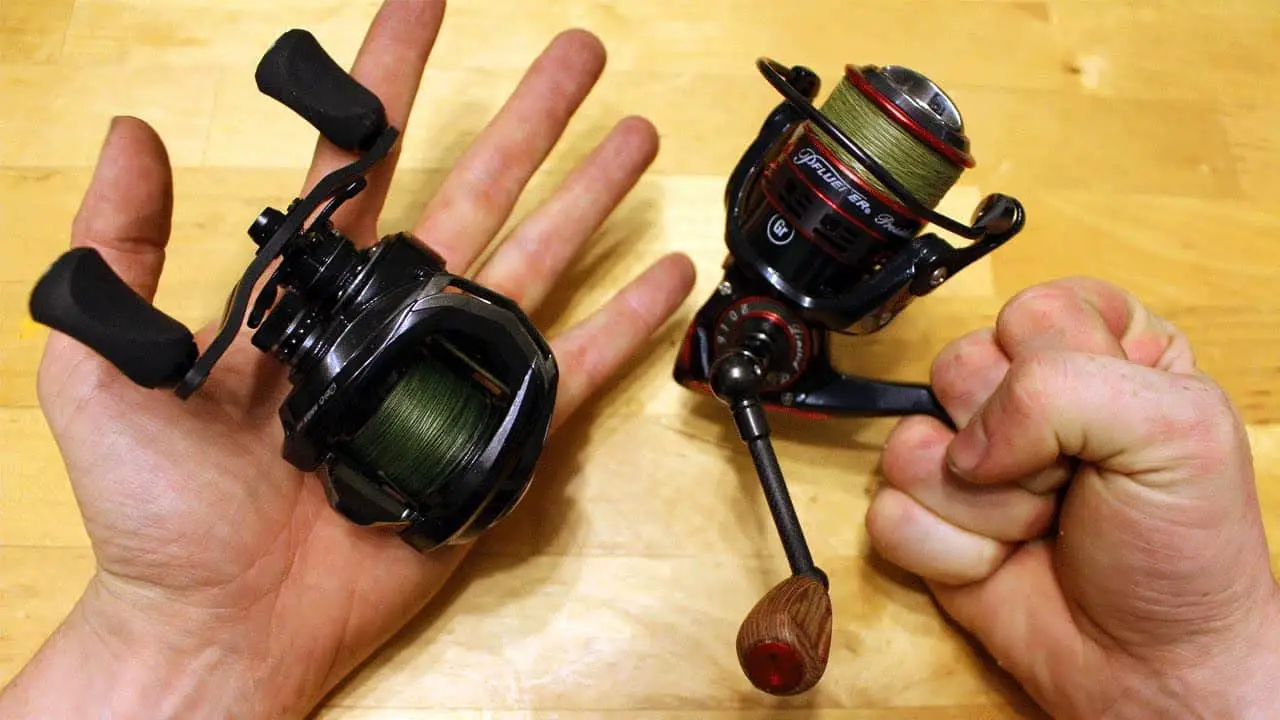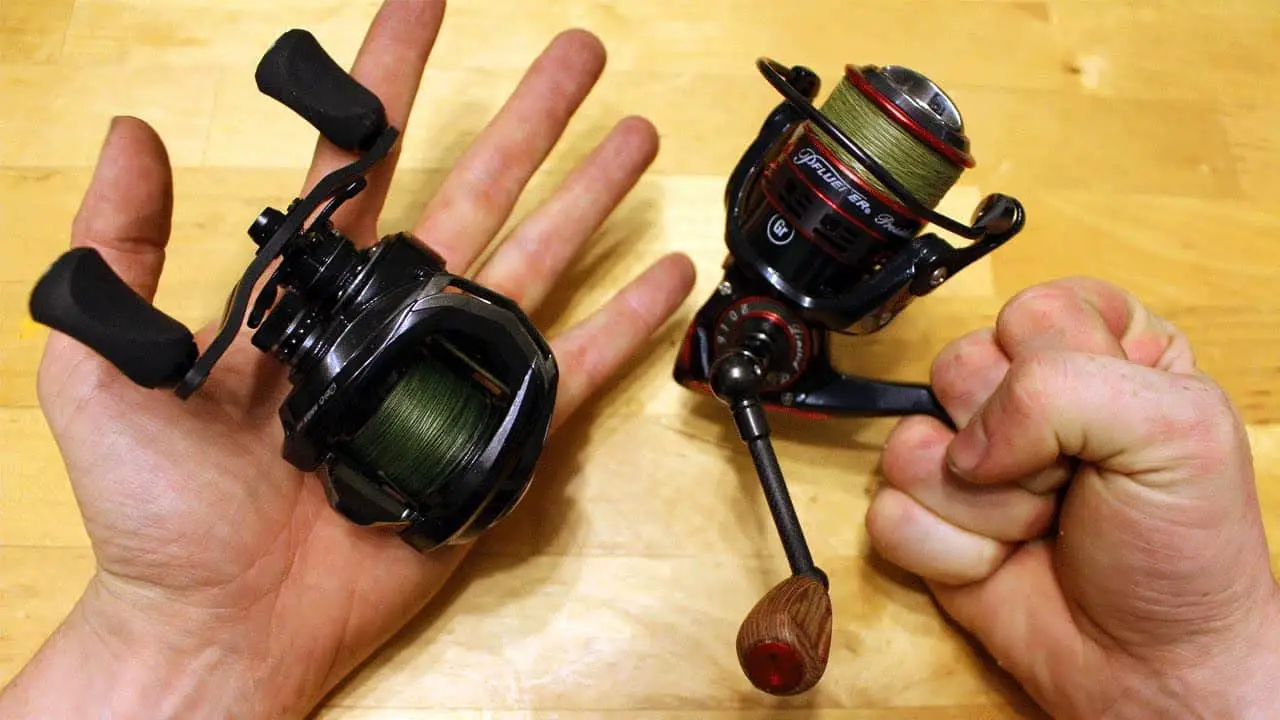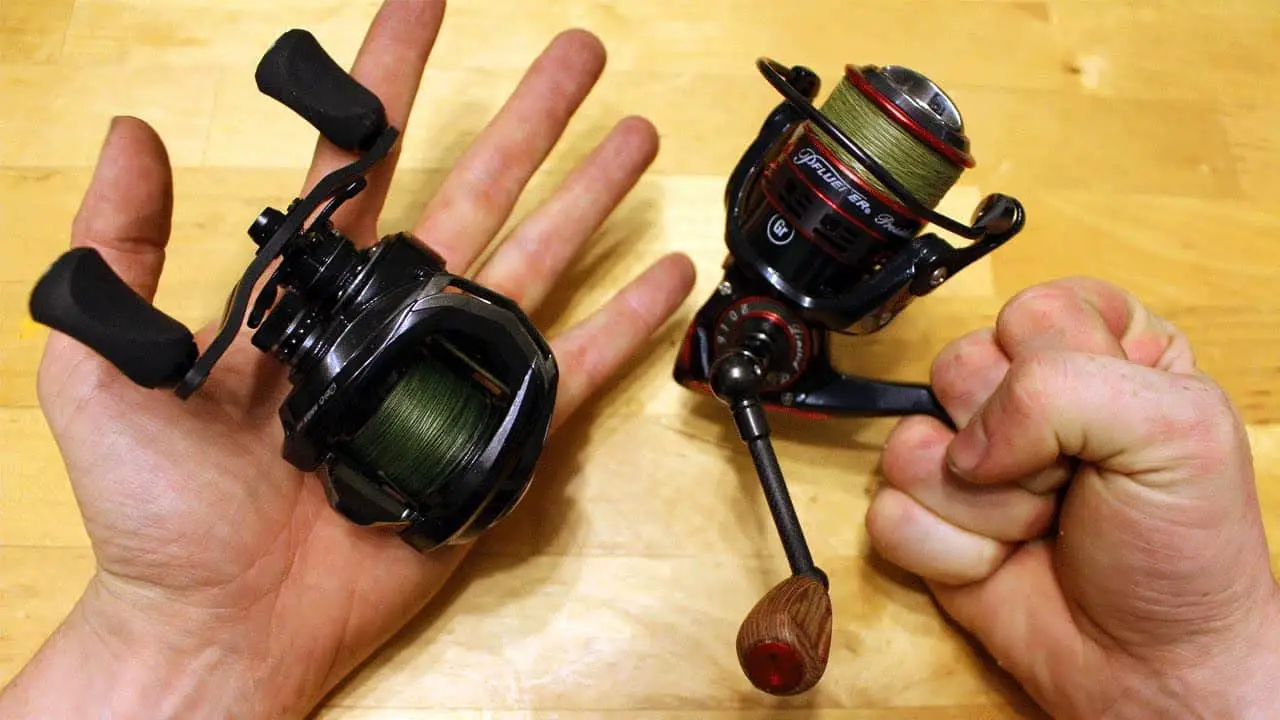 SPINNER
People often use spinning reels due to their ease of operation, they are often the first reel someone who is new to fishing picks up. You simply open the bail, hold the line with your finger, cast and re-close the bail.
Spinners are especially useful when it comes to fishing with lighter baits and lures etc. The zero drag on the line whilst it leaves the spool allows anglers to launch lighter baits further with a spinning reel. It's also super easy to reel the fish back in, simply remember to turn the handle clockwise and you're good.
Spinning reels are usually used with small diameter lines as the spools are usually smaller than a baitcasters. Although many of the reels mentioned above made the list due to their ability to hold thicker lines such as braided fishing lines.
Pros:
Less tangling
Easier to understand and use
Relatively cheap
Longer line life
Less bird nesting and jamming
Easier to maintain
Considerable casting enough distance
Easy to handle by anyone without an issue
Can be used for all fishing styles
The best option for lighter lures and lines
No line digging
Cons:
Less line capacity
Larger, heavier reels
Cannot handle stronger fish
Line twist is more common
Less accuracy and control compared to baitcasting
Hard to slow bait
Doesn't flip or pitch easily
A small variety of available gear ratios
Not accurate with heavier lures
BAITCASTER
Generally speaking, baitcasters are more frequently used by anglers with more experience. They are predominantly used for casting heavier tackle such has jigs, spinner baits and crankbaits. What's great about a baitcaster is that you can do this with pinpoint accuracy.
However un like the spinning reel, you must use a dialed in drag resistance with a baitcaster which can take some time to get used to. You have to put pressure on the line with your thumb as you cast, if you get this wrong, you could end up with a backlash of line and a reel of tangled fishing line.
You can usually launch your lure further with a baitcaster, this is due to the fact the line is flowing directly off the spool, and not in a circle motion like a spinning reel. However they do take a lot of practice to get used to. The increased distance and accuracy you get from a baticaster makes it a better choice in situations that demand it, whilst a spinning reel can be used in every location.
In conclusion, I would pick a spinning reel if you need a reel to suit a whole host of situations or if you like to move from place to place and fish at various spots throughout the year. If you like to fish at only a few spots and they require high precision and long casting distances such as surf fishing, then I would opt for a baitcaster (if you are experienced enough).
Pros:
Less line twist
Easier to slow bait
Improved accuracy with heavy lures
Improve accuracy and control compared to spinning reels
A larger variety of available gear ratios
Lighter reel weight
The best option for heavier lures and lines
Greater line capacity
More durable than spinning reels
Cons:
Takes time to learn and use
Can wear out lighter lines
Harder maintenance
Relatively expensive
Complicated without experience
Bird nesting and jamming more common
Lines can dig into the pole during flexing
Conclusion
Regardless of which spinning reel you choose, I hope I have helped you make a decision or taught you how to make a more informed choice. We are positive that if you buy any on our list then you're making a great choice.
To recap, our top two choices of spinning reels for bass are: Penn Battle II Spinning Fishing Reel & Cadence CS8 Bass Spinning Reel.
With either of these two choices you'll be reeling in lots of bass in no time!
Happy Bass Fishing!
If you also fish from a kayak and enjoy our product reviews then check out out top list of fishing kayaks for under $1000.
If you use a fish finder whilst fly fishing then we also reviewed a bunch of Fish Finders.
RELATED POSTS