Intex Excursion 5 Review & Specs
Intex Excursion 5 Review
The Intex Excursion 5 could be the ideal boat for your next adventure. Whether you are paddling solo or taking the family aboard.
Excursion 5 is durable and roomy enough for almost any activity on the water. If you are fishing, sunbathing on the lake, or just want to head out and explore the Intex excursion 5 is a great choice for novice and experienced 'boaters' alike.
Quality: 4/5
Speed/efficiency: 3.5/5
Cost: 5/5
Ease of use: 5/5
View on Amazon
View Customer Reviews
Intex Excursion 5 Key Features
Material/Construction
When you order a Intex Excursion 5, you'll notice that it comes with a few other pieces of equipment.
This includes two aluminum oars. There's been a lot of discussion around how good these actually are, with some customers claiming they never lasted very long, whilst others mentioned they did the job just fine.
However, if you're planning on paddling around casually in an area without any wind or current, you'll probably be able to use these without any issues.
The boat itself is made from vinyl and triple-layered heavy duty PVC. The inflated part shouldn't puncture easily, although it's always important to take care of your boat and avoid dragging it over rocks or anything that might scuff it.
There are three separate air chambers, so if one does get damaged you won't be totally, um, up the creek without a paddle. You can also fix punctures easily with the repair kit which, like the oars, are included with the boat.
The layout of the boat is also good. If you get the four-person option you'll have two two-person seats that face each other, both with backrests.
If you get the five-person option you have the same two two-person seats and a small bench in the middle.
With either choice, you'll be able to move or remove the seats as you choose, which gives you the option to either bring more equipment or something much better, like a dog.
If you would like to use this boat for fishing, you have the option to with four fishing rod holders.
The only thing to take into consideration is that you won't be able to stand up to cast. If you do this you will need somewhere to store the oars; thankfully, there are also oar holders so you don't lose or trip over them.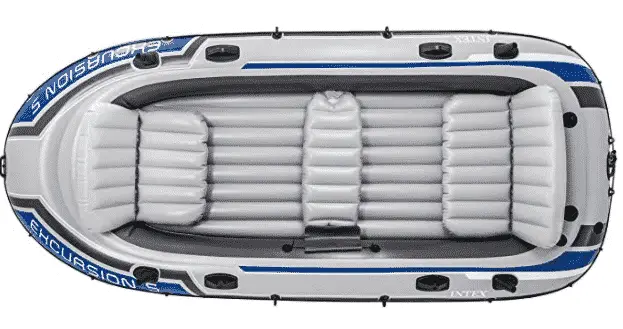 Durability
As we've discussed, this boat is made from vinyl and PVC. This will keep it pretty tough and durable for when you use it, and one review even claimed that it's pretty much 'puncture proof if used correctly'.
There are some concerns about the boat's longevity, though, as the manufacturer only offers a guarantee for 30 days. We recommend inflating this as soon as you get it to make sure that there are no breakages from transportation.
The Intex Excursion 5 is an inflatable boat, which makes it lighter and easier to transport than many hard-shell boats.
It also means that it doesn't weigh as much in the water, and can get blown off course or pushed around by currents. If you're planning on fishing or staying in one place – possibly to watch or photograph some wildlife – it might be worth investing in an anchor.
A lot of customers like to modify this boat, and including an anchor is a good way to stay in place.
Ease of Use
So, the most obvious thing to think about when you're considering buying an inflatable boat is how easy will it be to actually inflate?
The Intex Excursion 5 comes with a manual pump, which should get the boat from the box to the water in 15 minutes, or you can use an electric pump and halve the time.
Reviews have described the experience as 'perfect for first-timers', so don't worry if you don't have much experience with this.
When you're on the water you can paddle, although it can be quite awkward and the oars included are not quite long enough. You can either replace them or add a trolling or 1.5-2 outboard motor. If you do decide to do this you'll move much faster and with far less effort.
After you're done for the day, it can be difficult to actually get the boat back in the bag: much like a tent or a sleeping bag, these things are supposed to fit tightly. Some people like to separate out parts of the boat into different bags to make more space, or you can just fold the boat and squeeze.
Performance
There are a few important things to discuss about the boat's performance. As we've mentioned, the Intex Excursion 5 is light and can get blown off course when you're trying to stay in the same spot.
This can happen on still water, and unfortunately means that it's not suitable for windy days, white water or the sea. However, if you like to fish in still lakes and you're happy to add an anchor, or if you like to paddle around for a few hours in a calm area, this can still be a good boat.
Specs
Four-person: 4 people, with a total weight of 880lbsDimensions: 124" x 65" x 17"
Five-person: 5 people, with a total weight of 1320lbsDimensions: 144" x 66" x 17"
Intex Excursion 5 Pros & Cons
Pros
It's good for fishing, and just casually splashing around. If you live near a river or lake and want to get out and enjoy it more, this is great. Grab some friends and go for a paddle, or take your children out, or even just with one or two buddies for some quiet fishing. It probably won't last as long as a hard shell boat, but as it's not particularly expensive (especially for a boat) it'll perk up a summer and you can get a new in a few years.
Cons
You'll probably need to get some different paddles, and it's difficult to use this alone. To be fair, that's not really what it's designed for. Make sure you check the boat thoroughly for any damage each time you use it, and be aware that you can't take this on any water (For example, fast flowing white water), which can be a bit restrictive.
Intex Excursion 5 Conclusion
Overall, we're fans of the Intex Excursion 5. It's a (reasonably) cheap and cheerful option that has actually had a good amount of thought and research put into it, and you should be able to get a decent amount of use.
So, if summer is coming soon or if it's the depths of winter and you just want something to look forward to, this could easily be the center of some good days out.
Other Related Posts: