Abu Garcia Black Max Review
Abu Garcia has been around since 1921, but their expertise in fishing and angler equipment came after the war. Since, they have been awarded prestigious honors such as, Purveyor To The Royal Swedish Court, an award in which recognizes a companies ability to go above what's required to consistently achieve and produce the highest quality products.
That is why, they're one of the best companies out there to produce your next baitcasting reel, which could be the Black Max Low Profile Reel.
Overall Rating: 
Quality: 4/5
Cost: 5/5
Ease of use: 5/5
View on Amazon
View Customer Reviews
But what does being low profile mean?
Low profile reels have a palm side and a handle side. The palm side of the feel is designed to fit the shape of the hand. It is this comfort as well as the slight decrease in overall size and weight that is the main advantage of a low profile baitcasting reel.
Why would you use a baitcaster?
Baitcasting reels tend to allow for casting lures with pinpoint accuracy. There is slightly less drag resistance and they require a higher skilled angler to be able to thumb the spool as the line runs off.
The spool will move with the casting of the line. As an angler, you'll have to keep things under control otherwise your spool could move at an increased pace to your line, which can cause knotting.
The Abu Garcia Black Max Reel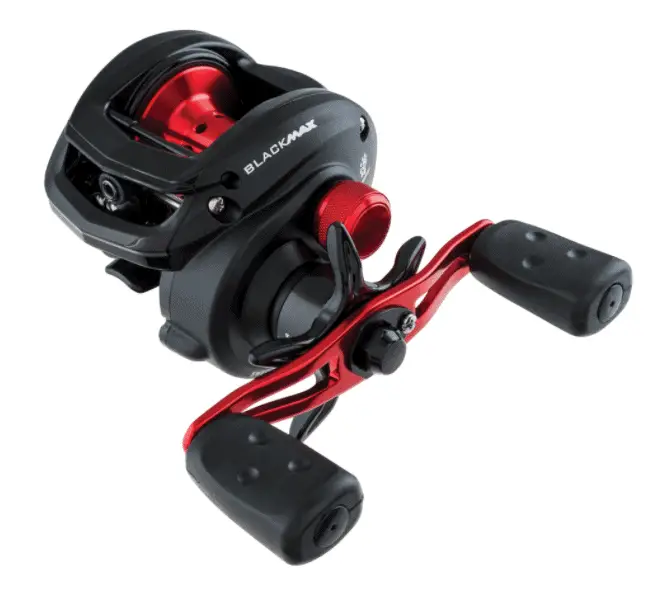 Construction & Durability
Instead of the normal heavy framing in which provides good-quality construction and materials, but at a cost in weight, Abu Garcia has chosen to use graphite which is just as strong, but a 'boatload' lighter.
Being made out of one complete durable piece means that under harsh pressures and abuse it won't come apart or malfunction.
It has been specifically designed for longevity. Its durable construction allows it to remain smooth even when fighting against those larger heavy bass fish.
Even the side plates are made from graphite making it super sturdy whilst the anodized aluminum spool really helps allow for smooth casting and retrieving.
Lightweight materials such as graphite and Aluminum have been purposely used to reduce the Abu Garcia Black Max's weight.
Five Bearing System  
Abu Garcia has added an extra stainless steel bearing as well as the traditional 1 roller ball bearing which makes casting and retrieving a delight, especially with those larger bass types. The 4+1 stainless steel bearing system giving you a smooth operation.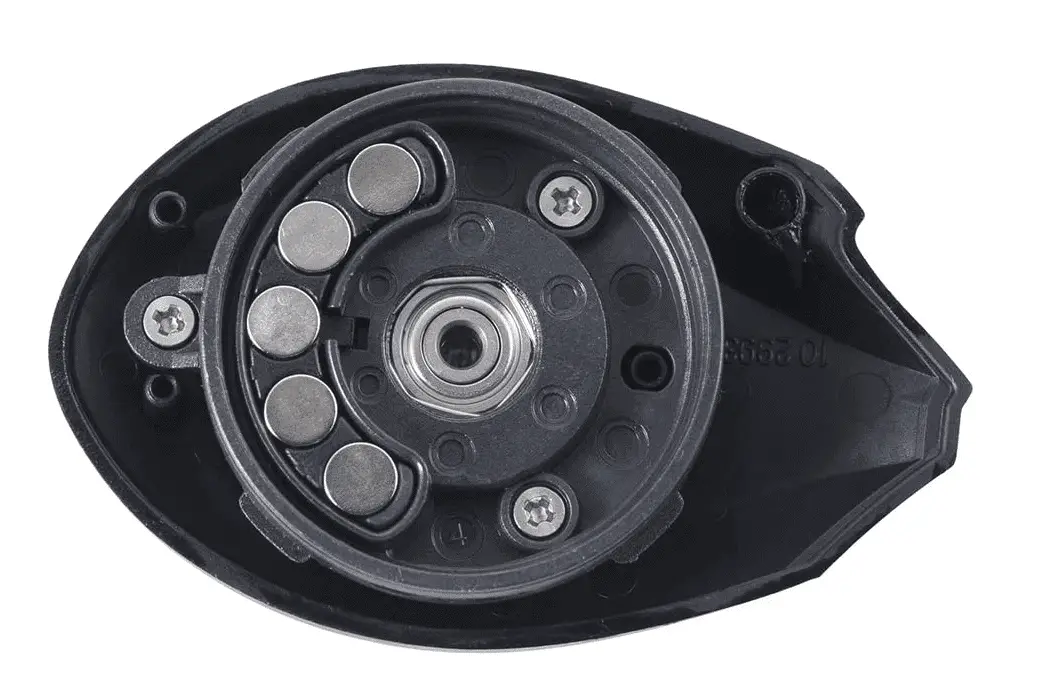 Magnetic Breaking System
To help control the cast and give you really smooth consistent castability, the Black Max uses a MagTrax braking design.
You can expect smooth operation from the line to the spool without any grievances. It allows for a steady application of pressure whilst casting and retrieving your line.
It means that the line can retrieve smoothly whilst allowing you to focus on fighting the fish on hand.
Disk Drag System
When hooking a fish on a line, you'll love the Black Max reel as it contains a superb disk drag system. What this means is that the hook is always stable with very little resistance.
It doesn't matter whether you're a pro angler or simply someone that enjoys going out on the weekend, this new technology will help improve your game.
Gear System
The gear system in the Black Max is Abu Garcia's DuraGear technology. This is their brass gear system that just gives you a lot of durabilities and gives you years of operation out of the black max reels.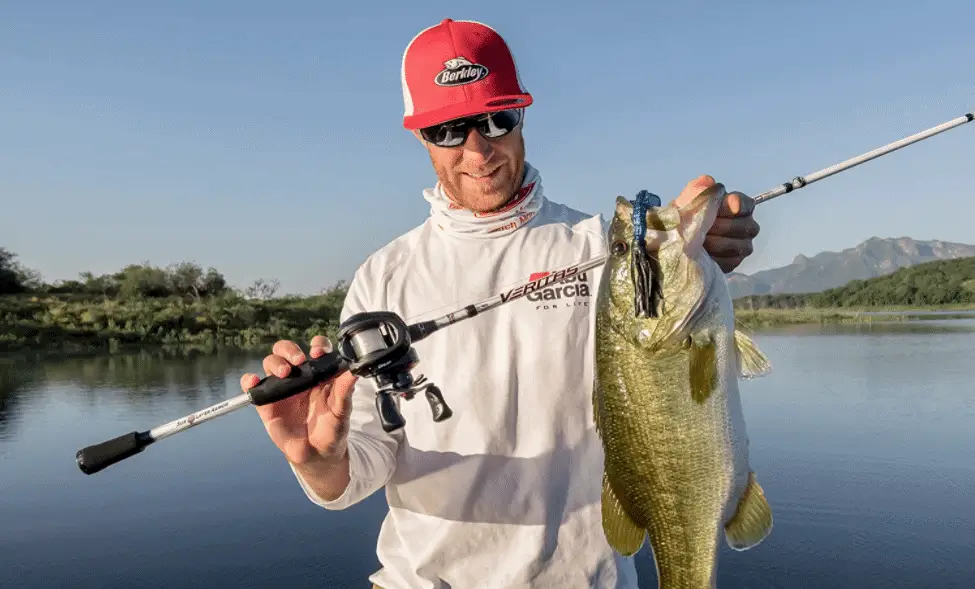 Abu Garcia Black Max Baitcaster Pros & Cons
Pros
Reliability: Due to the strong and durable materials that the Abu Garcia Black Max is made from it can easily withstand any type of pressure and day to day abuse that a beginner may be vulnerable against. The PowerDisk drag technology really helps in catching those stronger types of fish.

Resistant to Corrosion: The Abu Garcia Black Max reel is made from graphite, but contains brass gears, thus making it resistant to rust and corrosion.

Ergonomic Design: Thanks to the ergonomic design, the Black Max is a great tool in which you can focus on your own experience rather than worrying about the durability of your equipment. It's its low profile design that allows for perfect cohesion of your hand and the handle of the reel for maximum comfort and ease of use.

Great Value for Money: Coming in at under $100, it's great value for money. It's tough to find anything as durable or as competitive around this price point.
Cons
Because of its unibody design and use of lightweight materials, it may not have the same amount of power that you would be otherwise used to with the heavier reels.
Therefore, with those heavier and stronger fish, your reels may take quite a beating. This isn't necessarily a bad point about the black max low profile as it can apply to any smaller sized reel.

If you're a beginner, baitcasting can seem a little complex at first. Once you get used to it you'll wish that you never go back, however, whilst at the beginner stage controlling the drag and thumbing the spool could be a bit tricky to learn.

It only has a year's warranty. When you're out on the water pretty frequently, this may fly by and seem under-appreciated. However, due to its durability and stainless steel ball bearings, you should be good for a while.
FAQs
What is the difference between the Abu Garcia Black Max and Silver Max?
The most obvious difference is the Silver Max's Rocket Clutch system that allows for one handed operation.
The Black Max doesn't have this feature, however, has best value for money as it is a high quality reel that beginners can use without having to spend loads of money.
We have also reviewed the Abu Garcia Silver Max baitcast reel.
How much line (spool capacity) does Abu Garcia Black Max have?
 Both black max reels have the same spool capacity:
| | | |
| --- | --- | --- |
| Model | Gear Ratio | Spool Capacity |
| BMAX3 |     6.4:1 | 30 lbs. / 130 yds. |
| BMAX3-L |     6.4:1 | 30 lbs. / 130 yds. |
Conclusion 
At great value for money, the Abu Garcia Black Max Reel is perfect for beginners and intermediates looking to get into baitcasting.
With an ergonomic design and fantastic build quality that will keep it in top condition for a long time as long as you take care of it – beginners can enjoy their time without the worry of cheap equipment breaking.
You get the same price tag, but superior quality.
The main MagTrax system is something you're going to regret missing out on. It allows for excellent casting and retrieval without any worries.
Other Fishing Posts:Underwater Fishing CameraFishing Backpack ReviewsBest Fishing PliersBest Ice Fishing BibsBest Fishing Line For CrappieSurf Fishing Rod Reviews