Best Ice Fishing Boots In 2023: Review & Buyers Guide
Every ice fishing enthusiast is aware that as soon as their hands or feet get cold and stiff, it's likely to end the fishing adventure there and then.
Fortunately for all of us, cold-weather fishing boots are getting better, and every pair of boots provides new technology and improvements each coming year.
If you travel long distances to the lake or just travel out of the car into the shelter, you will need a pair of the best ice fishing boots to keep your feet warm. 
Nothing would be more frustrating than packing for your day out, traveling, setting up on the ice, drilling your hole, and then casting your line, only to have to hop back in your car and head home because you can't feel your toes! 
Ice fishing boots aren't only there to keep your feet nice and warm, they also improve comfort, grip, and your ability to walk along the ice. We have taken all of these points into consideration whilst deciding on the following 5 best ice fishing boots. Let's dive right in!
5 Best Ice Fishing Boots
What to look for whilst buying the best ice fishing boots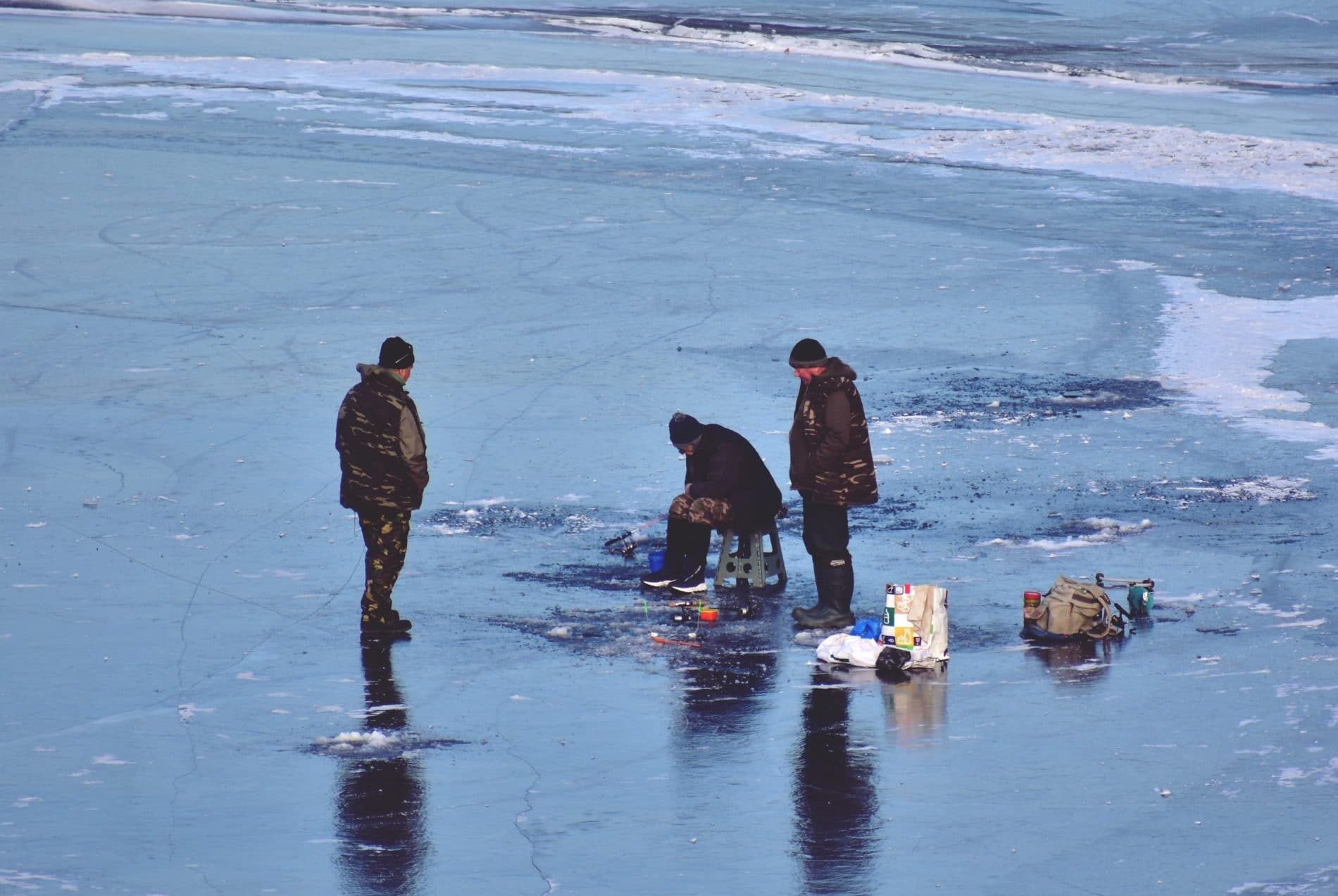 Insulation 
Pick boots with adequate insulation to keep your feet warm and comfortable. If you plan to wear your ice fishing boots in extreme weather, usually the thicker the insulation the better.
But, if you plan on wearing your boots in a wide variety of temperatures and you are after a 'one boot to do all' pair, then perhaps a thinner layer of insulation would allow you to wear the boots in warmer months and then in extreme temperatures you can wear extra socks or use foot warmers.
Waterproof
To ensure you stay dry during your ice fishing excursion, invest in waterproof ice fishing boots.
This point seems obvious, but it would be easy to overlook. All of the boots on our list are fully waterproof.
Many also include the long leg sleeve which can be tightened to prevent any rain or snow from entering the top of the boot – although your fishing rain gear will likely go over your boots.
Durability
By design, the best ice fishing boots are inherently durable, they are often thick-soled, produced from vulcanized rubber, and feature tear resistance neoprene and waterproof materials.
After all, they are made to be worn in extreme conditions. However, it's always worth doing some research behind the product you are buying. Sometimes it's not always enough to purely trust the manufacturer's statements so ensure you try to read some customer reviews.
Size
When making your decision to buy a pair, it's important to check how the manufacturer's sizes work – they often include a sizing chart. Also, remember that it's likely that you'll be wearing a thick pair of winter socks with your boots, for this it's usually recommended to get a half size or full size bigger than you usually would.
Traction
To ensure good traction when you walk on the snow and ice, ensure that the ice fishing boots you buy are built with treads or spikes at the bottom. The last thing you want to happen is that you slip!
Best Ice Fishing Boots – Conclusion 
It is really important to have the right boots when you go ice fishing. You will enjoy long hours of fishing without your feet feeling cold if you choose the right ice fishing boots.
In the above ice fishing boot reviews, we have presented you with sturdy and some of the best ice fishing boots on the market, which will all last you years to come if they are looked after.
Whilst it is easy to get enticed by the cheaper brands and offers, remember that they are often cheaper due to the construction and materials used.
Ice fishing is a fairly dangerous sport, and many things can go wrong, especially if you don't have the mobility you are used to because your hands and feet are freezing.
It goes a long way to invest a little extra in your safety now, then regret it later! 
We truly hope that this article has helped you choose the best boots for ice fishing and that you manage to keep those toes warm (and you catch a lot of fish) next time you're out on the ice!
Related Ice Fishing Posts: