Every ice fishing enthusiast is aware that as soon as their hands or feet get cold and stiff, it's likely to end the fishing adventure there and then.
Fortunately for all of us, cold-weather fishing boots are getting better, and every pair of boots provides new technology and improvements each coming year.
If you travel long distances to the lake or just travel out of the car into the shelter, you will need a pair of the best ice fishing boots to keep your feet warm. 
Nothing would be more frustrating than packing for your day out, traveling, setting up on the ice, drilling your hole, and then casting your line, only to have to hop back in your car and head home because you can't feel your toes! 
Ice fishing boots aren't only there to keep your feet nice and warm, they also improve comfort, grip, and your ability to walk along the ice. We have taken all of these points into consideration whilst deciding on the following 5 best ice fishing boots. Let's dive right in!
5 Best Ice Fishing Boots
Our Top Pick
Muck Boot Woody Arctic Ice Fishing Boot
Muck Boots are one of the best ice fishing boots out there. For quite a while, muck boots have been in use by many ice fishing enthusiasts. The Original Muck Boots can tolerate snow, slush, freezing rain, or any other gloomy weather, making them the best winter muck boots. The jacket's length measures roughly 14.5".
These boots simply go up to your knees, providing enough coverage and comfort from the cold. A 5 mm CR flex-foam bootie with four-way stretch nylon comes with the shoes. It's also completely waterproof all the way to the top, lightweight, and flexible, ideal for long periods for activity.
The boots come with a fully sealed rubber shell that extends above the ankle area. This sealed rubber provides extra comfort and protection from rain and snow when you are out on the ice.
You can use it for fishing, hunting, or regular outdoor activities with a comfort range of -40ºF to 40ºF. Also, for extra comfort, a 2 mm thermal foam underlay has been added. Even on the most slippery surfaces, the added toe protection and rubber sole secure your feet and gives you steady traction.
Since they come in full sizes, it's always better to have the width of at least a thumb between the top of the boot and the top of your toes, with socks on.
These boots are incredibly comfortable when it comes to their footbed, and you can feel immediate heat when you put them on.
Next Best
SOREL - Glacier XT Insulated Winter Boot
These Sorel boots provide great protection against rain and snow, featuring water and wind-resistant PU-coated tops and waterproof rubber shells. The tall boots now have a removable inner boot with an Omni-Heat reflective lining to retain heat. The shoes provide heavy-duty frost plugs between you and the cold ground to keep your tootsies feeling toasty.
The Glacier XT Boot from Sorel offers protection, comfort, warmth, and has a rugged build. These boots are a solid contender for the best ice fishing boots due to their style, design and quality. Thanks to the Omni-Heat reflective lining with reversible 13 mm recycled felt inner boot that keeps you warm down to -100F. This Sorel boot is perfect for those who are in extreme adventurous situations. The adjustable ankle support buckle provides further support for rough, rocky mountainous terrain.
These boats are part of the XT footwear range and suitable for those interested in active ice fishing and heavy snow, where optimum safety is important. The Sorel boot has added a new reflective Omni-Heat line to the inside of the boot line, helping preserve body heat and improve protection from extreme weather.
With a Sorel aero-track non-loading outsole and 13′′ shaft, the waterproof vulcanized rubber shell keeps you safe and up on your feet.
These boots are designed to cope with extreme snow conditions. You can also tighten the boot using the bungee lacquer system and shatter-resistant buckling closing.
Sorel1964 Pac Nylon Snow Boot
In terms of cold-weather performance, we all know that most winter boots lack style. These Sorel classic boots let you have it both ways. These classic sleek men's boots will go basically with any outfit and are a perfect choice. The bottom of the duck-boot rubber holds water and wet snow at bay, while the waterproof nylon's top does the same.
The upper nylon comes in many different colorways in the style department. In the fluffy sherpa pile of snow cuff that keeps snow out while adding a little flourish at the top of the boot, you get both shape and functionality. These boots are also available is a similar edition for women.
These are made of 100% textile and synthetic material with rubber soles and laces on the front for that perfect fit. Besides that, if measured right from the boot's arch, the shaft is very long at approximately 10 inches.
Besides, the heel is about 1 inch, which is perfect because it will keep the cold in snowy conditions farther away from your feet. The boot shell is made of vulcanized rubber, which is considered to be the toughest worldwide, and even though you step on sharp ice during the winter, it won't crack or scuff.
The manufacturer included a d-ring lacing pattern and a felt cuff right at the bottom to ensure that the boot fits perfectly. During the colder months or rainy season, you can use a felt fabric boot as an extra insulation layer. Although some clients have stated that part of the boot begins to let water move through with time.
Sorel's cold weather footwear is suitable for outdoor winter sports, such as snowmobiling, or activities requiring optimum protection — such as winter hunting, fishing, or even normal working.
Bogs Classic High Waterproof Insulated Winter Boot
Another addition to the best ice fishing boots is the Bogs Men's Classic Winter Snow Boot. Having a sleek and modern design, these men's black rubber boots come with waterproof sealing along the stitching lines and a 100% rubber sole. Even in winter, due to significant temperature changes, the sole will not crack or break, so you can wear these boots throughout the year whenever desired.
There is no doubt that urban and outdoor enthusiasts cherish bogs. The boots are always waterproof and warm, walking comfortably, naturally breathing, and mixing modern elegance with sturdy construction. There are both the popular classics and the new MT series with waterproof breathable uppers available.
Furthermore, since they keep the water outside and do not permit the snow to move in and get your socks and feet wet, these Bogs boots can be worn during rainy or snowy weather. Besides, they also come up with a sturdy shaft made of neoprene material and pull-on handles on the sides that make it very simple and quick to wear these boots.
Therefore, you can be confident that you can find just the right size for yourself, but bear in mind that all the boots' shaft circumference is the same at only 16 inches regardless of what shoe size you pick. Customers can choose from many different sizes.
Finally, as these boots are 100 percent rubber and neoprene, you can easily clean them with little water and soap solution. Remember, however, that you can't put them in the washing machine or wash them under hot water because its rubber soles at the bottom of the boot can be damaged.
LaCrosse Alphaburly Pro 18" 1600G Waterproof Boot
In all weather conditions, the Lacrosse Waterproof Hunting Shoe can be worn, and the outsole can hold the feet steady and safe through snow, ice, rain, or slush. The robust nylon offers resistance to water and snow.
A waterproof barrier that lines 100 percent of the boot helps moisture escape and keeps water out, ensuring that feet can stay dry. The hardened heel and toe cap that prevents abrasion in the heaviest wear areas is just as significant.
These Lacrosse Men's Alphaburly Waterproof Hunting boots were built for ice and snow walking and are designed for comfort, warmth, and stability.
The Alphaburly Pro, built from a proud heritage of creativity, is a luxury hunting boot. The Alphaburly Pro fears nothing, mixing high-quality, scent-free rubber with naturally insulating neoprene. For added comfort, it features a dense EVA midsole cushioning. An embossed liner to make the air circulate better. And for the optimum match, an adjustable rear gusset.
The natural rubber is waterproof and resistant to tears and abrasions, and will not crack from excessive heat or harden in extreme cold. The insulating foam filler is entirely removable, allowing the amount of insulation necessary to be adjusted. For over a century, Lacrosse Footwear has been making the finest rubber boots. Since 1897, Lacrosse's brand has stood for toughness, endurance, and comfort, and that has not changed.
What to look for whilst buying the best ice fishing boots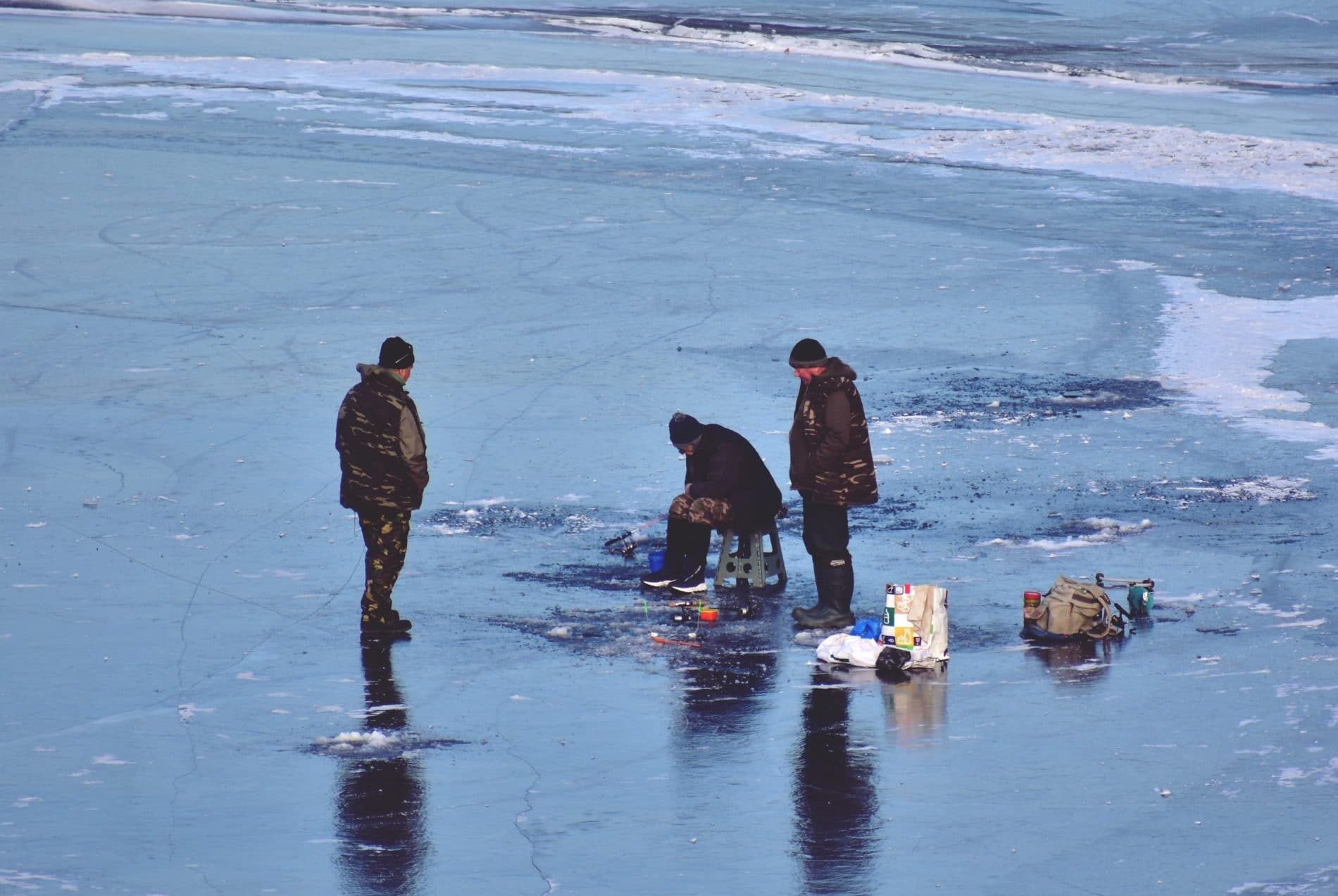 Insulation 
Pick boots with adequate insulation to keep your feet warm and comfortable. If you plan to wear your ice fishing boots in extreme weather, usually the thicker the insulation the better.
But, if you plan on wearing your boots in a wide variety of temperatures and you are after a 'one boot to do all' pair, then perhaps a thinner layer of insulation would allow you to wear the boots in warmer months and then in extreme temperatures you can wear extra socks or use foot warmers.
Waterproof
To ensure you stay dry during your ice fishing excursion, invest in waterproof ice fishing boots.
This point seems obvious, but it would be easy to overlook. All of the boots on our list are fully waterproof.
Many also include the long leg sleeve which can be tightened to prevent any rain or snow from entering the top of the boot – although your fishing rain gear will likely go over your boots.
Durability
By design, the best ice fishing boots are inherently durable, they are often thick-soled, produced from vulcanized rubber, and feature tear resistance neoprene and waterproof materials.
After all, they are made to be worn in extreme conditions. However, it's always worth doing some research behind the product you are buying. Sometimes it's not always enough to purely trust the manufacturer's statements so ensure you try to read some customer reviews.
Size
When making your decision to buy a pair, it's important to check how the manufacturer's sizes work – they often include a sizing chart. Also, remember that it's likely that you'll be wearing a thick pair of winter socks with your boots, for this it's usually recommended to get a half size or full size bigger than you usually would.
Traction
To ensure good traction when you walk on the snow and ice, ensure that the ice fishing boots you buy are built with treads or spikes at the bottom. The last thing you want to happen is that you slip!
Best Ice Fishing Boots – Conclusion 
It is really important to have the right boots when you go ice fishing. You will enjoy long hours of fishing without your feet feeling cold if you choose the right ice fishing boots.
In the above ice fishing boot reviews, we have presented you with sturdy and some of the best ice fishing boots on the market, which will all last you years to come if they are looked after.
Whilst it is easy to get enticed by the cheaper brands and offers, remember that they are often cheaper due to the construction and materials used.
Ice fishing is a fairly dangerous sport, and many things can go wrong, especially if you don't have the mobility you are used to because your hands and feet are freezing.
It goes a long way to invest a little extra in your safety now, then regret it later! 
We truly hope that this article has helped you choose the best boots for ice fishing and that you manage to keep those toes warm (and you catch a lot of fish) next time you're out on the ice!
Related Ice Fishing Posts: