10 Best Ice Fishing Tip Ups
If you have ever wanted to get into the ancient and often very difficult hobby of ice fishing, then you're definitely a very brave person. This not only requires skill and a lot of patience, but you'll need the right equipment for the task at hand.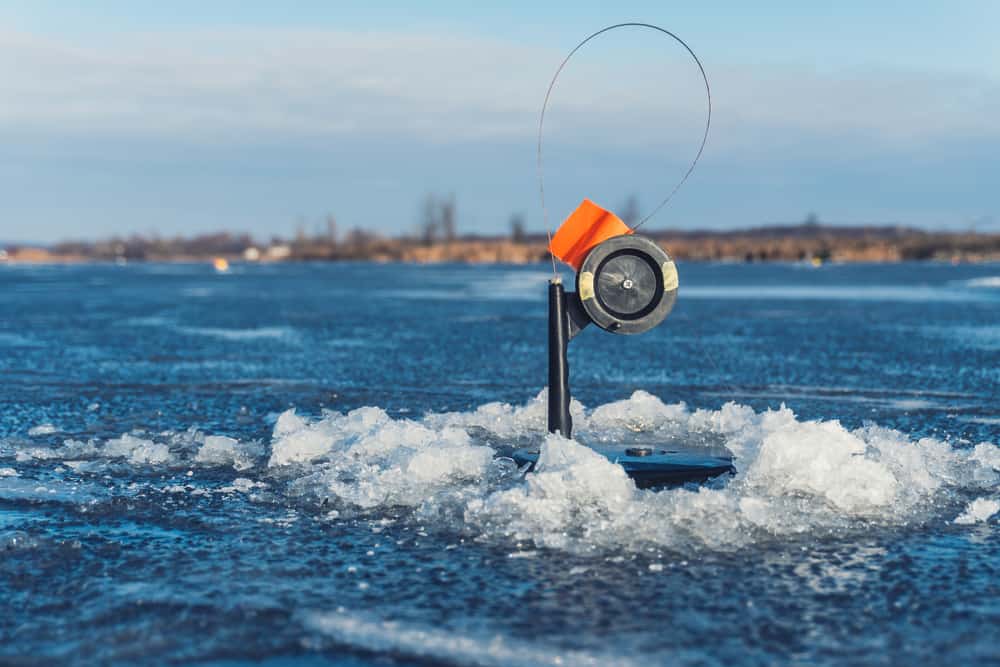 This is where fishing tip-ups come in handy. These things are designed to sit on top of the hole that you've drilled in the ice, quietly waiting there not disturbing the surrounding environment or startling your fishy friends.
These fishing tip ups are made from all sorts of materials, from wood to metal to plastic, each one has a different set of features that will help you to retrieve the largest fish from the deepest ice lakes.
Some of these have sub-zero lubricant and counterweights that make them equally balanced when you are wrestling with a large trout or salmon.
Not only are these utensils invaluable to you as fishing accessories, but they are also very affordable. If regular fishing is not enough for you, then you'll need one of these tip-ups to help you retrieve your fish from the icy depths.
You'll need a tip-up that will stick firmly in the ice and not fall into the water, lost forever.
So where can you find one of these ice fishing tip-ups? How much can you be expected to pay for one of these? What features do you need for a really good tip-up?
What is the best material for a tip-up to be made from? How many different varieties of tip-up can you buy and which are the best for your fishing needs?
Well, if you need answers to these questions and a whole lot more, then we would suggest that you keep reading. We have compiled a list of some of the best ice fishing tip-ups that you can currently get on the market, along with a buyer's guide that will help you decide which are the best for your needs.
Buyer's Guide
When it comes to getting a new tip-up for your ice fishing, there will be some attributes that you will absolutely need: resistance to the cold, a decent shape that will cover up the hole, enough properties that won't disturb any of the fish underneath the surface, foldaway features that will allow you to store it safely.
Here are just a few things that you'll be looking for when you next look for an ice fishing tip-up:
How Easy Is It To Store?
As you have already seen from some of the products that we've listed above, these come in all different shapes, sizes and materials. A lot of them can be folded away and stored in your backpack.
One of the major things that will cause you issues will be trying to keep your gear bag light. With all the rods and other gear that you'll be carrying, you'll want an ice fisher that won't contribute overly to the weight of the bag.
Does It Have Thermal Protection?
Obviously, you'll be working in sub-zero temperatures, so you'll need plastic that can withstand freezing temperatures. Often plastic or metal components will be better, although even these have a propensity to freeze on occasion.
Ideally, you'll want some sub-zero lubrication, which is what you should use to spray your ice fisher. This will keep the mechanism working, allowing you to snag your favorite fish without disturbing the surface of the water.
What Is The Shape Of Your Tip Up?
The shape is very important when it comes to keeping your presence amongst the fish completely secret. Having a circular cover will not only keep your presence a secret from the fish below, but it will prevent debris such as slush and dirt from disturbing the surface of the water, which will also scare your fish away.
How Long Is The Spool?
The length of the line will often determine how low you can sink one of these lines without it causing too much chaos between you and your fish. If you have a lot of distance between you and the end of your line, then the greater the chances are that your fish will take a bite.
A thick spool will also be a lot stronger, meaning that they will enable you to yank harder on the line without taking the whole tip-up with them.
Frequently Asked Questions
How Does A Tip-Up Work?
A tip-up is a stationery line that is put over a pre-drilled hole that will allow you to snag a fish under the icy depths of the water. This should be sturdy and dug hard into the ice. Not only should it be durable, but it should be made from materials that will not succumb to icy temperatures.
You will suspend your line at a specific length beneath the surface of the ice. This way you can be sure that your fish will not be able to detect you as you sit in wait above the surface. You have to make sure that the base is securely fastening to the ice before dropping your line in.