Penn Battle 2 Spinning Reel Review
Penn Battle II Fishing Reel Review
Penn fishing has been at the forefront of modern reel design and production since its establishment in 1932.  They pride themselves on the fact that experienced anglers all around the world put their faith in the products that Penn releases and reap the rewards.
Whether it be amateur or professional, Penn caters to call types of anglers in providing the best quality equipment.
In 2004, Penn held over 1400 IGFA world records to their name-giving quantitative proof as to why they are some of the best in the business.
As of 2007, Penn celebrated 75 years in the industry and now have been working for almost 90 years at the top of the market.
Today, we'll be reviewing one of their spinning reels, the Penn Battle 2.
Quality: 5/5
Cost: 4/5
Ease of use: 4.5/5
View on Amazon
View Customer Reviews
What is the Penn Battle 2?
In short, the Penn Battle 2 Spinning Reel is a superb fresh and saltwater fishing reel that balances both an affordable price with excellent quality and efficiency.
With awesome features that make up its construction, the Penn Battle 2 spinning reel will last you for years (if looked after properly).
Although, it is not aimed directly at professionals, there is nothing stopping them from using it. The reel feels solid in your hands; so, there is no need to worry about it feeling cheap and be wary of it breaking it.
Instead, you have a solid construction with such a super smooth feeling that's only often found in reels of a much higher price.
The Penn Battle II has a fully metallic build which allows for accurate gear alignment, especially when under some intense pressure.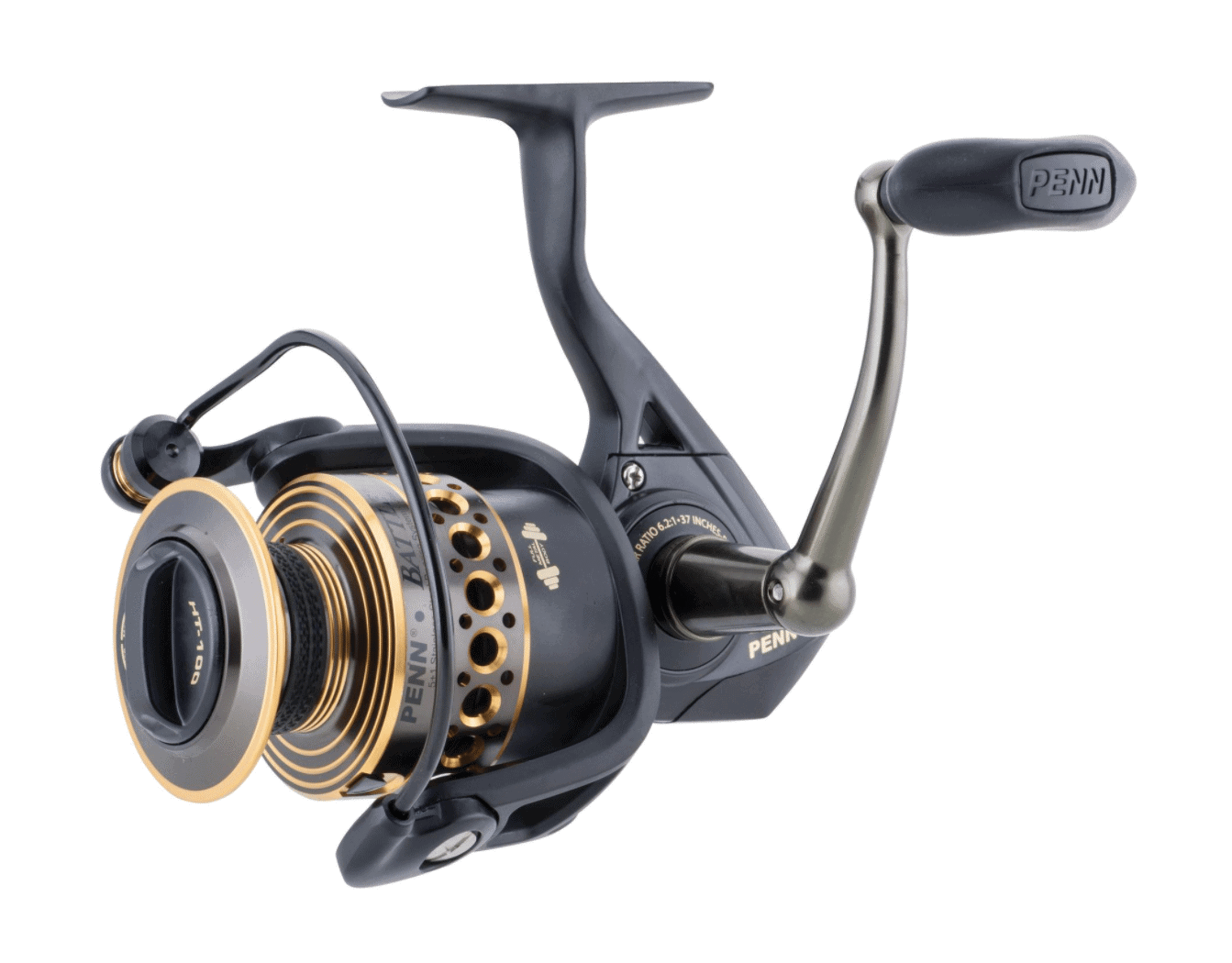 Key Features:
HT-100™ carbon fiber drag washers: Upgraded from the Penn Battle original, this new technology allows the washer system to use both sides of the drag washers which allows for at least 20% more drag than previous version.
All Penn drag systems now are greased on the spinning reels helping with smoothness.
5 sealed stainless steel ball bearings: The stainless steel bearings improve the reels corrosion resistance when fishing in saltwater.
With the stainless-steel ball bearings being sealed it helps keep the unwanted salt water out of the reel.
It comes as a change to the traditional shielded bearings that although had a layer of protection, still some saltwater managed to often enter the bearing system  and cause a negative impact on performance.
Instant Anti-Reverse bearing: Prevents the rotor from moving backwards whilst ensuring a solid hookset. It uses roller bearing for instant engagement unlike many other reels on the market.
Heavy-duty Aluminum bail wire: Bail wires act as a gate for your line on the spool. When engaged, the line can't unwind from the spool. When it is not engaged, the line is released from the spool.
During retrieval, the bail guides the line back onto the spool. Having a heavy-duty Aluminum bail wire means that your gate is stronger and can act faster in engaging and disengaging the line from the spool.
Superline spool: No backing is needed because of the rubber gasket that keeps superlines from slipping. Acting as a grip for the braided line so that it refuses to slip on the spool.
When you've got a good quantity of your line under water, you're really going to want to avoid slippage on the spool. You can say goodbye to putting tape on your spool or any secondary grip enhancer that could impact the quality of your device as Penn have made sure to include this feature.
Line capacity rings: Lines on the spool that you can see that show you how much line is on the spool.
They truly help you in ensuring that you're putting the right amount of line onto your reel. Too much or too little could be detrimental to your angling experience, so with this feature – you've got yourself a handy little guide.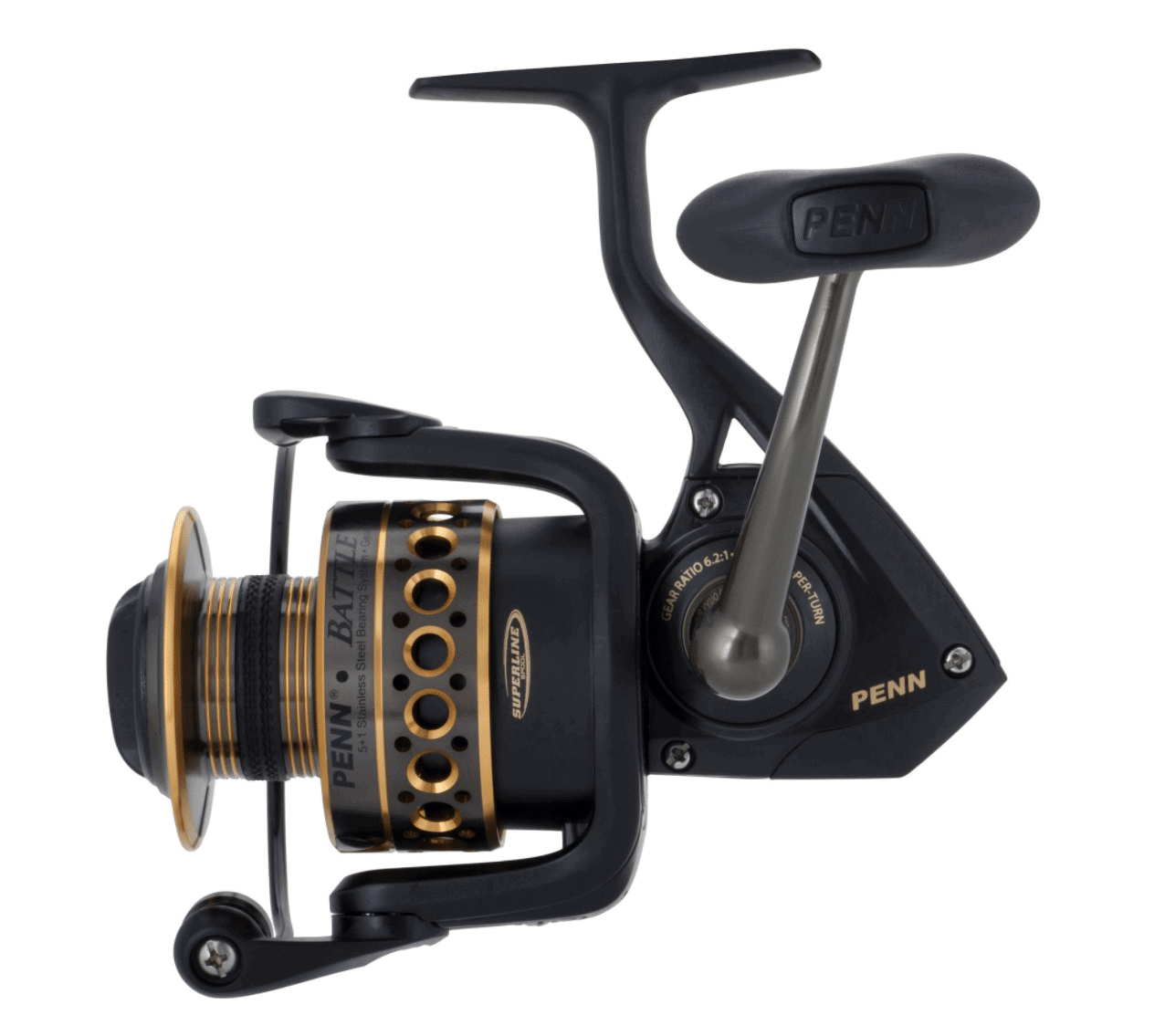 Penn Battle II Reel Specs:
Penn Battle 2 1000
Braid Capacity: 275yd/2lbBearings: 5+1Max Drag: 9lbsGear Ratio: 5.2:1Weight: 8.1oz
Penn Battle 2 2000
Braid Capacity: 210yd/8lbBearings: 5+1Max Drag: 10lbsGear Ratio: 6.2:1Weight: 9.8oz
Penn Battle 2 2500
Braid Capacity: 240yd/10lbBearings: 5+1 Max Drag: 12lbsGear Ratio: 6.2:1Weight: 10.3oz
Penn Battle 2 3000
Braid Capacity: 250yd/15lbBearings: 5+1 Max Drag: 15lbsGear Ratio: 6.2:1Weight: 12.3oz
Penn Battle 2 4000
Braid Capacity: 360yd/15lbBearings: 5+1Max Drag: 15lbsGear Ratio: 6.2:1Weight: 12.8oz
Penn Battle 2 5000
Braid Capacity: 420yd/20lbBearings: 5+1Max Drag: 25lbsGear Ratio: 5.6:1Weight: 19.8oz
Penn Battle 2 6000
Braid Capacity: 490yd/30lbBearings: 5+1Max Drag: 25lbsGear Ratio: 5.6:1Weight: 22.1oz
Penn Battle 2 8000
Braid Capacity: 475yd/50lbBearings: 5+1Max Drag: 30lbsGear Ratio: 5.3:1Weight: 30.2oz
Penn Battle 2 – Pros & Cons
Pros
The build quality:

With a solid full metal body construction with Aluminum bail wiring as well stainless-steel ball bearings and carbon fiber drag washers – you've got the best materials at hand.

Can be used in both fresh and saltwater conditions
 Smooth Drag
Easy to maintain
Cons
The weight: Because the Penn Battle 2 is made out of such high-quality materials, it means that there is slightly more weight added to the device.
FAQs
Is the Penn Battle II for salt water?
You can use the Penn Battle 2 for both fresh and saltwater conditions. The stainless-steel ball bearings are sealed tight to avoid any corrosion.
Where are Penn Battle reels made?
Penn Battle reels are currently produced and set up in Spirit Lake, Iowa where the Penn Fishing Headquarters are.
Should you wet braid before spooling?
To avoid wind knots when casting with a brain, make sure it is completely wet. Before putting the braid onto the spool, soak it for at least 24 hours which allows it to absorb the water and become more flexible and easier to handle.
Conclusion
Overall the Penn battle 2 spinning reel is an excellent choice for any angler. Whether you are just starting out – the reel is simple and straightforward to use. Or if you are an experienced angler – the reel is just that good. 
One of the only downsides to battle II is the weight, we wouldn't technically classify it as an ultralight spinning reel.
However, if you aren't overly concerned about the weight and are looking for a sturdy and high-quality reel then it will make a great choice.
Other Posts: