10 Best Crappie Lights For Night Fishing
Night fishing can be either a peaceful hobby with rich rewards, or a blundering evening of stress. With the lights gone, you need to use other methods to catch those pesky nocturnal fish. Otherwise, you might spend several dark hours dangling your line into empty waters.
To make sure you have the most successful evening of fishing possible, you need to get the right equipment. And if you want to fish crappies at night, that means getting a light. These underwater lures draw the crappies towards you, so you can make some good catches.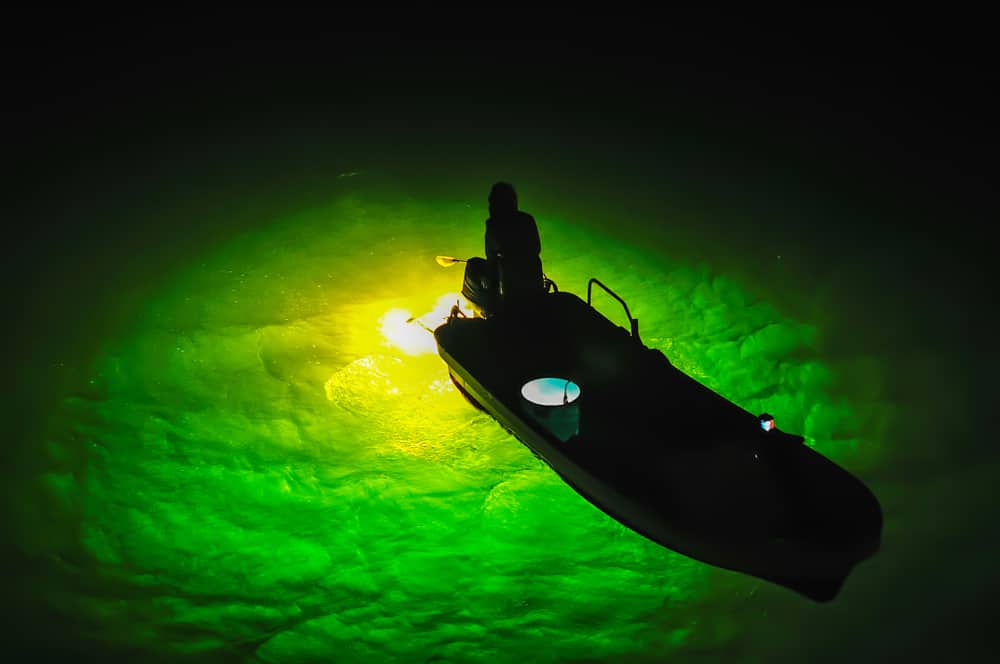 Once you've chosen the right light, it will become your faithful companion across numerous fishing trips. Our guide has gathered the 10 best crappie lights for night fishing, so you can keep on fishing, even as the sun goes down.
Best Crappie Lights For Night Fishing Reviews
#1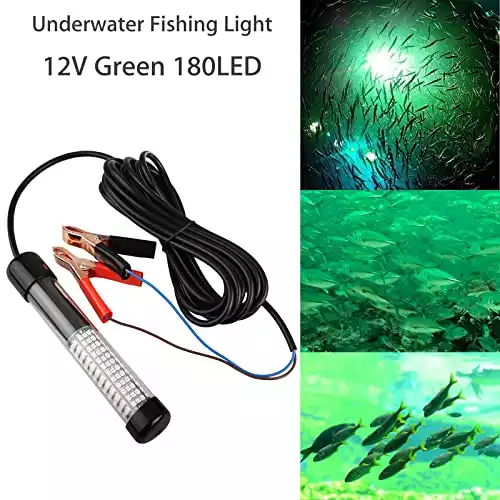 12V 14W 180 LED Submersible Fishing Light
This Linkstyle light is one of the best options you can get for a budget. With 1300 lumens of brightness emanating from a 360 degree light, it attracts all kinds of fish, including crappies.
And it lasts for over 50,000 hours of continuous use. At 9-inches long, it's a great length. Easy to store, and easy to transport without risking breakages.
The 5-meter (16.5 foot) power cord and built-in weight makes it adaptable, and reduces the amount of equipment you need to carry. 
Suitable for use in freshwater and saltwater, most hobbyists will find something to love in the Linkstyle light. If there are any issues, Linkstyle offers a 12-month warranty. Not bad for a bargain price.
Pros
Lasts 50,000 hours - Sure to see you through fishing trips for years to come.

9-inch - More light, but still transportable.

Suitable for freshwater and saltwater.
Cons
1300 lumens - Less bright than other options.

#2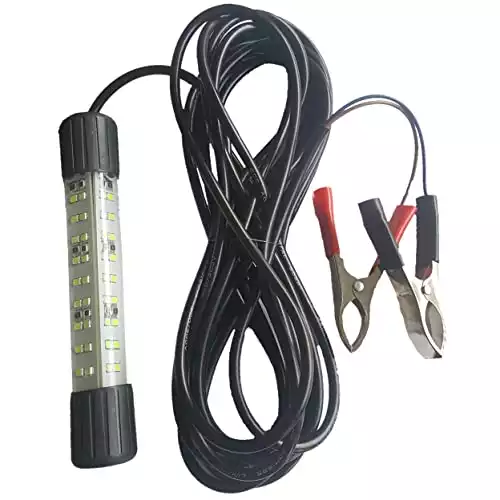 IllumiSea Ultra Bright 25w 3450 Lumen 12v Green, White, or Blue Underwater LED Fishing Light
IllumiSea has managed to make one of the highest quality night fishing lights around, and for a reasonable price. Fans of quality will appreciate the massive 3450 lumens this light is capable of, which is sure to make any night fishing trip easier.
With a 20-foot marine ready cord, this light can be used everywhere. Especially as it's good for both saltwater and freshwater. 
The energy efficient bulb gives out light for a full 360 degrees, leaving no part of the water unseen. It's self-weighted as well, and the clamping system allows the light to attach to batteries with ease.
At only 6 inches long, it is slightly smaller than some models, but the brightness more than makes up for the lack of length. An advantage of the size is that the entire system is compact and transportable.
Pros
3450 lumens - An incredible brightness, on an efficient battery.

Battery clamps - It's easy to fix to the battery, providing hours of light.

Suitable for freshwater and saltwater.
Cons
6-inch - The great brightness has to overcome the smaller size.

#3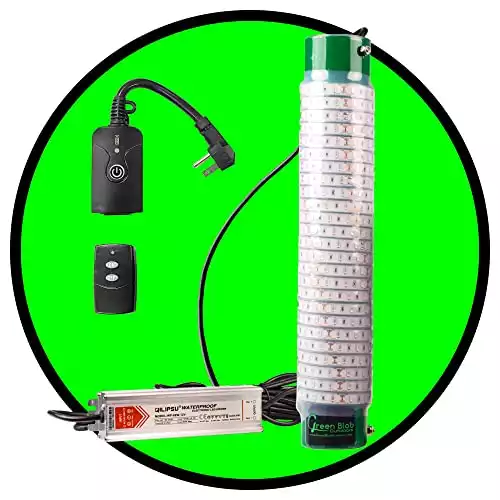 Green Blob Outdoors New Underwater Fishing Light 110 Volt for Docks, LED with Remote 7500/15000/30000 Lumen Fish Attracting Light, Snook, Crappie, Made in Texas
If you're after lumens, then this Green Blob light has thousands of them. Literally, the Green Blob fishing light is equipped with 15,000 lumens - and a price tag to match.
You really are paying for what you get, though. The quality Green Blob provides is almost unmatched.
With a 30-foot-long cord and a 3 prong adaptor, this light is best for docks or ponds. You won't need to fiddle about with adaptors, simply plug it in and wait for the fish to flock.
The energy efficient bulb means it shouldn't overheat, but be careful when leaving it on throughout the night.
This light is heavy duty, durable, and versatile. It attracts a whole range of sea creatures, from that desirable crappie through to sharks!
Pros
15,000 lumens - Amazingly bright, sure to attract anything in the area.

30-foot power cord - No struggling with adaptors.

Energy efficient - All those lumens come from a surprisingly efficient bulb, so overheating isn't a worry.

Suitable for freshwater and saltwater.
Cons
Price - This is a quality light, with a large price tag.

#4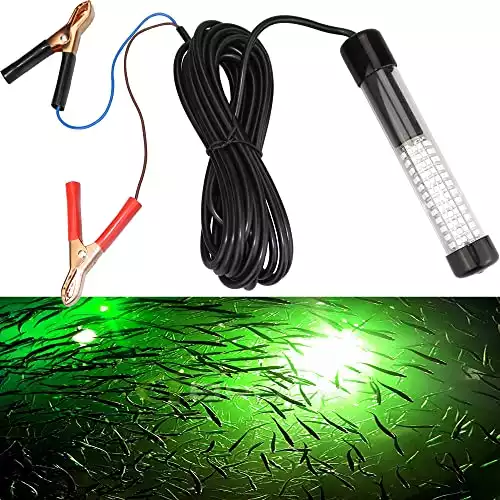 Lightingsky 12V 10.8W 180 LEDs 1080 Lumens LED Submersible Fishing Light Underwater Fish Finder Lamp with 5m Cord
Sometimes all you need is a light that gets the job done, and the LightingSky fish light does just that.
The 900 lumens brightness may not be the highest, but it attracts crappies from 360 degrees. Running on a super energy efficient bulb, this is the perfect light for casual night fishing trips.
If you've never gone night fishing before, it can be an intimidating prospect. This light ensures you can have a great time, and you don't need to break the bank to do so.
The 16.5 foot cord allows you to get deep into the water with your alluring green light. LightingSky has many fans, because it's cheap, but it's efficient. Drop this into the water and watch as the crappies draw near,
Pros
Price - This light is a bargain, and you'll struggle to find cheaper of this quality.

900 lumens - Enough to illuminate a decent amount of water.

Battery clamps - Attaches easily to a battery, for simple usage.
Cons
No weight - You need to weigh this down yourself, or it might just float on the surface.

#5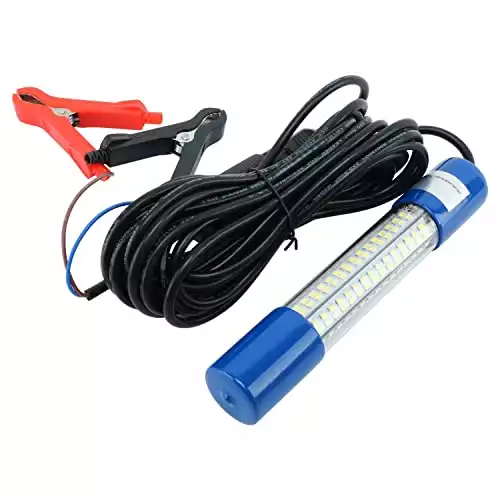 Amarine Made 12v-24v 8W 180 LED Night Fishing Underwater Light
Dropped into the water, this Amarine submersible light can allow you to see 30-feet deep.
The 1000 lumens brightness illuminates the surrounding waters, calling to the crappies and lighting the way of your line. Heavy enough to immediately sink, this is perfect for boat trips.
The 1000 lumens isn't the brightest light available, but it does have its own advantages. From the surface, it isn't glaring, allowing you to fish comfortably.
Underneath the water is a different matter. 1000 lumens from 180 LEDs arranged with a 360 degree range is more than enough to make night fishing easier.
A 19.6 foot heavy-duty cord sinks immediately into the water, and the compact 7-inch light is easy to pack away.
Pros
Compact - The weighted body packs away well due to the smaller length.

19.6 feet cord - A heavy-duty cord for deep water usage.

Built-in weights - Sinks on its own.
Cons
1000 lumens - Lower brightness and smaller body means it doesn't have the greatest field of illumination.

#6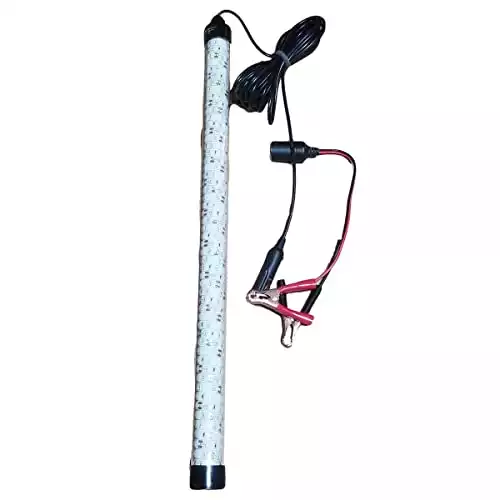 Fire Water Marine 12V 25" MAXX LED Underwater Light
At 25 inches, this is one of the longest fishing lights around. The advantages of this are obvious. With a longer length, a greater depth of water is now illuminated.
More crappies are attracted to the light, and you can see further into deep waters. It's also fully weighted, and will sink as soon as you drop it in.
Of course, the length comes with its disadvantages. A 25-inch pole is harder to store, and can be difficult to carry. If you move about when you're fishing, then carrying this around can get annoying quickly. It's also more breakable.
The length isn't the only thing impressive about this fishing light. 10,000 lumens makes it incredibly powerful, and that's powered out of 300 LEDs. If you aren't impressed, Fire Water Marine offers a 1-year warranty.
Pros
25-inch - Extra length illuminates much more of the water.

10,000 lumens - Super bright, the crappies will have nowhere to hide.

Weighted - No need for extra weights, the light is perfectly balanced.
Cons
15 foot cord - The cord is a decent length, but you might expect longer with the size of the light.

#7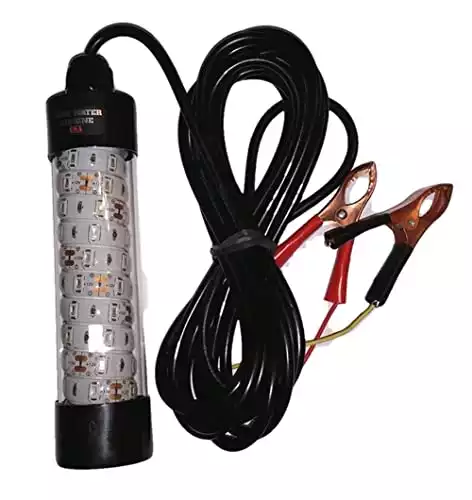 The Green Lantern 12 V 20 W LED Underwater Light
The Green Lantern went through a redesign a few years back, and this new model is better than ever.
It's now strong and durable, with a clearer lens, and a large gland that makes it incredibly strong. This new version is one of the best budget fishing lights around.
With over 2000 lumens of brightness, this fully weighted light is the perfect compact companion for night fishing trips. The alligator clamps just need to be attached to a 12 vault battery, and you're ready to go!
If there's one issue, some users complain that the light lets water in. If this happens to you, then take advantage of the 1-year prorated warranty that Green Lantern offers. Hopefully, the next redesign will sort these issues out.
Pros
2000 lumens - Exceptional brightness for a budget price.

Durable casing - The redesigned casing can handle some bumps and knocks.

Alligator clamps - Attaches to a battery easily.
Cons
Potential issue with waterproofing.

#8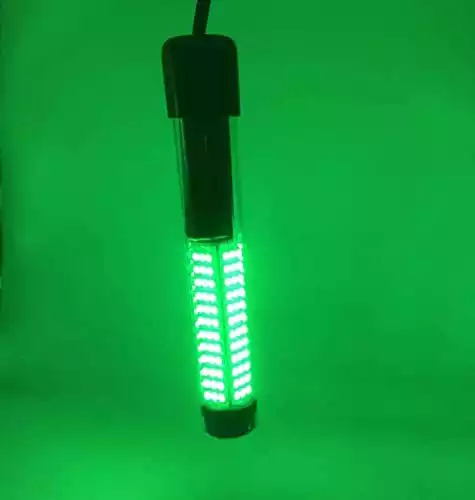 SAMDO 12 V 10.8 W LED Underwater Fishing Light
The large angle coverage of LED lights gives this SAMDO fishing light total underwater coverage.
With 1080 lumens of brightness, the underwater becomes clear, and the crappies are brought near.
This is a really versatile light. It can be used for rivers and lakes, ponds, ice fishing, and night fishing. Or try it for cage fishing, sea fishing, or for small net fishing.
And you can use it over and over, because the bulb lasts for 1,000,000 hours of continuous use. In the water, the weighted light is stable, and easy to maneuver.
If you're after a light that will help in almost any situation, SAMDO has created a budget option that works. 
Pros
Long-lasting - 1,000,000 hours of continuous use.

Total coverage - 360 degrees covered by the LED lamps.

Suitable for freshwater and saltwater.
Cons
Lower quality finish - This is a budget model, and you can tell.

#9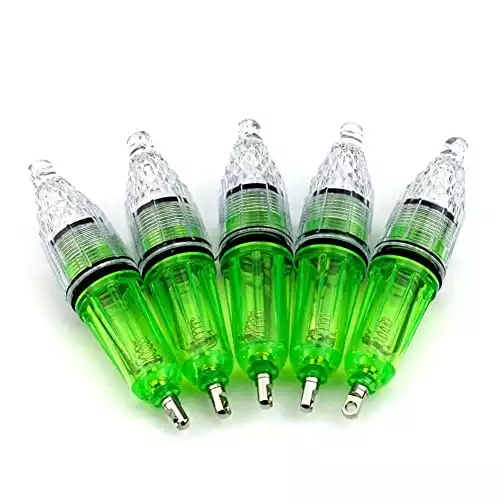 Aomeiter 5Pcs 4.7" Deep Drop Super Waterproof LED Fishing Light
The Aomeiter isn't exactly like the other lights on this list. Rather than 1 large light, this is a pack of 5 smaller lights. Powered by a battery, they flash several colors, attracting a range of smaller and larger fish.
If you're heading out solely to catch crappies, then these aren't the best lights to use. They're too small, and don't stay consistently green.
However, they can attract crappies, alongside bass, trout, and pike. Use these in saltwater and freshwater, and discover the range you can fish for.
Pros
Multipack - 5 different lights.

Battery powered - Very easy to use.

Flashing - Can attract a whole number of fish.
Cons
Not targeted for crappies.

#10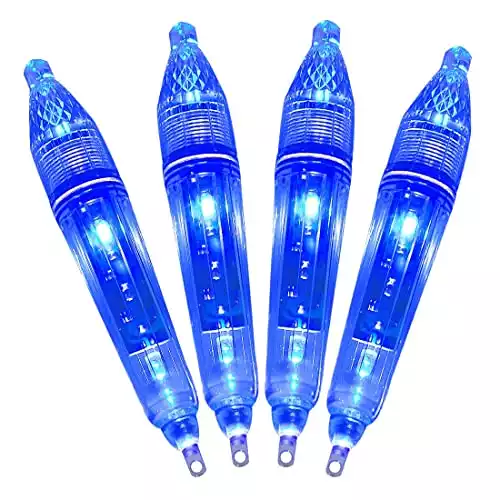 kilofly 4 Set Battery Powered Underwater Fishing Light
Another multipack, these battery-powered Kilofly green lights are surprisingly useful for catching crappies.
The light travels further than you might expect for such a small design.
The real selling point of the lights is that they're battery operated. That makes them so much easier to carry about than the heavy batteries of the brighter lights.
3 button batteries are all you need - and they last for an impressive 72 hours. For a long day out on the water, these lights won't weigh you down.
These aren't ideal for serious fishing. However, if you're interested in giving night fishing a try, this versatile 4-pack is great.
Pros
Button batteries - Everything you need for these lights can fit in your pocket.

6.7 inches - Surprisingly large for a button battery light.

Bright - They don't sacrifice brightness.
Cons
Lower quality finish - This is 4 lights for a budget price, and they lack some quality.

Buyer's Guide
If you've never had to use a fishing light before, it can be difficult to understand what features are actually important. This buyer's guide can help you choose the absolutely perfect light to attract those crappies.
Color
Night fishing lights come in 3 standard colors: white, blue, and green. These different colors have been shown to attract small fish and large fish, as well as squid and even sharks. If you're interested in attracting crappies, then green lights are the best option. Green is thought to be the best color all round for fishing, so it makes a versatile choice.
Brightness and Lumens
Lumens is the measurement used for brightness. The higher the lumens, the brighter the light. If you're after a light for night fishing, 800 lumens is considered to be the minimum, although in the short term you can get by with a lower option.
Lumens range significantly across lights. Cheaper options tend to be around 1000 lumens. Some high-quality brands can go all the way up to 15,000 lumens, but expect to pay a lot.
Type
LED lights are by far the most common. The light they give off is bright, they don't waste a great deal of energy, and they're unlikely to overheat. An LED light can also last for over 50,000 hours. Other types are available, but you're best off going for LEDs. Nowadays, the majority of submersible lights for sale are LEDs.
Durability
Your fishing light will be subject to some harsh conditions. It needs to be fully waterproof. Poor quality lights can let in water, causing them to break.
The casing needs to be strong, so you can transport the light without risk. Ideally, it should be suitable for fresh and saltwater. Also, check the depth that the light can safely travel to. Some can only withstand shallow waters, 
It's important that this durability is found not just on the light itself, but also any connections and cables. A submersible fishing light isn't any good if the cable can't withstand the water. 
Power Source
A fishing light is useless if it doesn't have any power. Many lights will attach via clips to a battery, which is probably the best method.
Some highly powered lights will need to plug into a power source, and these tend to be for home usage. Small lights can run off button batteries, but these will sacrifice brightness for ease of use.
Weight
The weight of the light determines how well it sinks into the water. Often, a light will come pre-weighted. This means it will sink of its own accord.
Other lights are floating, and need added weights to help them sink. When choosing a light, don't forget to factor how the weight will affect transportability.
Frequently Asked Questions
What is the best light for night fishing?
The best lights for night fishing are green lights with a high lumens rating. We like the IllumiSea for quality, but the Linkstyle is a great budget pick. 
Does a green light attract fish?
A green light is a popular choice for catching fish, and it has been shown to be the best color for night fishing in freshwater. Green light penetrates through the water deeply, rather than dissipating.
The greater distribution of light attracts more plankton, which in turn brings the fish. Other times, fish are attracted directly to the light.
The effective brightness of a green light calls to fish further away. Blue lights are shown to work better in saltwater, and white lights are another good choice.
Can you catch a crappie at night without a light?
You can potentially catch crappie at night without a light, but it would be a much more difficult task. Without the light drawing the crappies and illuminating the view, you need to rely greatly on luck.
If you want to try, wait for a clear night with a bright moon. Otherwise, a cheap submersible light is incredibly effective.