10 Best Crappie Lights For Night Fishing
Night fishing can be either a peaceful hobby with rich rewards, or a blundering evening of stress. With the lights gone, you need to use other methods to catch those pesky nocturnal fish. Otherwise, you might spend several dark hours dangling your line into empty waters.
To make sure you have the most successful evening of fishing possible, you need to get the right equipment. And if you want to fish crappies at night, that means getting a light. These underwater lures draw the crappies towards you, so you can make some good catches.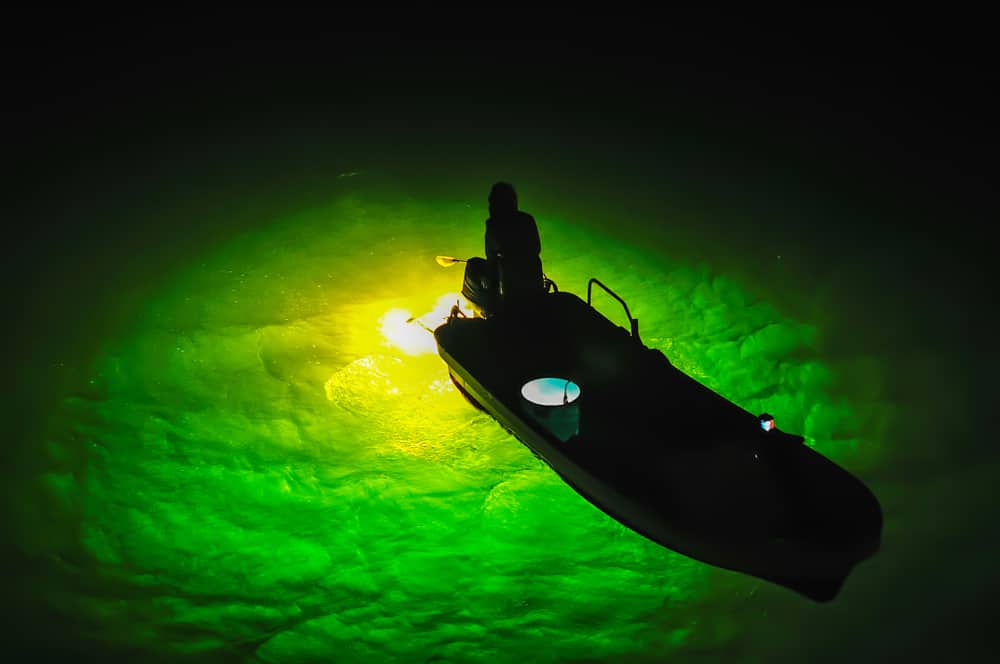 Once you've chosen the right light, it will become your faithful companion across numerous fishing trips. Our guide has gathered the 10 best crappie lights for night fishing, so you can keep on fishing, even as the sun goes down.
Best Crappie Lights For Night Fishing Reviews
Buyer's Guide
If you've never had to use a fishing light before, it can be difficult to understand what features are actually important. This buyer's guide can help you choose the absolutely perfect light to attract those crappies.
Color
Night fishing lights come in 3 standard colors: white, blue, and green. These different colors have been shown to attract small fish and large fish, as well as squid and even sharks. If you're interested in attracting crappies, then green lights are the best option. Green is thought to be the best color all round for fishing, so it makes a versatile choice.
Brightness and Lumens
Lumens is the measurement used for brightness. The higher the lumens, the brighter the light. If you're after a light for night fishing, 800 lumens is considered to be the minimum, although in the short term you can get by with a lower option.
Lumens range significantly across lights. Cheaper options tend to be around 1000 lumens. Some high-quality brands can go all the way up to 15,000 lumens, but expect to pay a lot.
Type
LED lights are by far the most common. The light they give off is bright, they don't waste a great deal of energy, and they're unlikely to overheat. An LED light can also last for over 50,000 hours. Other types are available, but you're best off going for LEDs. Nowadays, the majority of submersible lights for sale are LEDs.
Durability
Your fishing light will be subject to some harsh conditions. It needs to be fully waterproof. Poor quality lights can let in water, causing them to break.
The casing needs to be strong, so you can transport the light without risk. Ideally, it should be suitable for fresh and saltwater. Also, check the depth that the light can safely travel to. Some can only withstand shallow waters, 
It's important that this durability is found not just on the light itself, but also any connections and cables. A submersible fishing light isn't any good if the cable can't withstand the water. 
Power Source
A fishing light is useless if it doesn't have any power. Many lights will attach via clips to a battery, which is probably the best method.
Some highly powered lights will need to plug into a power source, and these tend to be for home usage. Small lights can run off button batteries, but these will sacrifice brightness for ease of use.
Weight
The weight of the light determines how well it sinks into the water. Often, a light will come pre-weighted. This means it will sink of its own accord.
Other lights are floating, and need added weights to help them sink. When choosing a light, don't forget to factor how the weight will affect transportability.
Frequently Asked Questions
What is the best light for night fishing?
The best lights for night fishing are green lights with a high lumens rating. We like the IllumiSea for quality, but the Linkstyle is a great budget pick. 
Does a green light attract fish?
A green light is a popular choice for catching fish, and it has been shown to be the best color for night fishing in freshwater. Green light penetrates through the water deeply, rather than dissipating.
The greater distribution of light attracts more plankton, which in turn brings the fish. Other times, fish are attracted directly to the light.
The effective brightness of a green light calls to fish further away. Blue lights are shown to work better in saltwater, and white lights are another good choice.
Can you catch a crappie at night without a light?
You can potentially catch crappie at night without a light, but it would be a much more difficult task. Without the light drawing the crappies and illuminating the view, you need to rely greatly on luck.
If you want to try, wait for a clear night with a bright moon. Otherwise, a cheap submersible light is incredibly effective.