5 Best Ice Fishing Augers
Taking a Closer Look at Five of the Best Ice Fishing Augers on the Market
Ice fishing can be a grand old time. There's nothing like striking out into the frosty wilderness with a buddy and a few cold ones (no cooler required), dropping a line for a weekend, and catching your own dinner. However, if you can't breach the ice, that awesome trip you've been planning for months will be a total flop.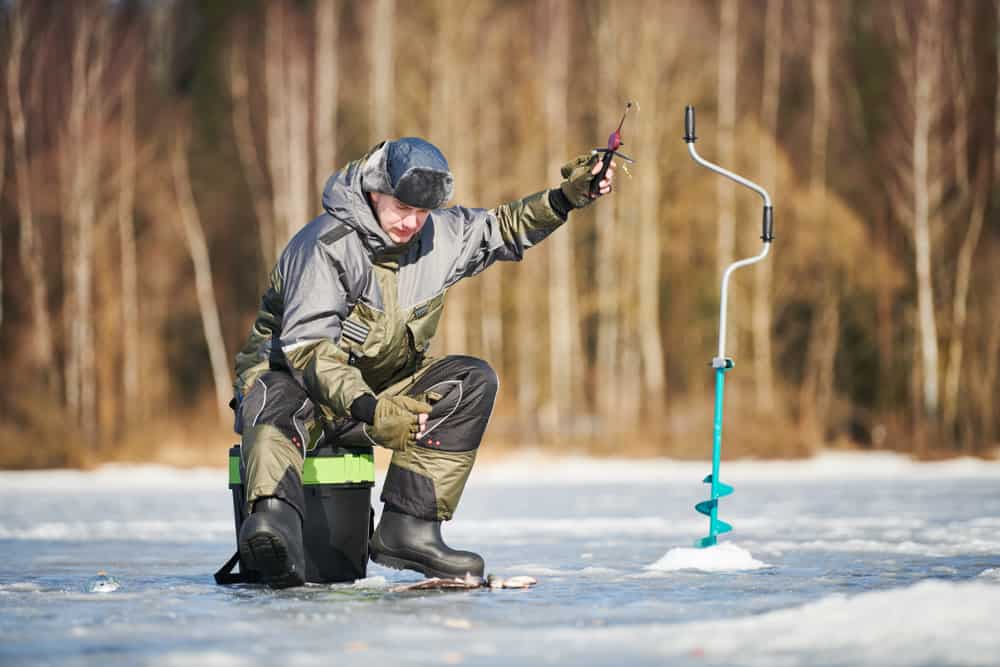 What started as an awesome fishing adventure quickly turns into a total shiver fest. You've wasted fuel, your time, and now you have to return home empty-handed and disheartened.
Don't worry, though, friend. We're not going to let this happen to you. After weeks of painstaking research, we've found the five best ice fishing augers on the market. Add one of these bad boys to your fishing arsenal, and you'll be heading home as champions of the ice!
5 Best Ice Fishing Augers – Reviews
#1

Strike Master Ice Augers Lazer Hand Auger
The Lazer from StrikeMaster is nothing short of a masterpiece.
Featuring ridiculously sharp, chrome-alloy, steel blades with great edge retention, it's perfect for those who dig 10+ holes a day all season round.
Finished with a powder coating that protects the blade and prevents the build-up of loose ice, it's capable of drilling efficiently, ensuring you get in as many fishing hours as possible.
With soft rubber grips, it's also an extremely comfortable ice auger that looks after all your sensitive hand joints, meaning you can really drill hell for leather.
You can also adjust handle height from 47" to 58", so you don't have to break your back to break the ice if you're a taller individual, or you're drilling through an absolute slab of ice.
Available with 5, 7, or 8" blades, you can tailor your purchase to your fishing habits, but no matter the blade width, the Lazer breaks down into two discrete sections, which makes transporting it to all your favorite frigid haunts a total breeze!
Pros
Swiss Blades -

Excellent edge retention.

Powder Paint Coating -

Shrugs off ice for a faster dig.

Adjustable Rubber Handle -

Comfortable for tall people and during deep digs.

Two Section Design -

Very portable.

Price -

Reasonable considering the quality.
Cons
Doesn't Come With a Case

- That's literally the only negative thing we could dig up about this beast of an auger.

#2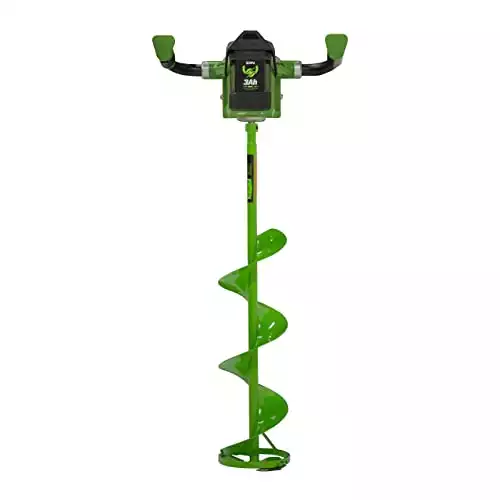 ION Electric Ice Auger
Loaded with a 3 AH, 40V, lithium-ion battery, this awesome Ion creation is capable of gnawing through 1000 inches of ice on a single charge — pretty impressive if you ask us.
Despite its power, with no gas or propane engine, it's whisper-quiet.
All you'll hear is the toiling of the ice beneath it, and the fish, well...the fish won't know what hit 'em! 
It's also about 40% lighter than your average gas auger, but the thing that really blew our minds about this design is the reverse function.
At the push of a button, the drill reverses, flushing all the slush down into the water and out of your way — no manual skimming required!
To top it off, this thing cuts smooth, leaving virtually zero serrated edges to fray your line when you're battling against a demon of the deep.
Pros
Lithium-Ion Battery -

1000 inches of ice per charge.

Silent -

Doesn't spook fish.

Reverse -

Flushes loose ice into the hole.

Smooth Finish -

Nothing to weaken your line.

22lbs -

Way cheaper than equivalent gas or propane augers.
Cons
Price

- It's not cheap, folks.

#3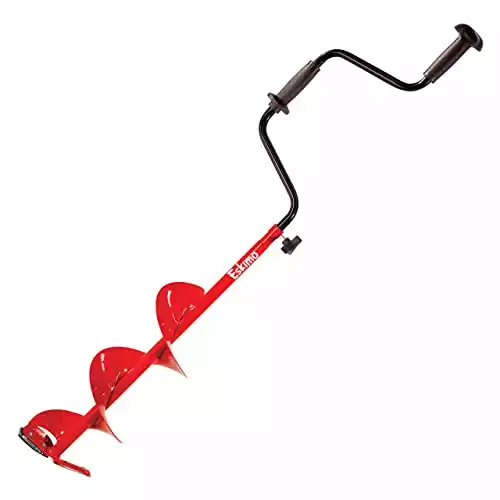 Eskimo 6 Inch Hand Auger
If the only thing you love as much as hitting the hard water is a bargain, then boy do we have a treat for you.
The Eskimo blades are stainless steel, so edge retention is a given.
They're not coated, which means it won't dig quite as fast as the Lazer in our top spot, but that's the price you pay when you're looking to save a few bucks.
It's a simple design with a comfortable pummel handle that facilitates a nice, straight bite, thereby giving you clear visuals on your hook at all times.
You get the choice of 6, 7, and 9-inch blade widths, so you can use them to fish small or go BIG, and much like the Lazer, it splits in half for extra portability.
Granted, it's not as advanced as some others on the list, but it's all you'll need for early season ice fishing when the ice is at its thinnest.
Pros
Price -

Can't be beat!

2 Parts -

Super portable.

Stainless Steel Blades -

Hold an edge for ages.

Adjustable Handle -

Great for tall anglers.
Cons
Speed

- Not as fast as others on the list.

#4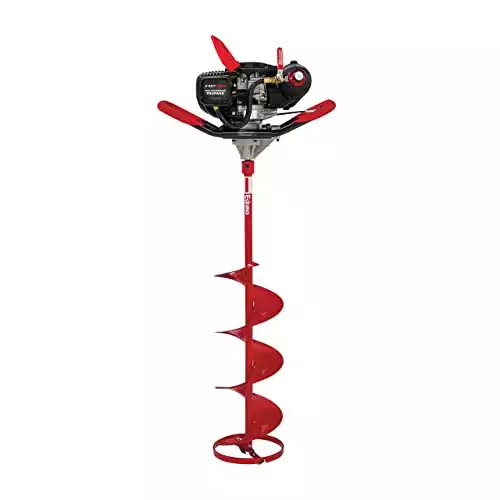 Eskimo Propane Auger Series, 8-10 Inch
Propane augers don't emit any toxic fumes, which means you can use the P1R10 whilst ice fishing in a shelter.
The single-piece, cast aluminum base provides support for the center point, encouraging even engagement with the ice, amounting to a smooth, vertical hole.
Boasting an all-metal transmission, the Rocket is incredibly durable. It can handle days of high-speed cutting, and only ever requires minimal maintenance.
A zero-prime system, forget about priming, just open the valve and fire it up, and thanks to the 4-stroke motor, it's surprisingly quiet.
Crafted from high-quality stainless steel, the blades hold their edge through hundreds of inches of ice, and the foam handle lining keeps your hands comfortable from the first hole to the last.
Pros
4-Stroke Engine -

Quiet performance.

All-Metal Transmission -

Durable components.

Zero Fumes

- Usable in ice shelters.

Aluminum Base -

Promotes a straight cut.
Cons
Plastic Housing -

Cracks easily when dropped.

Price

- This kind of digging power will cost you.

#5

StrikeMaster MD-8 Ice Fishing Mora Hand Auger
At number three, we have another excellent ice fishing hand auger from StrikeMaster.
The Mora is similar in structure to the Lazer in that it has an adjustable handle, keeping taller anglers comfortable during deep digs, but blade-wise, things are a little different.
Featuring a flatter profile, they're not quite as fast as the Lazer, but they still devour hard ice quicker than most other designs on the market.
Crafted in China, the blades are high-alloy stainless steel, and the powder coating sheds loose ice like nobody's business, speeding up the dig, but unfortunately, they're nothing compared to the Swiss blades of the Lazer.
That said, it's easy enough to switch them out.
Our only other gripe with the Mora is that it's slightly more expensive than the Lazer we found online, which makes no sense to us, as the Lazer is clearly the superior auger.
Pros
Adjustable Handle -

Total back saver!

Powder Paint Coated Blades -

Sheds ice to speed up the dig.

Removable Handle -

Makes storage and transport more manageable.
Cons
Price -

It's not a bad price, but it's more than the Lazer, which is baffling.

Chinese Blades

- You'll need to switch to Swiss blades for peak performance.

5 Best Ice Fishing Augers – Buyer's Guide
An ice fishing auger isn't your normal everyday purchase, so it can be tricky to hone in on exactly what you should be looking for, which is why we've got your back with this concise and informative buyer's guide.
Auger Type
Did you know there are four types of ice fishing auger? That means your first step is choosing which will suit your future fishing trips best.
The important questions to ask yourself at this juncture are…how often do I go ice fishing, what's the ice usually like, and how much am I willing to graft to drill through the surface?
If you only go every now and again, the ice is quite thin, and you don't mind putting in a bit of elbow grease, you'll be perfectly happy with a hand auger. Hand augers are lightweight, sleek, and require zero fuel, which is always a bonus when you're already loaded up with so much gear.
It can be hard work penetrating the ice with a hand auger, but as long as the ice is no thicker than 12 inches, you should get on just fine. It's not that it's physically impossible to break through 12-16" ice with a hand auger, but you are going to be utterly pooped by the time you hit the water – you've been warned.
If you go ice fishing frequently or the ice is upwards of 12" thick, your best bet is to choose a powered auger. There are two main types to consider: gas and propane.
Gas augers are incredibly powerful, making light work of those super thick ice sheets, and you don't have to lift a finger, well, I mean…you'll have to hold it in place, but that's it. They're also great for drilling large holes, which means you can reel in larger fish.
However, gas augers are very heavy, very loud, quite expensive, and, of course, require plenty of fuel (gas/oil concoction). You'll also need to develop a comprehensive maintenance schedule, so you're never caught out on the ice with a bust auger.
Here's another important question we've yet to mention. Will you be fishing out on the ice or in a shelter? If you're going to be cozying up in a cabin, gas augers are no longer an option, as the fumes they emit are toxic and will quickly build up in the confined space.
For drilling from a shelter, you'll need a quality propane auger. As long as full combustion takes place, propane is completely safe to use indoors, and if you take enough of it with you, you can use some to power a small heater too — hurray!
Do bear in mind, though, much like their gas counterparts, propane augers are incredibly heavy, so you'll most likely need to drive them out onto the ice.
Your final option is an electric auger. Electric augers are very powerful, but they don't hold a candle to gas and propane augers, especially when the battery starts to wane.
That said, they're lightweight, incredibly reliable, and very quiet, ensuring you don't spook the fish down below.
Blade Quality
Generally speaking, you can establish the quality of the drill section of an auger the same way you would any kitchen knife. The blade needs to be made of top-notch stainless steel, it needs to be sharp as all hell, it must hold its edge, and a protective coating wouldn't go amiss either.
Adjustable Handle
Ideally, a hand auger will have a height-adjustable handle, so the tall fisherfolk out there can drill without putting their back out.
Adjustable Power
Fuel augers are insanely powerful, but you probably won't need to use them at full capacity all the time, which is why variable power controls are a must.
Build Quality
Build quality is everything when it comes to ice fishing augers. A small breakage could potentially ruin your whole fishing trip, and a robust design is the only way to make sure it never happens.
Blade Width
It seems obvious, but it's surprisingly easy to forget that the hole your auger drills doesn't just need to be big enough for you to drop line through, it needs to be big enough to allow fish to pass through too.
So, are you hoping to catch a few small to medium-sized fish, or are you looking to make the monster catch of the year? For something like panfish, you can get away with a 4-inch blade, but if you're on the hunt for large trout, you'll need something more to the tune of 6 or 8 inches.
5 Best Ice Fishing Augers – Frequently Asked Questions
Let's tie things up in a neat bow with a brief ice fishing auger FAQ segment.
Q: How do you use an ice fishing auger?
A: Before you take any advice from us on how to use an ice fishing auger, be sure to read the manual that came with yours, as there may be product-specific instructions, but it's usually a simple task.
Pick your spot.
Stand your manual ice auger up.
Place your weaker hand on the top handle to hold the auger in place.
Place your strong hand on the side handle and start turning it to bore through the ice.
You should always try to drill a straight hole for three reasons. 1. It's harder to remove the auger from a wonky hole. 2. You won't have good visuals on your hook through a wonky hole. 3. It'll be harder to get the fish through a wonky hole when you're reeling it in.
Q: Why is my auger not digging?
A: Sometimes, the reason an auger won't dig is simply that the blades have dulled, but if your blades are still razor-sharp, the problem is likely with the blade pitch, which is to say, the angle of the blades at the base of the drill assembly is wrong. You'll need to reset the pitch in order to dig efficiently.
Q: How do you start an ice auger?
A: There may be slight variations in start-up method from auger to auger, but generally speaking, you'll follow these simple steps to fire a gas or propane auger up.
Turn on the throttle.
Prime the motor as you would with a gas-powered lawnmower. 5-7 pushes normally does the trick.
Set your choke position to the "Start" setting.
Now's the time to push the compression button.
And finally, you can pull the cord. It's best to use short pulls towards the chest rather than large pulls over your shoulder, as wide pulls will worsen the recoil.
An electric auger is much easier to start. It usually only requires the flick of a switch and the push of a button.
Q: How do you sharpen an ice auger blade?
A: The important thing to remember is that the company that made your ice auger blades picked the angle of the edge for a reason, so when you're sharpening them, you need to try your best not to divert that angle in any way.
We recommend using a stick-style whetstone, as a puck can be difficult to use accurately. First, flip the blade upside down and, at a low angle, gently work out any burrs that have developed as a result of colliding with grit in the ice. Next, turn the blade over, and run your whetstone over along the edge on the established angle.
Q: What is the difference between an ice auger and an earth auger?
A: Despite doing the same job, albeit, on different surfaces, ice and earth augers differ in a number of ways.
Powered ice augers tend to have much higher RPMs than their earthen counterparts, and they don't have a clutch. For the most part, ice augers are also lighter than earth augers.
Furthermore, ice auger blades are razor sharp and pitched to slice through the ice rather than dig. Earth auger blades are more rounded to help them break up rocks and dirt.
Final Thoughts
In our opinion, if you're looking for a hand auger, the StrikeMaster Lazer Is as good as it gets, and it's not too pricey either, but if you're looking for raw power, the Eskimo P1R10 is 100% the auger for you.
Can't decide between them? The Ion design offers the best of both worlds, striking a balance between power and portability. We'll see you on the ice!