Depending on what time of year you start your crappie fishing, you will need to be using different tactics! The fish will be going through different stages in their life cycle, so you need to match your bait and lures with their desires.
Spring crappies have just suffered a hibernation and low eating season, so they will eat almost anything you put in front of them, whereas summer crappie will have grown wise to artificial lures and need more persuading.
Each season brings its own challenges and rewards, but using the same method all year round could mean missing out on bigger and better catches!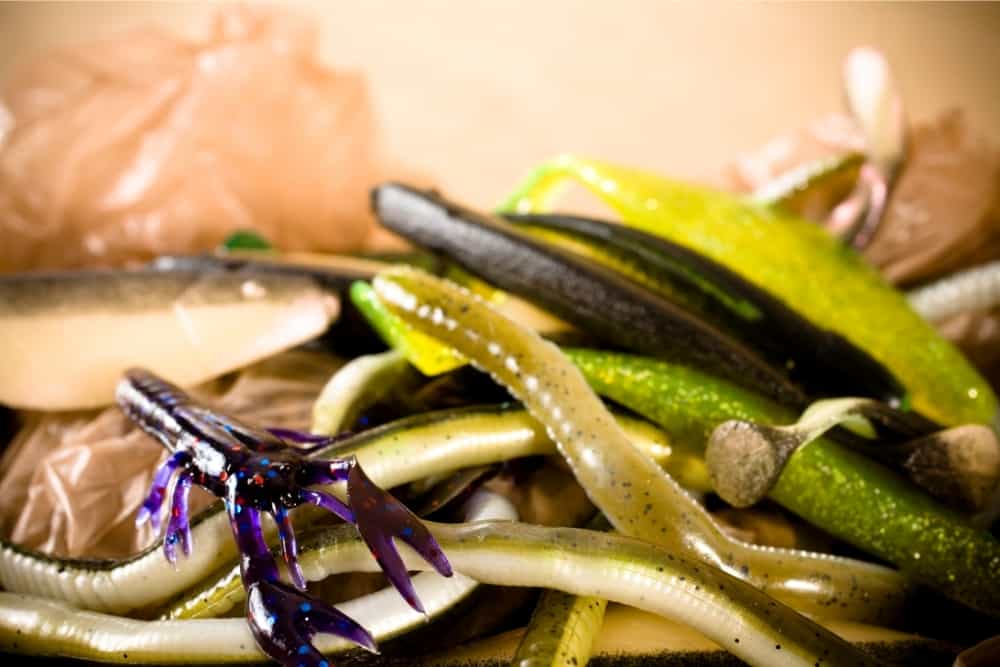 In this guide, we are going to tell you the three best bait and lures for every season, so you can be prepared for the whole year!
The Difference Between Lure And Bait
Throughout the internet and the angling world at large, you will notice the terms "lure" and "bait" used interchangeably, but there is a difference.
Baits are often alive. They are a tempting food that your prey will be interested in gobbling up. You can use cooked or dried baits instead of living ones, but the concept is the same. Bait is something your catch will want to eat.
Lures, however, are an attractive and often bright artificial temptation. They are designed to look like fish, or jellyfish, or some type of common fish prey. 
Some anglers use the attractive shapes of a lure, along with the natural smells of bait, to maximize their chances of seducing the fish!
3 Best Live Bait For Crappie
Live baits may not be fashionable for some anglers, but they still provide excellent results, especially for crappies.
Live bait is environmentally friendly, natural, and for some people it is also a free option. You can use live bait from anywhere, so if you live near the woods or any other natural location, you can find worms, nightcrawlers, and larvae just hanging around. If you go after heavy rainfall, you will be inundated with free bait!
Below are the best 3 live bait for crappies, but if you see any small creatures by your lake or pond, you can assume it will be an enticing dinner for fish!
Minnows
Minnows are a small fish. They are often hunted in the wild by larger fish, like crappies, for food. This means that minnows are the perfect natural bait to catch crappies, as your prey will be searching for this poor little fish anyway.
You can buy minnows in all angler shops and most fish markets. If you watched to catch some minnows yourself, you should search in shallow parts of a lake.
To attach the minnows to your hook, you need to impale them in the middle so they can wiggle in the water to gain the crappie's attention.
Pros:
Natural Prey To Crappie
Cheap
Easy To Find 
Large Enough To Be Its Own Lure
Cons:
Grubs
Grubs, like minnows, are a natural dinner for crappies; however, they are a rarer treat. Grubs are large for an insect and filled with nutritious goodness. Imagine minnows as a classic lunchtime sandwich and grubs as an unexpected trip to a fancy restaurant.
Unlike minnows, grubs are normally not large enough to be used by themselves unless the body of water is relatively clear. This means you might want to attach a lure to the line to gain the crappie's attention.
You can find grubs under rocks, in woodlands, and under rotting pieces of wood. You can often find grubs in angler shops too, as they are a classic choice for most fish.
Pros:
Natural Prey To Crappie
Cheap
Easy To Find 
Exciting Treat
Cons:
Not Colorful
May Need a Lure As Well
Nightcrawlers
Many experienced anglers will choose nightcrawlers over any other live bait because they are the easiest to find in nature. You can find nightcrawlers in holes of a tree, in muddy woodlands, or lake banks.
They are also found in stores all year round and can be stored for three or four months, so if you don't fish often, you can keep the same bait until your next session. 
Crappies will quickly notice a nightcrawler in the water, so you should experience a great response with these as your bait.
Pros:
Natural Prey To Crappie
Cheap
Easy To Find 
Long Storage
Quick Response
Cons:
3 Best Bait For Crappie In Spring
In the spring, crappies will start to emerge from their winter retreats, both hungry and dim. Their only thought is to eat because they will soon want to begin spawning. This means they will take a bite on almost anything. 
However, there are a few factors that you need to consider before buying the cheapest bulk buy around. 
Every natural creature in spring will be small and thin, as they will have had a hard time gaining weight during the winter. Crappies might be a little dim-witted during this time period, but they will notice if your minnow is suspiciously big.
You also need to think about weight. If the water is super cold, then the crappies will be swimming at the bottom of the lakes to keep themselves warm.
If you want to use live bait, then minnows and grub will be a great choice, but there is a third option…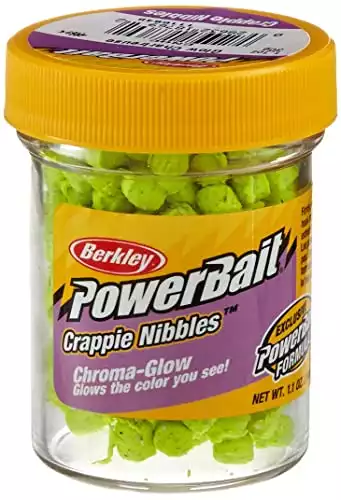 PowerBait Chroma-Glow Crappie Nibbles
Powerbait isn't a natural bait to entice crappies, but they are irresistible to fish. They slowly disperse a scent cloud to attract the fish to bite them.
The taste is so good that the crappie will hold on for 18 times longer than a natural bait, giving you enough time to reel the fish in.
Their bright color will attract the fish to your reel even in muddy lakes, and they are the perfect size for crappie hooks and small lures.
Unlike our natural baits, the PowerBait will need tipping jigs or fillable tube baits to tuck the nuggets inside. 
Pros:
Irresistible Smell

Long Storage

Long Holding Time

Dissolvable

Bright Color
Cons:
Not Natural

Needs To Be Added To Jigs Or Tubes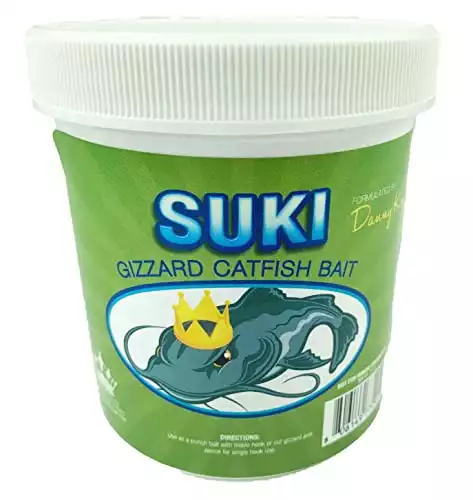 Suki Gizzard Catfish Bait
Although this Suki bait is designed for catfish, you can expect some great results. Again, this isn't any natural food for the crappie to chow down on, as the bait is made from a cheese-based punch.
The ingredients stink! You really don't want any of the dust to touch you, but this overpowering odor is perfect at attracting crappie. 
Pros:
Irresistible Smell

Long Holding Time

Can Be Used To Catch Bigger Fish
Cons:
Not Natural

Needs To Be Added To Jigs Or Tubes

3 Best Bait For Crappie In Summer 
Once spring has been and gone, you will notice that crappies have become harder to catch. As the water temperature rises above 80 degrees Fahrenheit, crappies will dive deep into the cover of foliage in an attempt to avoid predators and to keep cool.
They are still active and hunting prey like schools of shad, but they will do so with more delicate and precise movements.
You should aim to land your lures in or near bushes in an attempt to encourage the crappie to leave their safe environment.
You might see some fish in clear water locations if you are fishing in the early hours of the morning or the late dusk of evening, but at mid-day, the crappie will be hanging around the deep trenches of water.
Worms
Worms have been classed as the perfect bait for fish, and this is so stereotypically true that you will find worms hanging off hooks in any sea-faring cartoon. When it comes to crappies, the story is still the same.
In the summer, when crappies will not want to venture too far from their bushy cover, you want a bait that seems like easy prey. This is where worms have an edge over other baits.
They are easy for crappies to see, will move in the water whether they are dead or alive, and they would normally not be a challenge for the crappies to hunt. 
However, if anglers have targeted the crappies in the spring, the fish might become wise to the lure of worms. If that's the case, then you may need a stronger smelling bait.
Pros:
Natural Prey To Crappie
Cheap
Easy To Find 
Moves Naturally in Water
Cons:
Not Colorful
May Not Be Enticing Enough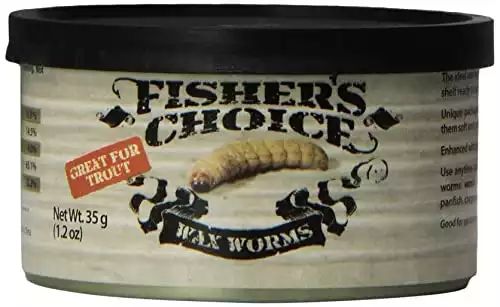 Fisher'S Choice: Wax Worms
Keeping your bait natural but using a more powerful scent can be tricky to balance, but Fisher's Choice manages to do this.
Using Wax Moth Larvae allows you to give the crappies a strong smell and a natural prey. Again their wormy body will float naturally in the water, tricking the crappies into thinking that the lure isn't a trap.
The natural white coloring of the wax worms will stand out in a typical summertime overgrown lake, so the fish will take notice of this tiny creature floating near them.
Pros:
Natural Prey To Crappie

Moves Naturally in Water

Strong Enticing Smell

Bright White Color
Cons: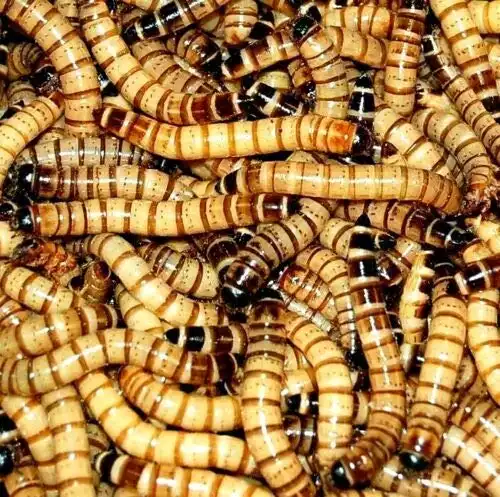 Worm Life Live Large 100 Gut-Loaded Superworms
Summertime crappies will be big. They will have spawned in the spring or awakened from hibernation, allowing them to grow and gorge on all of the other young lives around them.
Now that summer has come, they will want large prey to keep them going and so will ignore smaller prey if there is something better around.
Summertime crappies are able to be picky, which is why these Gut-Loaded Superworms will be a massive prize in their eyes.
Pros:
Natural Prey To Crappie

Moves Naturally in Water

Strong Enticing Smell

Massive
Cons:

3 Best Bait For Crappie In Winter
Coldwater makes crappies lethargic, to the point where they are sluggish and slow. They still have to eat during this state of mind, but they won't want to give too much energy into the chase. They are after an easy meal.
To catch a crappie in winter, you need to rely on a slow presentation with your lure, which will land at the middle-depth of the lake. Your lure needs to be slow-moving, so the crappie doesn't have to weigh up the energy cost vs. likelihood of success. 
Arguably the best bait for this season are minnows. They are small fish, which are easy to catch with a lot of protein, and they are natural at this time of year. However, we want to show you new suggestions.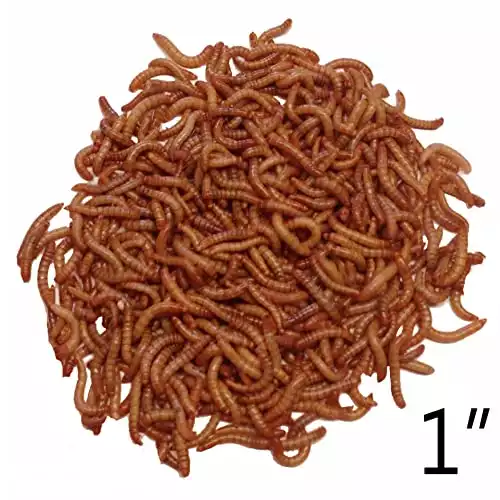 1000ct Live Mealworms
Mealworms are a natural prey to crappie and will move naturally in the water as you wait for the crappie to take a bite. However, they are thinner than most other worms, which will make them seem more accurate for the season.
As they float in the water, these mealworms will not look like a threat or a challenge for the crappie. This means they will seem like an achievable dinner with little-to-no energy excursion. With this trap set up, you will likely reel in a lot of crappies.
Pros:
Natural Prey To Crappie

Moves Naturally in Water

Small Build Suitable For Winter

Seems Like An Easy Challenge for Crappie
Cons: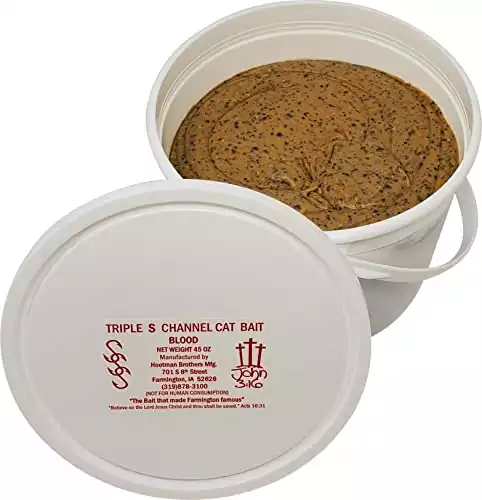 Triple S Channel Catfish Dip Bait Blood Flavor
Again, this bait was designed for catfish, but crappies will gobble them up all the same. They have a powerful stench that can draw the fish out of their warmer hiding places and direct them to your line.
The smell of blood might be off-putting, but remember that crappies are carnivores and will love the chance to eat up an already attacked creature, leaving them with all the goodies and none of the fight.
The ingredients are all-natural and biodegradable, so you don't have to worry about destroying the environment or harming the fish.
The downside to this mushed-up food pot is that you will need a lure like a jig or a tube to have the mushy texture stay on your line.
Pros:
Irresistible Smell

Long Holding Time

Can Be Used To Catch Bigger Fish
Cons:
Needs To Be Added To Jigs Or Tubes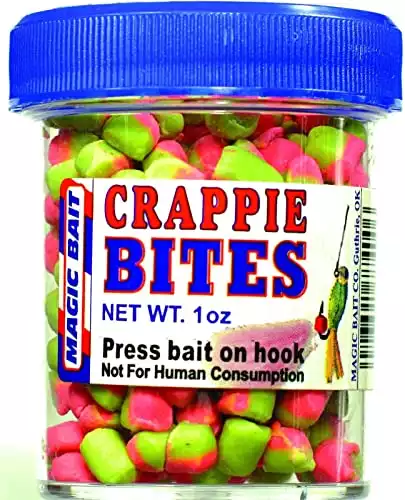 Magic Bait
Strong smells aren't the only way to lure out a wary crappie; colors are a great way to intrigue them too.
The Magic Bait is aimed at catching crappies, but this particular bait's colorful decoration combined with its small size will make it both stand out and look vulnerable in the eyes of a crappie.
The scent of Magic Bait is also stronger than a mealworm, although not as strong as the Triple S. This is important as the bait is so small, you will likely have to put it in a jig or a tube to make sure it stays near your line. The scent will draw some crappie near, and the visual will help them locate your line.
Pros:
Strong Smell

Intriguing Color

Long Storage

Long Holding Time

Dissolvable
Cons:
Not Natural

Needs To Be Added To Jigs Or Tubes

3 Best Early Season Crappie Bait 
The best season to catch many crappies is spring, as they are desperate for food and not on high alert for predators, so spring is considered to be crappie season. The early season is between Fall and Spring, where the temperature is around 50 degrees Fahrenheit and is slowly rising.
This is because the fish will start to leave the lower feeding grounds and begin to gear up for spawning and larger, more accessible food.
The best type of bait will depend on how the lakes are doing when the temperatures start to rise. If the water is clear, you will want a natural-looking lure and a less pungent bait.
If the day is bright and sunny, you can use pretty and bright-colored foods to stand out against the sun's rays. 
If the water is darker due to algae, you will want lures and bait that are colorful and reflective. This is so when the light does hit the materials, it will look like a beacon.
If the day as a whole is cloudy or overcast, then you will want a strong-smelling bait to catch the crappie's attention.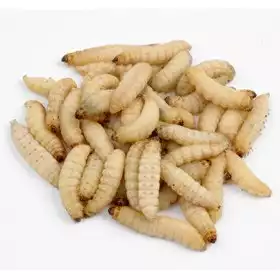 Galleria mellonella Live Waxworms
Waxworms would be an excellent choice for natural bait in clear water lakes during the early season. The sight of these larvae will indicate that the spawning season is near, encouraging the crappies to leave their winter locations. 
Pros:
Natural Prey To Crappie

Moves Naturally in Water

Bright White Color
Cons: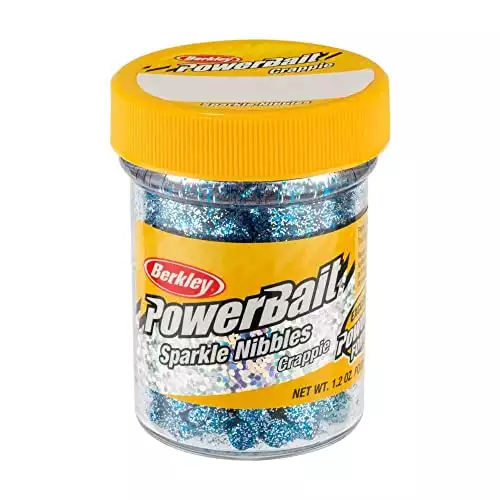 Berkley Powerbait Sparkle Nibbles
If your lake is dark with algae and plant life, then this sparkle nibble will reflect the sunlight into the water creating a visual aid for the fish to follow.
The scent is relatively strong, which can also help the crappie find the food. Most importantly, the flavor is irresistible, meaning the crappies will hang on for a long time before they give up on the bait.
Like all the bait of this size, you will need a jig or a tube to make sure it stays near your line.
Pros:
Strong Smell

Reflecting Sparkles

Long Storage

Long Holding Time

Dissolvable
Cons:
Not Natural

Needs To Be Added To Jigs Or Tubes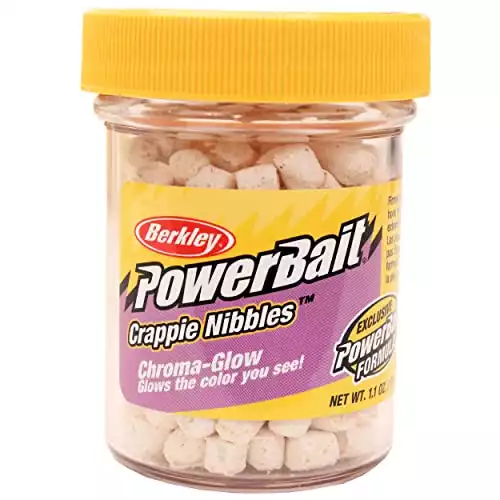 Berkley Powerbait Crappie Nibbles Dough Bait Glow
If the days are still overcast, then this PowerBait will help the crappies find your line. The white glow of the bait will attract the fish from a large distance, even in dark areas.
The nibbles dissolve into the water eventually, but they last for a long time, so you should be able to reuse the nibble for most of the day. 
Again, these little nuggets probably won't fit on a hook, so you will need a lure, jig, or tube to keep the bait attached to your line.
Pros:
Strong Smell

Glowing White

Long Storage

Long Holding Time

Dissolvable
Cons:
Not Natural

Needs To Be Added To Jigs Or Tubes

3 Best Early Spring Crappie Lures
With so many bait options needing jigs or tubes to keep them attached to your line, we should let you know what lures are the best for you to use.
When it comes to early spring, you should be looking at small tube jigs around two inches long. Ideally, you want these in either red and white or blue and white. The size should represent the new and thin fish that will naturally be starting to emerge in the lakes.

Rapala X-Rap Saltwater
The Rapala is a realistic fish design with holographic eyes and a textured translucent body. They would be perfect for clear lakes or weary fish as the life-like design will fool even the most apprehensive sea creature.
Pros:
Realistic

Great For All Seasons

Built For Strong And Large Fish
Cons: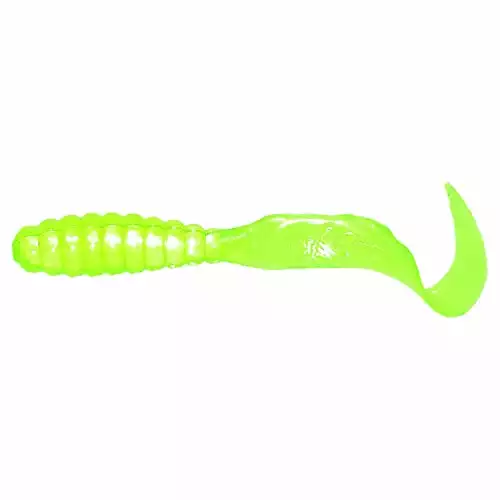 Mister Twister Meeny Tail
The mister twister is not a realistic-looking lure; however, its coiled head and curled tail create a realistic water movement.
It is a small lure that is perfect for early spring fish and comes in 6 colors, so you can switch between them depending on the weather and the lake.
Pros:
Realistic Movements

Great For Catching Small Fish Or Early Season Fish

Multiple Colors

Cheap
Cons:

Marabou Jigs
The Marabou Jig is colorful enough to be used in all of the situations you might find yourself in, and it has a "fatal quiver" that forces the body of the jig to dance around, creating a vibration in the water, like an invitation for dinner.
The jigs will last for a long time so that you can use them from the beginning of your fishing season all the way to the end, and they can hold a heavy amount of weight.
Pros:
Vibrations to Give The Impression of Movement

Great For All Seasons

Built For Strong And Large Fish

Easy to Adjust Weights
Cons:
Not Great for Heavy Foliage Lakes