Augers are an essential part of ice fishing. They're the easiest way to break the hard layers of ice, forming neat holes to sink a hook through. Without an auger, just getting to the fish becomes a difficult process.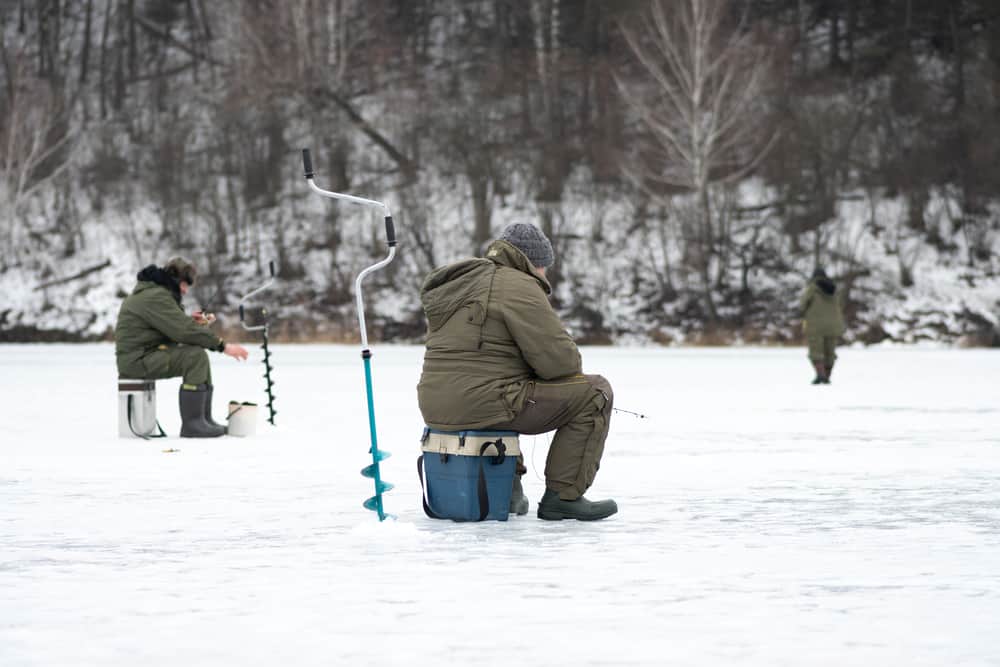 An ice auger bit makes the process simpler again. Rather than the long work of drilling by hand, you simply attach the auger to an electric drill, and power through. They're cheaper than full powered ice augers, but easier than hand augers.
If you've never been ice fishing, it can be difficult to know exactly what auger bit is best for you. We've rounded up the 10 best ice auger bits out there, to get you fishing quickly.
10 Best Ice Auger Bits
Buyer's Guide
If you've never bought an ice auger before, then it can be mystifying knowing exactly what you need. This buyer's guide helps you know what features to look for.
Blade size
The blade size relates to the size of the hole that will be cut into the ice – the larger the blade, the larger the hole. Ice augers tend to come in three standard sizes: 6", 8", and 10".
Smaller auger blades do exist, but they can make holes which are far too small to fish comfortably through. Before you buy an auger bit, make sure to check the size of the fish you're after. 
The larger blades generally come at the higher price, but it's not a huge difference. Paying the extra tends to be worth it for the better hole.
Length
There are two reasons why you want a longer auger. First, it saves your back and knees. You can stand up to use a longer auger. Second, the longer the auger, the more blades, and the better it can get through the thick ice.
One thing to note is that you can buy extenders for an auger. These are simple pipes that can be used to extend the distance from the drill to the auger, so you don't have to bend over. This is a smooth pole, so it won't add any more blades.
Material
Augers need to be strong, or they won't have any effect at getting through the ice. Steel is a popular choice, as it's sharp and durable. The materials need to be good across the bit. A good blade can be let down by cheap casing.
Compatibility
If you're buying a bit, you probably want to attach it to a drill you already own. Be sure to check that the bit is compatible with the drill. Otherwise, you want to know that there's a good returns policy. 
Conversion kit
Conversion kits help attach hand augers and auger bits to a simple cordless drill. It helps convert the spin and give power, so you can easily pass through the ice. Conversion kits generally make it more comfortable to hold and move the drill.
Weight
Auger bits can be heavy, and some are heavier than others. Factor in the drill, and possibly the conversion kit, and that's a lot to drag across the ice. Check the weight, to make sure it's easy enough to carry. Mobility may not be the most important factor, but it's definitely something to consider.
Price
If you've been using a gas or hand auger and thinking of switching to electric, then you're probably expecting to pay several hundred dollars. The good news about an ice auger bit is it can attach either directly, or using a conversion kit, to a cordless drill you already own. It saves money, time, and space.
Frequently Asked Questions
How long does it take to drill a hole with a hand ice auger?
How long it takes to drill a hole with a hand ice auger depends on the thickness of the ice, and the size of the hand auger, as well as your own strength. Expect it to take anywhere from 30 seconds to 15 minutes.
A much quicker option is to attach a hand auger to a drill using a conversion kit. This will get through the ice at speed, with almost no physical effort.
Are hand ice augers hard to use?
Not really, it just can take some time to get used to. The most important thing is to have sharp blades. 
What is an ice auger bit?
An ice auger bit is a corkscrew drill bit. It fits into a drill, and is used to cut holes through the ice. Ice auger bits are typically long and wide, so they can cut deeply through layers of ice.