Round Baitcast Reel vs. Low Profile
What is the best round baitcasting reel? 
The best round baitcasting reel has to be Abu Garcia Ambassadeur S Round Baitcasting reel. It's listed as a best seller and Amazon's Choice online, and it's no wonder why! It is lightweight and features a multi-disc drag system that's fairly easy to use. 
You can purchase left and right-handed models with their performance being almost unparalleled. The bent handle and drag star give you a more ergonomic feel ideal when fishing all day. The brake system works well, and the line feels smooth and runs beautifully.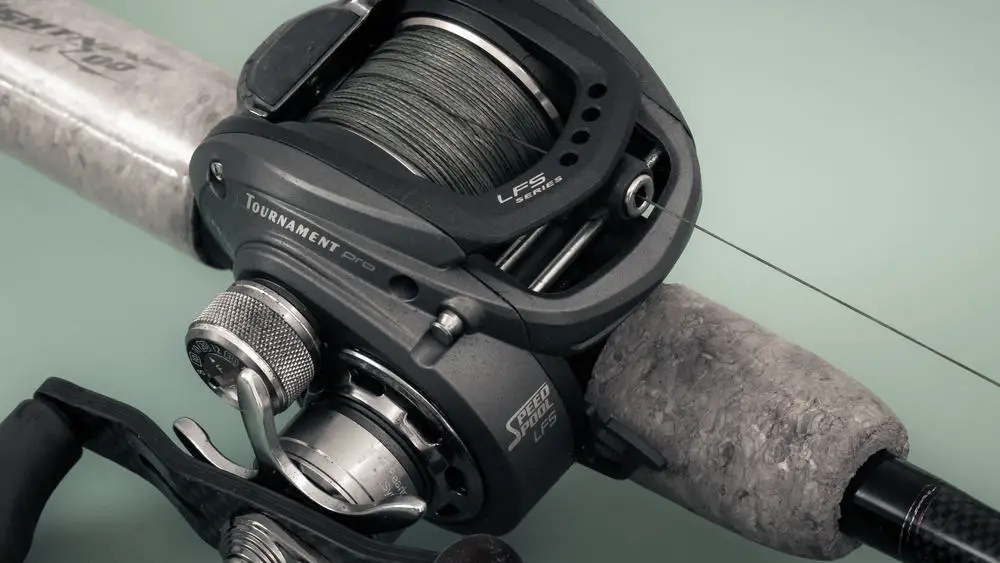 It's the perfect reel for trolling or deep jigging activities, and with Abu Garcia being a staple name in the angling world for years, you are sure to be satisfied with this durable and well-made reel. 
When selecting your round baitcasting reel, keep a lookout for the material used. Ideally, you want to spend more and enjoy an aluminum reel that will be harder and more durable. But those on a budget will find graphite lighter, and it should still perform well. 
You will also want to consider the braking system. As baitcasting reels spools rotate freely when casting, they can be difficult for beginners to master, leaving them with backlash and birds nest formation when casting the line.
A good braking system can avoid this. Ideally, you will want a magnetic or centrifugal system, like Abu Garcia's reel we mentioned earlier has. These braking systems are effective and easy for beginners to master, helping to avoid issues when casting your line. 
The ball bearings should also be considered, but look for quality rather than quantity. It's better to have fewer ball bearings that are shielded or sealed rather than more that aren't protected in this way.
Lower-quality balls aren't going to enhance your performance in the way fewer high-quality ones will. Ideally, look for stainless steel ball bearings. 
The final factor to consider is the gear ratio. A higher gear ratio of 5.3:1 is best as it will allow you to cast lures quickly and have more success to entice fish to strike. 
Lower gear ratios are better for trolling or bank fishing, so consider carefully the fishing you want to do and purchase the round reel that best fits your needs. 
What does a low-profile reel mean?
A low-profile reel is a type of baitcasting reel that is used for fishing. It's considered the opposite of a bait caster and requires very little tweaking before using them in the water.
They fit into your hand well, making casting or retrieving easier than other baitcasting reels. It's far more comfortable than round reels and is ideal for those that want to fish all day without feeling uncomfortable or developing sores. 
Low-profile reels tend to be smaller in size and more lightweight too. Of course, they come at different weights but tend to be some of the lightest reels and are less bulky than other baitcasting reels. This means you can easily travel with a low-profile reel, and they tend to be easier to handle. 
The downside to this is that they hold fewer lines and a smaller spool. While it can be an issue if you like the fish to run along the line before retrieving, most people don't view it as a problem. Instead, these low-profile lines are better suited to inshore and riverbank casting than larger and deeper water. 
Their lightweight nature is better suited to smaller and lighter baits or lures and is ideal for smaller fish like bass and crappie. They still cast well and tend to be more responsive too! Low-profile reels are also better suited for smaller fish than other bait caster reels. 
Low-profile reels also have less casting distance than other baitcasting lines. A few are now on the market with larger spools that allow long-distance casting, but it's not common with bait casters. Instead, for longer distances, a spinning reel would be your better option. 
Low-profile reels are a type of baitcaster ideal for those after a comfortable and easy-to-handle rod. You can still enjoy fishing without the sores and aching arms, but be mindful that these rods are better suited to smaller fish and shorter distances than other baitcasters on the market. 
Can you use a low-profile baitcaster for catfish?
While low-profile reels are typically better suited to smaller and lighter fish, they can be used for catfish if you want.
Thanks to their versatile nature, you can use an 8lb test line to catch channel cats, bass, small blues, and almost any other freshwater fish, putting catfish back on the fishing menu for you!
You will need to adjust the reel correctly and use a 20-50lb leader on your 8lb line to catch these bigger fish without causing any damage to your reel or requiring too much effort from yourself to pull the line in. 
There are a few low-profile baitcasters on the market that can be used for catfishing. You will want a large drag weight and a strong and sturdy brake that will allow you to still control the reel with the added weight of the catfish on it.
Abu Garcia and other brands have created such low-profile reels, and they aren't too expensive either. 
Spinning reels and other larger baitcasters tend to be better suited to catfish fishing and is a reel most opt for instead of a low profile reel.
However, most anglers prefer to use larger and heavier reels when fishing for larger fish like catfish. Longer lines and the ability to handle larger weights are highly sought after when looking for a reel for catfishing in particular. 
If you have a spinning or larger baitcaster, then it's best to use these for catfish. They can handle the extra weight better, and their long lines are likely to offer you more success.
However, if you have a budget for only one reel or already have a low-profile reel, then you can use this for catfish. Be sure that you have an 8lb line and heavier bait for success without damaging the reel!